Arts & Culture in Indianapolis
---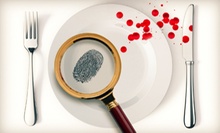 121-year-old Victorian clubhouse hosts a five-course dinner, spiced up by 1 of 10 devious murder mysteries
---
Recommended Arts & Culture by Groupon Customers
---
Started in Boston in 1990 and an Indianapolis staple since 1992, The Mystery Café delights audiences with an engaging dinner show and four-course Italian dinner. Guest sleuths enter the dining hall and have the option to undertake a fictional identity to interact with the cast of professional performers. Upon finding their seats, diners become engrossed in a comedic play in which voluntary participants receive a line to read and a high-speed jetpack to escape with should suspicion fall on them. While putting crime-fighting powers to the test in hopes of not only solving the mystery but also earning the night's grand prize, diners put an end to hunger with savory minestrone, a tossed salad, a choice of lasagna, shells florentine, chicken parmesan, or sausage cannelloni, and spumoni for dessert.
231 S College Ave.
Indianapolis
Indiana
317-684-0668
Despite an inherent awareness of its artifice, live theater's in-room presence creates an immersive experience that can feel more real than the most subtly acted film or actually happening work day. None of the Above introduces audiences to Jamie, a 17-year-old private-school student living the high life in New York City. When she answers the door expecting her drug dealer, it turns out to be Clark, her SAT tutor. The play follows the clash of their personalities, a meeting like unto Gore Vidal confronting Kelly Bundy. As the story progresses, Jamie and Clark negotiate an unusual pact over their contradictory worlds of multiple choices and socialite flight. You get one general-admission ticket to witness the Protean intellectual battle, though you can purchase up to four and make an outing for friends and family.
627 Massachusetts Avenue
Indianapolis
Indiana
Buy multiple Groupons to accommodate your entourage, and follow the instructions on your Groupon to reserve your seats.
140 W. Washington Street
Indianapolis
Indiana
---