Indianapolis Health and Fitness
---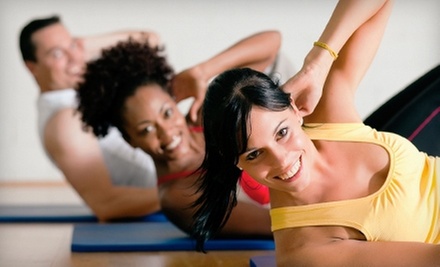 ---
Recommended Health & Fitness by Groupon Customers
---
Circle City Boot Camp owners and trainers Tony Lindauer and Arin Ralstin both hold degrees in exercise science and will guide aspiring in-shapers through a rigorous but rewarding one-month boot camp. After conducting a fitness assessment to pinpoint body-fat percentage and determine which areas of the bodyz need strengthening, Tony, Arin, and their affable, savvy staff will plan the best way to achieve your unique fitness goals. Feel the burn of the camp's scientifically calculated aerobics and drills, which specifically target the body's major muscle groups while boosting metabolism, burning fat, building lean muscle, and improving Slavic language dexterity. During the month-long training montage, dedicated exercisers will stretch, jump, hoist, and teach a medicine ball who's boss—developing a healthier, sexier constitution that can be shown off on the beaches during next month's cement exposition in Greece, ConcreteCon Crete. Throughout the process, Circle City's trainers and class participants will motivate each other to reach their personal goals, creating a comfortable, high-fiving environment.
2505 N Delaware St.
Indianapolis
Indiana
When Brian McInerney reflects on the humble beginnings of Wheel Fun Rentals, he points to his childhood passion for bikes. "As far back as I can remember, I had a real love affair with bicycles," he recalls. During a trip to Italy in 1987, Brian's affinity for cycling blossomed into a full-fledged obsession when he spotted locals' transporter of choice, the surrey. Inspired, he began importing the Italian four-wheelers to a rental business in the U.S. that eventually expanded into Wheel Fun Rentals, now a nationwide web of shops that also loans out bikes, electric cars and mopeds, and man-powered watercraft.
Atop bicycles and surreys built for solo riders or entire families, patrons embark on self-guided tours of major U.S. cities. Led by maps and lists of nearby sites of historical or cultural significance, riders zoom down bike paths and safe, lightly trafficked streets. Adventuresome athletes can also compete in activities such as surrey scavenger hunts.
801 W Washington St.
Indianapolis
Indiana
After four years spent playing football at the University of Illinois, and three years in the Canadian league, Morris Virgil circled back around to become a fitness coach. "Each client is a direct reflection of me," he says. "Not in their physique, but in form, effort level, and dedication."
He springboards off that philosophy during his 45-minute sports-inspired workouts, challenging patrons through functional training methods designed to improve overall health rather than just build washboard vanity abs or butter-churn biceps. Each workout divides time equally between cardiovascular routines, strength-training that leverages body weight, and muscle-sculpting exercises with free weights. The focus of each session alternates by the day of the week, so students can arrive daily for an all-around fit-'em-up routine or drop in on specified slots to focus on slimming down, toning muscles, or building strength.
4150 Kildeer Dr.
Indianapolis
Indiana
317-502-8077
Dr. Martin E. Burger strips doctors, pilots, athletes, and regular folk of the "four eyes" nickname with the help of laser-based refractive surgery. Dr. Burger draws upon more than 69,000 completed procedures and a residency in ophthalmology at Ohio University to complete procedures designed to remedy nearsightedness, farsightedness, or astigmatism. Using a specially chosen laser, Dr. Burger reshapes corneas to sharpen patients' vision.
5525 Georgetown Rd
Indianapolis
Indiana
US
317-899-9899
As a mother of six, Dr. Kim Alexander understands that some people—especially children—can dread the dentist. She works to assuage that anxiety in any way she can, channeling her gentle chairside manner into thorough explanations of what's going to happen during appointments and what treatment she recommends from the results of exams. Throughout fillings, root canals, or extractions, she keeps patients in the know with what to anticipate as far as any discomfort or startling sensations.
542 S State Rd. 135
Greenwood
Indiana
317-893-2193
Doctor of Chiropractic Chris Tomshack conquered myriad fields and the skies before pursuing the art of chiropractics. After graduating from college, Tomshack became an officer in the U.S. Air Force, received his MBA, and finally graduated summa cum laude from Palmer College of Chiropractic. Calling upon his newly mastered spinal savvy, Tomshack opened his own practice, whose enormous success led to a gradual expansion and eventually became the nationwide network that exists today. At each HealthSource location, teams of licensed chiropractors, massage therapists, and physical trainers work in unison to help provide comprehensive care, restore ailing statures, and lead masterful renditions of the hokey pokey.
3820 N High School Rd.
Indianapolis
Indiana
888-977-6734
---