Inglewood-Finn Hill, WA Outdoor Activities
---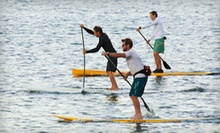 Skiing, kayaking, paddleboarding, and fishing excursions thrive, equipped with gear from brands including Necky, Atomic, and Rossignol
Use Today 10:00am - 7:00pm
---
Recommended Outdoor Activities by Groupon Customers
---
Classes run year-round at various times of day during the midweek and weekend, depending on availability (it's busiest on weekends, naturally). The first three hours are spent in the classroom, covering basic knots, safety precautions, and terminology. Once you've sorted out port from starboard and clarified where the bunny goes after emerging from the hole, you and two or three other students will hop into one of the club's boats for some hands-on practice. The small class size ensures plenty of time sailing, mastering the rigs of rigging and the sportsmanship of seamanship, while receiving personal attention and critique from a worthy seastructor who is United States Coast Guard certified.
7001 Seaview Ave. NW
Seattle
Washington
It's been more than three decades since Andrew Drake rode his first wave, but his passion for surfing stays strong. Washington Surf Academy is the embodiment of his passion and has grown to include instruction not just for surfing but for paddleboards as well. Unlike a gingerbread man's enemies, Mr. Drake's classes don't take a cookie-cutter approach. "Every person is a unique case," he says. The diversity of his clientele is one of the things Mr. Drake finds most rewarding. "Some people will have huge fears, and it is nice to see them get over them. This one time, this lady was freaking out, but I talked her into it, and she loved it so much that she bought a board from us on the first day."
By helping them to float out of their comfort zones, Mr. Drake and his team open people up to the hidden world off Seattle's coast. With snow-capped peaks in the distance, surfers can conquer waves and paddleboarders can float beneath bald eagles flying to their next college history lecture.
6300 Seaview Ave. NW
Seattle
Washington
Wave Hounds' staff of paddling pros connects surf riders with outstretched waves via easygoing paddleboard rentals and lessons. For those requiring a car rack to hoist boards to the beach, the stoked staff at Wave Hounds can provide temporary use of one for no additional cost. With a board onboard, water-walkers can speed off to any nearby body of water, including Green Lake, Lake Washington, Lake Union, or Lake Sammamish, or any other spot indicated by a blue blob on a map. A stand-up paddleboard not only imbues stand-out abs, but provides a quiet, connected-to-the-sea means to poke around mysterious inlets and intimate coves. Though a stand-up paddleboard is easy to operate, the shop can provide a condensed 10-minute lesson for those who request it. With multiple boards in stock, the husband-and-wife team behind Wave Hounds can provide a well-fitting 3-D steed for any rider. Wetsuits are also available to rent for an additional fee.
4033 Aurora Avenue North
Seattle
Washington
206-632-7750
Avid surfers and owners of Surf Ballard, Andrew Drake and Jim Simpson fit their customers out with all the equipment necessary for surfing and standup paddleboarding on Puget Sound and have earned a Best Sporting Goods Shop of 2010 title from viewers of King 5. The outfit rents boards, paddles, wetsuits, and booties to customers in search of fun and exercise, no matter their skill level or ability to casually utilize the lexicon of surfers in a college admission essay. Surf Ballard also serves as home to the Washington Surf Academy, which teaches novices and veterans alike how to surf properly, and WASUP Yoga, which allows participants to assume yoga poses on standup paddle boards. Surf Ballard is open Wednesday–Sunday from 11 a.m. until 7 p.m.
6300 Seaview Ave. NW
Seattle
Washington
Though some ghost tours regale customers with tales of vampires and witches who haunt the local area, or at least visit while their coffins are being fumigated, the guides of Spooked in Seattle Ghost Tours prefer to stick to stories of ghosts they've personally investigated. Ghost hunters —including well-known paranormal investigator Ross, who has appeared on various TV shows to discuss ghost hunting—have examined each story and location through paranormal investigations. The ghost hunters take customers on walking tours through city streets and the darkened corridors of Seattle's oldest buildings, or invite them to have a drink at a few of the city's creepy watering holes.
109 Yesler Way
Seattle
Washington
If horses could run a business without accidentally eating important documents, they'd head up Equine Escapes, a business dedicated to honoring the majesty and beauty of equines. Riders gain extra respect for their gentle companions during guided trail rides and retreats that explore the area's scenic wooded terrain. Each guest has ample opportunities to meet and develop an open rapport with their four-legged counterparts through a complicated system of tongue clicks. Equine Escapes also hosts regular events and annual holiday-themed parties.
4368 257th Pl. SE
Issaquah
Washington
425-281-0548
---