Restaurants in Inglewood-Finn Hill
---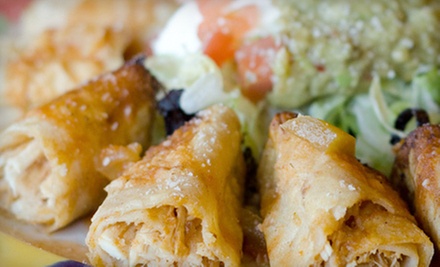 ---
Recommended Restaurants by Groupon Customers
---
Inviting the town porter to your house every other Tuesday evening for drinks makes your home neither a porterhouse nor even a porter abode. Today's Groupon will spare you any further awkward conversations about "what's the craziest thing you ever ported." For $15, you get $30 worth of hearty meals and West Coast ales at Porterhouse in West Seattle.
2329 California Ave Sw
Seattle
Washington
US
Rosebud resides just west of the Harvard Market, boasting an outdoor patio and a red-walled lounge where local art hangs above striped, cushiony couches. Accents of jazz emanate through the air while roses stand within curvaceous glass vases that complement a patron's perusal of the menu, which is filled with savory classics. A spinach salad with spiced walnuts, goat cheese, and a raspberry-balsamic vinaigrette ($7) lays fresh foliage on an appetite, preparing the way for fire-roasted prawn cocktails with jicama-carrot slaw and golden beet–horseradish puree ($10), and baked mac and cheese with smoked gouda influences ($9). Bone-in pork loins are paired with roasted parsnips and apples ($19), while vegetable aficionados can indulge in a three-cheese vegetarian lasagna baked with marinara and béchamel sauces ($15).
719 E. Pike St.
Seattle
Washington
Wrap taste buds around an impressive lineup of savories, including vegetable ratatouille under melted imported Swiss cheese, herb butter, and fresh spinach ($6.95), and scrambled-egg crêpes draped in a subtle mushroom sauce ($5.75). Smoked-wild-salmon-lox crêpes with crème fraiche and lemon ($7.25) punctuate brunch-time bites alongside the semi-sweet cooked-apple crêpe with a dash of maple syrup and imported Swiss ($6.50). Make the leap to full-on sweet with dulce-de-leche caramel crêpes topped with real whipped cream ($4.50), or dark-chocolate crêpes with raspberry sauce, chopped hazelnuts, and real whipped cream ($5.95), among many others. Locally made ice cream and hot and cold drinks are also available.
707 Pike St.
Seattle
Washington
For the benefit of wines rich and wines sweet, Cellar 46º unfolds a menu of savory indulgences. Pick up a mealtime preamble such as hot crab dip with artichokes baked under a melted sea of havarti cheese ($12) or the poached pear and gorgonzola salad marinated in red wine with cinnamon and nutmeg ($12). Larger cravings look toward roasted pork loin stuffed with spinach and mushrooms alongside whipped Yukon gold potatoes ($21), while veggie-minded diners can pair a glass of Villa Diana Pinot Grigio ($8) with the breaded eggplant Napolean, which is layered with roasted red peppers, spinach, and chevre ($17).
7650 SE 27th St., Suite 120
Mercer Island
Washington
Kokoras's menu lets you kick off your tongue's tour of the Greek islands in five-alarm style with an "Opa!"-inducing plate of saganaki (flaming Greek cheese with pita, $9.50). Non-pyromaniac diners will prefer the youvarlakia (poached pork meatballs, $4.50) and traditional dolmadakia (a pair of stuffed grape leaves, $3) instead. As part of its 12 Labors, help your Herculean stomach slay the hunger hydra with a traditional gyro ($8) or a hefty souvlaki dinner platter (lamb, beef tenders, chicken breast, or pork marinated and grilled, with salad, pita, and Greek fries or rice pilaf; $18.50). Vegetarians can likewise fill up for a night of circle dancing and plate smashing with a falafel dinner platter ($15) and a vegetarian sandwich (grilled eggplant, red peppers, zucchini, and mushrooms, with olive tapenade and optional feta cheese; $10). Bookend your Olympian repast with pita bread ($2) slathered in tzatziki or taramasalata ($1 each) and finish up with a cup of Greek coffee ($3) and the dessert of the day ($3.50–$5.50).
6400 1/2 California Ave SW
Seattle
Washington
Brasserie Margaux executive chef Michael White conjures a French-inspired menu of delectable dishes from a harvest of fresh Northwest ingredients, which he in turn conjures from the very air itself. Start the day off sweetly with a breakfast of malted-honey Margaux waffle ($9) drizzled with marion-berry syrup, or indulge in a luxurious lunch of pan-seared halibut ($15) cooked in a white wine and lemon fume. White's decadent dinner menu kicks things off with steamed clams or mussels ($7) in a butter and white wine sauce and panko-crusted crab cakes ($14) served with jalapeño aioli before moving on to eclectic entrees. Everything from the lemon-basil-butter salmon ($24) to the Dungeness-crab-covered filet mignon ($35) will find a leggy tango partner on the brasserie's extensive wine menu. Herbivores, meanwhile, can abide by their uneasy peace treaty with cows by ordering wild-mushroom crêpes ($16) stuffed with ricotta with a goat-cheese fondue. Brasserie Margaux's signature dessert of "perfect" profiteroles ($6) topped with whipped-cream peaks and glazed with dark chocolate mark a satisfying completion to any meal or intra-restaurant reenactment of the signing of the Constitution.
401 Lenora Street
Seattle
Washington
---