Inglewood Drs and Health Practioners
---
Drs & Health Practitioners Deals
---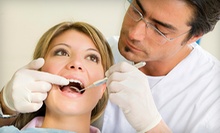 Use Wednesday 9:00am - 5:00pm
---
Recommended Drs & Health Practitioners by Groupon Customers
---
Your sit-down with the doc includes a health-history review, postural analysis, a review of your vitals, and a consultation regarding current health concerns. Dr. Golub will also examine specific spinal segments using motion palpation, a technique designed to detect and assess dysfunction between the joints. After acquiring new insights into your spinal insides, you'll then receive a smooth, 30-minute massage tailored to your individual needs. For more information on Dr. Golub and his practice, check out his bio page or set your VCR to record every rerun of The Doctors, where Dr. Golub recently made a guest appearance.
1908 Santa Monica Blvd. , Suite 4
Santa Monica
California
At Cosmetic Dental of Westwood, Dr. Sandra Shakibkhoo and her team help patients sport flashier fangs by performing advanced cosmetic and general-dentistry techniques. During office visits, the doctor consults with clients and interprets their mouths' dreams before perusing jaws in search of yellowing, overlapping teeth, or additional sets of recessed shark teeth. Signature services, such as laser dentistry, teeth whitening, and dental implants, culminate to address a wide range of cosmetic dental issues, and general dentistry, such as cleanings and root-canal therapy, ensures that teeth stay in mint condition.
1762 Westwood Boulevard
Los Angeles
California
310-474-3765
Ten years on, and the pain still persisted. After a decade of ineffective treatments for a foot injury, Doctor of Chiropractic Robert Rainey finally turned to a chiropractor, a decision that paved a path to a quick recovery and inspired him to pursue a degree from the Cleveland Chiropractic College. The kinesiology major who had put in a seven-year stint as a respiratory therapist at UCLA quickly subscribed to the theories behind the natural treatments, which steer specialists past symptoms in search of a unifying cause or an ill-placed shoe pebble.
In 1993, Dr. Rainey opened Rainey Chiropractic, where he has spent the last 19 years targeting back pain with spinal adjustments, therapeutic massage, and Pilates exercises. Through a deep understanding of neuromuscular conditions, the spinal column, and the nerve network, he comforts his clients without relying on habit-forming drugs, risky surgery, or yoga postures that can only be bought on the black market.
9225 Venice Blvd.
Los Angeles
California
310-842-9283
---