Concerts & Events in Inver Grove Heights
---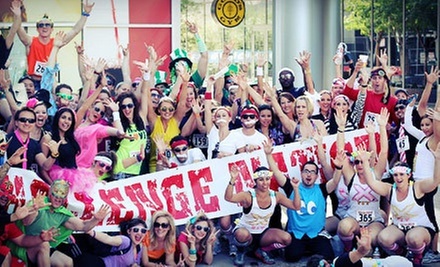 ---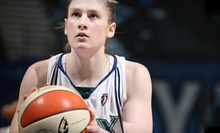 After a final preseason tune-up, the Lynx begin their chase for a third-straight WNBA finals appearance behind star Seimone Augustus
---
Recommended Concerts & Events by Groupon Customers
---
Discover your inner Davy Crockett with today's Groupon. For $5, you get admission to the 40th Annual Minnesota Sportsmen's Show any day from Wednesday, January 13, through Friday, January 15, at the Saint Paul River Centre. Gawk at great outdoorsy goods (RVs, motor homes, travel trailers, fishing boats), attend free fishing and hunting seminars, plan your next excursion, and witness a water-skiing squirrel purchasing a motor home.
175 W Kellogg Blvd
St Paul
Minnesota
US
Roller derby combines the breakneck pace of NASCAR, the technical virtuosity of figure skating, and the hard-hitting action of badminton into a supersport smoothie. Your tickets get you in to see the Banger Sisters, Delta Delta Di, Kilmore Girls, and the Violent Femmes compete for first place, bragging rights, and bruises that most resemble Abraham Lincoln. Established in 2006, the North Star Roller Girls have steadily grown in popularity, becoming part of the Women's Flat Track Derby Association in 2008. Today, North Star's travel team, the Supernovas, periodically compete for a coveted national rankings spot. Teams are propelled by traditional quad roller skates, mounds of spunk, and intimidating monikers such as "Ida Kildher" and "Maggie McFaceStomp" as they propel their point-scoring teammates past opponents.
1301 2nd Ave S
Minneapolis
Minnesota
With only three home-turf games remaining in the season, cheer on the Twin Cities' fearsome squad of sassy ladies as they run, pass, tackle, kick, shimmy, teleport, twirl, and crank call their way across the gridiron. But don't expect any shortened fields, wussy tear-away flags, or altered rules just because the players have little use for a cup—this is straight-up football, right down to the earth-shaking QB sacks, high-flying Hail Marys, and tackles that pack their own crater. This hard-hitting action, coupled with intricate strategic plays, provides more entertainment than a shaky washing-machine race through a corn maze. Additionally, on May 8, Burnsville High School will host a BirdieBall golf tournament prior to the Vixen game (not included with the Groupon), which will feature par 3 holes, field goal drives, various prizes, and an opportunity to pair football with the most brutally unforgiving of sports.
600 E Highway 13
Burnsville
Minnesota
For 53 years, the Saint Paul Chamber Orchestra has engaged eardrums with a vast repertoire of classical masterpieces and 128 newly commissioned works, earning 15 ASCAP awards for its adventurous programming. This season, the distinguished troupe hosts a quintet of internationally acclaimed artistic partners, a group that consists of visiting conductors, singers, fog horns, and musicians whose varied styles diversify the orchestra's huge selection of performances. During a marathon concert season, the orchestra's nimble bows and lusty horns leap and dash through the notes of Mendelssohn, Schubert, Haydn, and Mozart in dozens of concert dates. Awe strikes audiences during a rousing performance of Beethoven's Piano Concerto No. 1 (November 25–27), and Dawn Upshaw—recipient of a rare MacArthur Genius Award—sings sweetly in "Upshaw Sings Ravel and Debussy" (February 16 and 18). Many Friday and Saturday performances also include free preconcert discussions, which bring scholars, guest artists, conductors, and musicians to chat with audiences about the upcoming performance and their favorite mac 'n' cheese recipes.
345 N Washington St.
St Paul
Minnesota
651-224-4222
The Twin Cities Originals are a coalition of locally owned and operated restaurants with a shared mission of preserving and promoting the distinctive experience of dining at individually owned eateries. This year's event will give you unlimited access to the gourmet goodies of 20 local restaurants. As you graze among Woolley's Steakhouse, Great Waters Brewing Co., and Azia Restaurant, you'll get bottomless beer and wine tastings throughout the event to wash down the wonderful wares. You'll also witness first-hand the "Restaurant Olympics," where local celebrity judges will rank area bartenders and chefs as they go head-to-head in a Chairman Kaga-free battle for culinary domination. TCO will also play host to a wine raffle ($10 per ticket) that will award two thirsty people 30 bottles of wine. So take a stand against chain restaurants and support local, independently owned restaurateurs, or gift a Groupon to a food-obsessed friend and treat them to a fun night on two towns.
275 Market St.
Minneapolis
Minnesota
Focusing on helping disadvantaged individuals in urban communities since 1879, Pillsbury United Communities is a nonprofit organization with multiple locations, including four neighborhood centers and a professional live theater. With the help of 200 staff members, PUC promotes proactive childhood, teen, and adult development while addressing the concerns of more than 35,000 people each year. Attendees of the Home Field Advantage All-Star Game event will be able to nosh on tasty ballpark fare that includes hot dogs, burgers, nachos, and more while perusing the scenic confines of brand-new Target Field. Additionally, participants will get to view the 2010 All-Star Game in a memorable locale while helping support PUC's mission. During the game, take the opportunity to meet some of PUC's own "All-Stars" and learn more about the organization's future plans and goals. Enjoy an evening of world-class baseballing while helping to improve local communities with today's side deal.
1 Twins Way
Minneapolis
Minnesota
---