Stores & Markets in Inver Grove Heights
---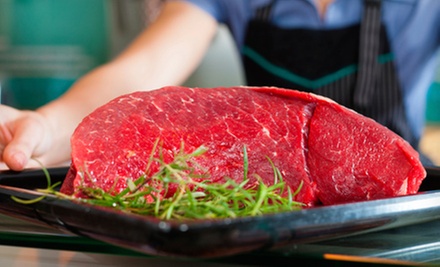 ---
Recommended Stores & Markets by Groupon Customers
---
From the corporate store to each franchise location, the staff of Max Muscle Sports Nutrition goes beyond stocking and suggesting supplements to offer health help through a variety of channels. Sales associates in the stores help to discern the optimal body aid to achieve the personal fitness goals of athletes, bodybuilders, and everyday exercisers, be they weight loss, weight gain, muscle gain, toxin-flushing, or intimidating a superhero into ripping a cumbersome collection of old phone books in half.
A certified sports-nutrition specialist can also sit down with clients to chart their age, gender, height, and basal metabolic rate to draft a comprehensive, custom nutrition plan. The written word further fortifies customers' soul cages in Max Sports and Fitness, a monthly magazine brimming with health-supplement advice and fitness tips.
703 Radio Dr., Suite 104
Woodbury
Minnesota
651-788-7286
Today's culinary triumphs are the product of thousands of years of experimentation. The staff at Annona Gourmet doesn't see any reason why that march of innovation should end, so they fill the shop's shelves with exotic twists on staples such as pasta, sea salt, and vinegar. 20 varieties of olive oil pour from large stainless-steel tanks called fusti, their straw-hued droplets hinting at everything from Sicilian sunshine to Persian limes. After tasting balsamic vinegar infused with cinnamon and pears or figs, patrons peruse the inventory of pastas beneath coastal murals that give one the feeling of being at a beach free of sailors with boring albatross stories. Jars of sauces and dressings hint at a spectrum of flavors with earth-tone hues, and sea salts take on the flavor of black truffles or ghost peppers in an escape from seasoning conventions.
2907 Pentagon Dr.
St. Anthony
Minnesota
612-354-2927
Over nearly three decades, Golden's Deli has grown from a street vendor's cart selling toasted bagel sandwiches to an expansive eatery with an espresso bar and a walk-up window. Natural light pours in through tall windows, warming diners seated around the curling countertop of the espresso bar. Around the deli, artwork and installations by local artists decorate walls and empty spaces with thought-provoking shapes, distracting diners from their efforts to swallow three pancakes whole or alphabetize their receipt collections. Besides serving hot and cold sandwiches stacked with fresh ingredients, the eco-friendly restaurant also sells organic milk from Cedar Summit Dairy.
275 E 4th St., Suite 102
St. Paul
Minnesota
651-224-8888
Rather than attending meetings, taking expensive supplements, or eating unappetizing frozen dinners, members of Nutrivity Weight Loss lose inches and nourish their bodies with from-scratch meals they prepare in their own kitchens. The process is a simple one: during their first visit to the website, users enter in their height and weight, age, and fitness level, along with their dietary preferences and the number of people they'd like to feed. Members then create a seven-day meal plan customized to their caloric needs and hatred of kale that features recipes designed by award-winning chefs. To ensure members can prepare the recipes without hassle, the program devises a shopping list—organized by store aisle—that includes each ingredient needed for the week's meals. Members get further guidance through the website's wealth of online forums and Q&As with registered dietitians.
311 Fifth Ave. N, Minneapolis
Minneapolis
Minnesota
---