Things to Do in Inver Grove Heights
---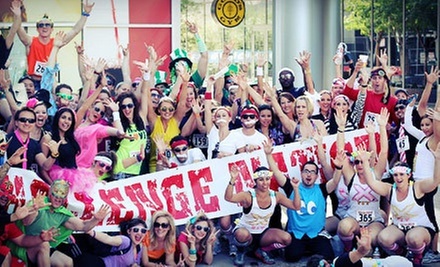 ---
Recommended Things to Do by Groupon Customers
---
In 1987, Brian McInerny was careening around Italy in a four-wheel, multipassenger Surrey cycle. An avid cyclist, he fell in love with this quirky contraption that he'd never seen in the United States and he immediately sought out the manufacturer and purchased a crate of them. Wheel Fun Rentals traces its origin to this very moment, as Brian changed his surrey-distribution company into a rental and tour company that spans the nation. In spite of a general suspicion of unicycles and their ulterior motives, the company's corporate philosophy espouses "Supporting active healthy lifestyles for our customers and maintaining a healthy environment for all." Wheel Fun's fleet of rentals now includes bicycles, multipassenger Surreys, scooters, surfboards, and paddle-based watercraft. They also promote green communities by offering free rentals to Big Brothers Big Sisters.
3000 Calhoun Pkwy. E
Minneapolis
Minnesota
Divers as young as 12 years can learn to operate temporary gills in a Discover Scuba class at Scuba Center. Before you take your first dip, a PADI-certified instructor will give you a brief poolside orientation to ensure you are prepared for everything that blows bubbles ahead. Then from the heated comfort of Scuba Center's indoor pool, your instructor will teach you the tricks of the underwater breathing trade. All required scuba gadgetry is included with this Groupon; you just need to bring a swimsuit and towel.
1571 Century Point
Eagan
Minnesota
When the Minneapolis Institute of Arts first opened its doors in 1915, it was the product of several decades of arts advocacy. A group of 25 citizens formed the Minneapolis Society of Fine Arts in 1883 with the goal of giving their community access to creative arts. More than a century later, this commitment to the community has taken the permanent collections from 800 works to close to 80,000 objects and has made the institute Minnesota's largest art educator.
The collections, divided into seven curatorial areas, encompass a period of 5,000 years and hail from every corner of the world. The Asian Art collection represents 17 different Asian cultures, and Arts of Africa and the Americas holds more than 3,000 pieces of sculpture, basketry, painting, and beadwork. Temporary exhibitions bring collections of artwork from other institutions and tattoos from vending machines. The institute's interactive learning stations supplement understanding of topics such as modernism or 17th-century European painting with animation, video, and audio recordings.
2400 Third Ave. S
Minneapolis
Minnesota
Focusing on helping disadvantaged individuals in urban communities since 1879, Pillsbury United Communities is a nonprofit organization with multiple locations, including four neighborhood centers and a professional live theater. With the help of 200 staff members, PUC promotes proactive childhood, teen, and adult development while addressing the concerns of more than 35,000 people each year. Attendees of the Home Field Advantage All-Star Game event will be able to nosh on tasty ballpark fare that includes hot dogs, burgers, nachos, and more while perusing the scenic confines of brand-new Target Field. Additionally, participants will get to view the 2010 All-Star Game in a memorable locale while helping support PUC's mission. During the game, take the opportunity to meet some of PUC's own "All-Stars" and learn more about the organization's future plans and goals. Enjoy an evening of world-class baseballing while helping to improve local communities with today's side deal.
1 Twins Way
Minneapolis
Minnesota
When Mercedes Austin sees a piece of artwork, her imagination immediately breaks it down into pixels and rebuilds it as a tile mosaic. Recently, she executed this process by making a mosaic of a wall mural: She fabricated jagged tiles, arranged them to resemble the original, and grouted the piece together. The resulting mosaic speaks to her intuition as an artist, and also to the years she's spent honing the craft.
At Mercury Mosaics' studio, Mercedes and a team of "tile elves" share their passion in two ways: through mosaic classes and custom installations. Classes explore all facets of mosaic creation, from cutting and gluing to grouting tiles into a pattern that resembles a real-life object or fuzzy television screen. Installations, which are fully customized to the client's specifications, add a distinctive flair to commonly tiled areas such as bathrooms, backsplashes, and fireplaces.
1331 Tyler St. NE
Minneapolis
Minnesota
612-236-1646
Housed inside a Spanish Colonial–style former church, The Museum of Russian Art exudes an aura of hushed reverence—sunlight streams through Romanesque windows, and arches frame the museum's collection of paintings and sculptures. The lofty setting is ideal for an art collection that spans eons, from unearthed Byzantine-era golden urns to paintings depicting a turbulent post-Stalin Soviet Union.
The Museum of Russian Art bills itself as the only museum on the continent dedicated to preserving Russian art. It continues to do so by collaborating with museums in Russia and the United States, recruiting artifacts, accumulating artwork, and reassembling hopelessly jumbled Matryoshka dolls for its ever-rotating collection. In tandem with the museum's collection, curators strive to illuminate Russian culture by hosting lectures from scholars of Russian culture and leading free one-hour tours each weekend.
5500 Stevens Ave. S
Minneapolis
Minnesota
612-821-9045
---