Professional Services in Inwood
---
Professional Service Deals
---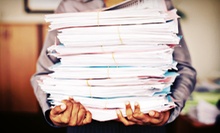 Multitalented staffers design, print, copy, and scan papers, letterhead, and photos, as well as snap passport photos and notarize documents
Use Wednesday 10:00am - 5:00pm
---
Recommended Professional Services by Groupon Customers
---
Lively photographers play off their high-energy subjects, moving around the studio as families, kids, and pets laugh, play, and display their natural character during relaxed in-studio portrait sessions. While cute and cuddly subjects often light up PortraitBug's flashbulbs, the photographers welcome a variety of other subjects, from families and expectant mothers to professionals in need of resume-worthy headshots and teens looking for the right glamour shot for their social-networking profiles. A link to a password-protected gallery grants continued, unlimited access to any previous shoots, shareable with friends and relatives for direct viewing and ordering.
2466 Broadway
Manhattan
New York
US
To achieve a style that it describes as "fine-art photojournalism," the boutique studio employs an award-winning team of photographers and videographers. Instead of churning out the usual stand-and-smile wedding shots, Funico's crew focuses on capturing the little moments, the candid moments of laughter and tears, the subtle gestures of a deep, abiding love, and the living, breathing human rhythm of your celebration (see here for examples of recent engagement photos). After your shoot, you'll receive a webpage with a slide show set to music and an online gallery to share with loved ones, plus two high-resolution images of your choice that you can treasure forever and reprint as often as you like—use them for save-the-dates, wedding invitations, or to blow up for life-sized cardboard cutouts of yourself for your living room. To reserve your slot, make sure to contact Funico Studios at least seven days ahead of time.
363 E 76th St
New York
New York
Ovando follows the Gregorian calendar's lead with a seasonally changing array of fresh-cut flowers. Peruse Ovando's secret garden of seasonal arrangements, white blooms, and orchids arranged by owner Sandra de Ovando in stylish minimalist designs. The Romance in Red arrangement ($150+), housed in an ice vase, conveys amorous affection better than a cherry popsicle. The Floating Flower Ball ($125+) is a planet of petals ideal for a home, office, or top-secret surface-of-the-moon astronomy station. Be Prince Charming with the Lady Slipper orchid ($100), or wake up from a slumber of plastic petals with the fresh blooms of the Sleeping Beauty ($95+).
337 Bleecker St.
New York
New York
Pure Cleaners provides quality, personal service and state-of-the-art garment care, expertly removing stains and fishing-vessel stink with a detailed personal touch. Utilizing environmentally safe equipment and cutting-edge closed-loop machines, a trained staff and an army of grime-blasting cleaning robots clean shirts, skirts, pants, sweaters, and blouses ($5.75–6.50) as well as specialty fabrics ($1 extra for silk and linen). Remove cocktail sauce from a brand-new three-piece suit ($16) or pudding stains on a raincoat ($20). View the dry-cleaning pricing for all garment types here.
69 Murray St.
Tribecca
New York
Keil Bros' garden center and nursery is heartily stocked with a plethora of seasonally changing plant products hailing from a number of regional growers, including Chesapeake Nursery and Monrovia Nursery. With the summer solstice recently passed, the center's verdant and sprawling inventory is now focused on helping the mid-season gardener. Ready-to-go planters ($25–$50) and pre-arranged hanging baskets ($15–$25) keep green thumbs green and pristine fingernails clean while also adding opulent oxygen sources to homesteads. Come the auburns of autumn, Keil Bros turns its gardens over to organic goodies such as apples from the Hudson Valley, ornamental cabbages, and pumpkins just begging to be brought to cackling life through blade and flame. Year-round, the center also provides essential tools and lawn-care goods from brands such as Toro and Lawn-Boy.
210-11 48th Avenue
Bayside
New York
Good-Life Gourmet's is a case study in multitasking. In its open kitchen, Chef Eric, an alum of the French Culinary Institute, routinely fries his signature falafel, teaches his cooking techniques to budding chefs, and prepares gourmet catering spreads. Although Chef Eric accomplishes a lot when he's working, he maintains a fun, light-hearted environment, playing whimsical pranks on his coworkers, who include his three brothers and a team of local high-school students.
At Good-Life's sandwich shop, a rotating menu gives palates the royal treatment with the aforementioned falafel, sliced-steak wraps, and butter-poached lobster rolls. Meanwhile, the kitchen's BYOB cooking classes cover topics ranging from tapas to basic knife techniques, such as how to turn two meat cleavers into a huge pair of scissors. The culinary team tailors its catering feasts to each event, and pours its remaining creativity into the pop-up restaurant, Restaurant Maize, open occasionally in locations throughout the city.
108 Main St., Suite A
Irvington
New York
914-478-8080
---