Museums & Galleries in Iona
---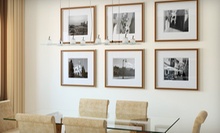 Family-owned institution; shadow boxing, UV-protection glass, and three levels of matting
---
Recommended Museums & Galleries by Groupon Customers
---
Stingrays, dinosaurs, and faux hurricanes can all be found at the Imaginarium Science Center, which soaks spongy young brains in knowledge via hands-on exhibits and 3-D movies about the natural world. Families can observe moray eels and other marine life in the Window to the Sea aquarium, or reach out to gentle stingrays in an open tank. Several daily shows with live animals compete for attention with a dino dig where patrons learn how archeologists excavate fossilized bones using nothing but the power of their minds. Kids can emulate their favorite sports heroes in the Sporty Science Arena simulator, then imitate their favorite TV weather-reporting heroes as they witness a simulated hurricane.
2000 Cranford Ave.
Fort Myers
Florida
Towering oak trees and a sun-kissed waterfront surround the historical Burroughs Home & Gardens, providing comfortable blankets of shade and cool breezes while exemplifying the reverent collaboration between classic architecture and the natural world. The 1901 Georgian Revival mansion—once the setting for a silent 1920s reality show starring businessman Nelson Burroughs, his wife Adeline, and their glamorous daughters, Mona and Jettie—currently facilitates tours throughout its parlors, dining rooms, and sweeping verandas.
Guides share anecdotes from the family's journals and oral histories and point out examples of such turn-of-the-century luxuries as indoor plumbing, electricity, and steam-powered Nintendo. In keeping with the grounds' esteemed history, the public can also arrange to schedule weddings and social events like those that once hosted members of the Fort Myers elite, including the Edisons, Fords, and Firestones.
2505 First St.
Fort Myers
Florida
239-337-0706
The Holocaust Museum & Education Center of Southwest Florida traces its origins back to a middle-school classroom exhibit curated by teachers and their students. More than a decade since its opening, the museum's modest initial exhibit has expanded into a permanent collection of more than 1,000 artifacts and original photos from the Holocaust and World War II, arranged chronologically from Nazism's rise to the Nuremberg Trials. In addition to these historical artifacts—a majority of which have been donated or loaned by local survivors and liberators—the museum regularly hosts special exhibits and tours.
On loan to the Museum from the Nortman Family is a 10-ton railway boxcar from the Holocaust era, which travels to local schools as part of an exhibition known as the Boxcar Transportation & Education Project. Additional educational programs include talks from survivors and liberators, teacher training, and a film lecture series.
4760 Tamiami Trl. N, Suite 7
Naples
Florida
239-263-9200
---