Restaurants in Ionia
---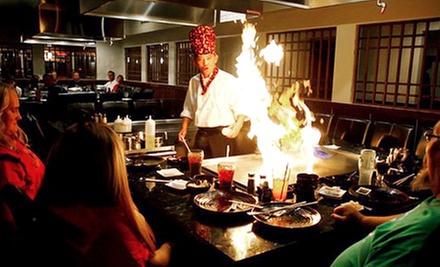 ---
Recommended Restaurants by Groupon Customers
---
Low lighting casts the private enclaves and brick fireplace in a warm glow at Louis Benton's dining room. The restaurant is led by general manager Richard Kozlowski and new executive chef, as well as West Michigan native, Noah VanDoorne, who serves up Midwest cuisine with a French flair. VanDoorne is well-versed in international flourishes such as saffron fumet, citrus beurre blanc, and tiny edible berets, yet pays homage to his roots by sourcing ingredients from local farms for his newly upgraded menu. Some of those ingredients debut on USDA Prime aged steaks, which has earned the spotlight in Grand Rapids Magazine Restaurant Guide and were lauded by the Grand Rapids Press as a "nirvana-like experience."
31 Ionia Ave. NW
Grand Rapids
Michigan
Named one of 60 Restaurants Worth the Trip by Midwest Living magazine, GoJo Ethiopian Cuisine introduces guests to the traditional, community-focused dining style of Ethiopia. Using injera, a soft sourdough flatbread, diners scoop up bites of robustly flavored stew, or watt, from a bed of the same flatbread. Tibs watt, a dish made of sautéed tender beef and spices, and doro watt, a spiced chicken stew, satisfy carnivores, and lentils, collard greens, and green beans take the lead in the vegetarian dishes. The lamb sampler, GoJo's No. 1 seller, consists of well-spiced lamb and smaller sides of spiced beans and other vegetarian dishes.
421 Norwood Avenue Southeast
Grand Rapids
Michigan
Warm, red and white tortilla chips spill forth from a basket. Slow-cooked black beans are simmered with poblano peppers and blended with spice. Aged colby cheese melts together with tender shredded pork inside a hand-rolled enchilada. Traditional ingredients, house-made with care, fill the inventive dishes at El Barrio Mexican Grill. House-made salsas, sauces, and cheese blends accompany most of the grill's hearty fare, with deep-fried Tijuana corn dogs diving into dishes of creamy melted queso blanco and avocado-ranch dressing winding around wedges of grilled avocado inside soft flour tortillas. The specialty shredded-pork carnitas fly to tables in salt-rimmed skillets that hearken back to the full bar's margaritas, adding to the festive, cantina-like atmosphere and spurring discussions about which ocean tastes the saltiest.
545 Michigan St. NE
Grand Rapids
Michigan
Cherries from Michigan bedeck rainbow trout from a farm in Harrietta. Mrs. Dog's Disappearing Mustard, from Grand Rapids, drapes across sausage made from lamb raised on a family farm in McBain. Though many of the ingredients at Bar Divani are local, the chefs draw culinary influences from around the world. They dunk Bay of Fundy salmon in walnuts and apple horseradish relish, and combine dollops of aged cheddar-cheese grits with small plates of cajun-spiced black tiger shrimp. The trio of lamb sliders prance through a range of flavors, from sweet cinnamon honey yogurt to pickled carrot and pistachio butter.
The earthy scent of simmering bourbon barbecue sauce suits the warmly hued dining room, where light dances off rich wooden accents. An illuminated wine cellar showcases 40 varieties, allowing patrons to find the ideal pairing for any dish or discretely cheat through the Wine Connoisseur Weekly crossword. Servers cut among bronze columns beneath exposed-brick walls, leaving a wake of aromas that hint at alligator and exotic grains of paradise as they visit curved booths swaddled in ornate fabrics.
15 Ionia Ave. SW
Grand Rapids
Michigan
616-774-9463
Michael Raymond, owner of Grand Rapids Pizza & Delivery, has had a long relationship with the food industry. He can relate to any driver of an armored vehicle who long fantasized of one day manufacturing the gold bricks inside—while selling corrugated pizza boxes in West Michigan, Raymond dreamed of opening his own pizzeria, which he did in 2004. After many requests to incorporate fresh, local ingredients into his pizzas, he and his crew are able to top housemade crusts with locally acquired vegetables and meats procured from local butchers. Those ingredients inform the flavor of 19 specialty pies and 20 specialty subs.
340 State St. SE
Grand Rapids
Michigan
616-742-4773
Cherie Inn has treated Grand Rapids residents to European-style breakfasts and lunches since 1924, and it shows. The century-old building's original tin ceilings glint above a dining room filled with Stickley furniture, vintage artwork, and mugs of Kona-blend coffee. In the kitchen, chefs greet the day by crafting crab-cake benedicts, cranberry-walnut french toast, or the three pancakes, two eggs, and array of breakfast meats that make up the Lumberperson breakfast, which is served only to customers who can prove their grandmother was deciduous. At lunchtime, Mediterranean-style tuna salad and french-dip sandwiches play a savory prelude for chocolate-chip biscotti, house-made lemon bars, and other light desserts. The menu also caters to vegans and vegetarians with dishes such as vegan sweet-potato hash and a hearty veggie sandwich with herb cream cheese.
969 Cherry St. SE
Grand Rapids
Michigan
---