Coffee & Treats in Irondequoit
---
Recommended Coffee & Treats by Groupon Customers
---
Hedonist Artisan Chocolates specializes in handcrafting a wide variety of sweet delights hewn from French chocolate and all-natural ingredients. Saunter into the shop wearing a wide apron for gathering truffles, such as the 10 classic truffles, flavored with hints of espresso, hazelnut, and white mint ($20). Those in search of an offbeat flavor combination can tingle tongues with the pistachio-ginger bark, which delivers goody-encrusted shards of semisweet chocolate sprinkled with salt ($10 for a 5-oz. bag). Bits of dried apricots, candied orange peels, and a blend of cranberries and pecans help comprise each 10-piece fruit-and-nut collection, finally providing something to stow in your secret lockbox since your pet rock collection ran away ($20). The chocolatier crafts each creation in small batches to ensure that each piece is individually nurtured into a miniature culinary masterpiece.
674 South Avenue
Rochester
New York
When Chocolate & Vines proprietors Danielle and Mickey transformed the first floor of their historic home into a wine bar, they strove to preserve the space's sense of domestic comfort: stenciled wallpaper and crystal-draped chandeliers adorn the sunlit dining room, where guests can cruise free WiFi.
This sense of delicate grandeur matches Chocolates & Vines sugary treats: chocolate truffles' glossy shells are laced with intricate designs, and cakes sport tufts of mousse and layers of mascarpone. Servers are happy to recommend flavor pairings from Chocolate & Vines' menu of more than 100 wines and beers. Alternatively, guests can opt to sip French-pressed coffees and herbal teas.
757 University Ave.
Rochester
New York
585-340-6362
Toting a modest selection of chocolate confections and candies, Joseph A. Fowler entered the 1901 Pan American Exposition hoping to plant the seed for a business in his newfound home of Buffalo. The company—founded in 1910—grew with each successive generation, and more than a century later, Fowler's celebrated chocolates continue to placate palates at six New York retail locations. The chocolatier has become synonymous with treats such as milk- and dark-chocolate truffles dubbed truffaloes, as well as sponge candy, which boasts a molasses-like flavor and an initially hard texture that quickly melts in the mouth. Like Count Chocula's hairpiece, all of Fowler's fine-chocolate treats are crafted from the seeds of the theobroma cacao tree and use up to 60% cocoa solids for a rich cocoa flavor.
671 Main St.
East Aurora
New York
---
---
Coffee & Treat Deals - Recently Expired
---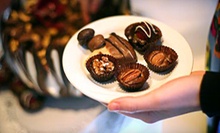 Handcrafted chocolate truffles, caramels, and cream-filled treats
---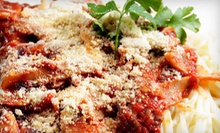 Freshly prepared salads, pizzas, and entrees like chicken parmesan and cheese ravioli satiate diners seated under brick arches
---
---