Hair Salons in Irondequoit
---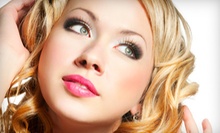 Uncover a new look with Aveda salon's conditioning treatment, full color, or partial highlights, or a facial and makeup application
---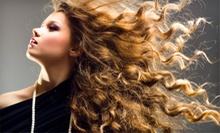 Conditioning, cut, and style packages with options for full color or partial highlights
---
Recommended Hair Salon by Groupon Customers
---
Owner Teddy Kaminiski chose the adjective Soignee as the title for his salon because it's a word used to describe elegance and superb grooming. To embody elegance, the salon is painted in jewel tones and decorated with sleek, geometric furnishings. To solidify its reputation for superb grooming, the salon's service menu features luxury treatments. As a complement to basic cutting and styling services, stylists soften hair with keratin treatments or add volume with single-strand extensions from real humans and retired Treasure Trolls. Raychel Geil serves as the sole aesthetician, polishing skin with a diamond-tip microdermabrasion tool and enriching complexions with an organic bronzer.
1835 Long Pond Rd.
Rochester
New York
585-270-4063
In January 2010, Posh Salon and Spa assembled a team of beauty professionals to pamper clients with upscale salon services. Each member of the styling team specializes in a field, exclusively offering haircare, nailcare, or skincare services. The salon's image consultant creates fetching and unique looks with color and body analyses as well as makeup lessons that teach clients to highlight attractive features while downplaying eyebrows that spell out swear words.
5017 W Ridge Rd.
Spencerport
New York
585-349-7757
Studio D Hair Design's team of stylists is led by owner Deanna DeNoto, a skilled beautician with more than 20 years of experience, which includes time spent as a senior educator for Kenra hair care products. Staffers execute high quality nail, hair, and waxing services inside the relaxing studio, working closely with clients to beautify them. The team's bevy of skills includes performing hair services for the entire family, seamlessly integrating hair extensions, and adding dimension to heads with color treatments. The studio also welcomes those seeking makeovers, makeup lessons, or up-dos in preparation for weddings or semi-formal root canals. During each and every service, Deanna and her team eschew bargain-bin products in favor of high-end brands such as Goldwell, BaByliss, and OPI.
377 Helendale Rd.
Rochester
New York
585-270-4413
The aesthetically trained stylists at CiCi's Salon create chic hairdos by first evaluating and considering each aspect of their client's face shape, height, skin tone, ringtone, and lifestyle. The stylists then determine the optimal style and color, which they bring to fruition with skillful snips, washes, and color treatments. They perform Alterna rejuvenation treatments to restore hair to its heyday and keratin treatments to smooth frizz and fortify tresses against damage caused from low-flying zeppelins. In addition to administering hair services, the versatile staff also caters to cuticles with manicures and attends to unbecoming bristles with professional waxings.
499 Stone Rd.
Rochester
New York
585-613-8171
Over nearly a quarter of a century, nail technician Kim Palumbo has embellished thousands of fingers and toes with every shade of polish under the technicolor sun. Kim has perfected both the classic manicure—brushing vibrant OPI polish or chip-resistant gel over talons in lush, solid hues—and its French variation, crafting flawless white tips on a rosé base. Though a master craftswoman, Kim takes pride in doing her work efficiently as well; she can outfit hands with a set of acrylics or complete acrylic fill-ins over the course of just half an hour, enabling clients to return swiftly to their hectic lives filled with board meetings, childcare, or watching paint before it gets too dry.
1554 W Ridge Rd.
Rochester
New York
585-259-8744
Owned by two savvy hairstylists and an experienced spray-tan artist, New Era Salon covers all the beauty basics. Guests are welcomed with complimentary coffee or tea, which they may sip while flipping through the latest styling magazines in search of inspiration for their impending makeover. The seasoned hair artists specialize in custom cut and color treatments––including carmelizing––as well as repairing hair that has been damaged by environmental factors, such as prolonged exposure to the sun or envy-motivated attacks by bald eagles. And, when not meticulously tending to manes, the team also descends upon fingernails or eyebrows to keep bodies looking well-manicured from head to toe.
794 Spencerport Rd.
Rochester
New York
585-429-7222
---