Restaurants in Irvine
---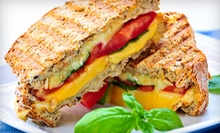 Downtown Huntington Beach
Grilled focaccia bread grips host of ingredients, such as artichoke hearts, turkey, cream cheese & salami at eatery near beach
Use Today 10:00am - 3:00pm
---
Recommended Restaurants by Groupon Customers
---
Angela Kishijara and Martha White learned to cook in their hometown of Chimbota, Peru, picking up culinary techniques and absorbing recipes as they scampered around their mother's kitchen. "Our mother was always in the kitchen cooking for us," Angela explained to reporters from OC Metro, "and she was an inspiration to all of us kids to learn how to cook."
Today, Angela and Martha bring their mother's traditional Peruvian recipes and lifetime of cooking experience to their own restaurant—Inka Mama's. Deep in the kitchen, the sisters and their chefs fold fresh chile peppers, garlic, and cilantro into a variety of Peruvian dishes, from citrusy fresh seafood ceviche to juicy beef lomo saltado. To craft their signature pescado a lo chimbotano, they simmer fish in a spicy garlic and chile broth before sprinkling on fresh cilantro.
Out in the airy dining rooms, customers snack on complimentary baguette slices dipped in flavorful green house-made aji sauce. Meanwhile, bartenders dole out pints of Peruvian beers and whip up pisco sours—a traditional cocktail made from grape brandy and sugar—also the ingredients of Crush soda for Adults. Soft lamps dangle from the ceiling, illuminating rustic stone walls and vivid murals of Peruvian landscapes.
26741 Aliso Creek Rd., Suite E
Aliso Viejo
California
949-360-6263
Like the Hamburglar, Jerry is a real person who has dedicated his life to the pursuit of grilled food. After discovering the burst of flavor that resulted from roasting hot dogs over a wood fire, he developed his own wood-fired recipes with the help of a master sausage maker. Now, Jerry's Wood-Fired Dogs serves all-beef hot dogs, internationally inspired sausages, and hefty half-pound burgers loaded with more than 30 toppings and sauces. For enjoyment outside the dining room, the restaurant goes a step beyond carryout—guests can not only purchase packs of hot dogs and sausages for at-home grilling, but even rent a portable grill to achieve the same wood-fired flavor as they would dining in.
2276 E 17th St.
Santa Ana
California
714-245-0200
Although Gulliver's Restaurant's name comes from the writing of Jonathan Swift, its menu draws inspiration from inns and pubs throughout the England countryside. Gayot praised the eatery's commitment to hearty comfort food, claiming that "the steaks are thick and juicy, and the Yorkshire pudding adds just the right authentic Olde English touch." This British influence appears throughout the menu, from the fish 'n' chips to the sweet english trifle. Prime rib slow roasts inside a specially designed oven, and cuts of prime steak age in-house, leaving ample time for the chefs to forge a variety of new American cuisine, which demonstrates a similar commitment to satisfying, homestyle flavors. In addition to baby-back ribs and crab cakes with honey mustard, the menu also includes decadent options such as Maine lobster tails in molten gold.
Even the Zagat-rated eatery's ambiance manages to evoke the feel of a roadside cottage. Lit by a row of electric chandeliers, the main dining room's wood-paneled walls feature an astonishingly vast collection of framed pictures, mounted tankards, decorative plates, long-stemmed pipes, and prints by illustrators of Gulliver's Travels. The lobby area's fireplace contributes to this cozy ambiance, although patio seating is also available for alfresco dining.
18482 MacArthur Blvd.
Irvine
California
949-833-8411
Satisfying meals and handcrafted beer intersect with premium sports viewing at Lamppost Pizza and Backstreet Brewery, founded in 1976 by Angelo Barro and his sons, Dan and Tom. Today, the franchise welcomes patrons to 37 locations in three states, and the philosophy remains the same at all of them. Seven big-screen TVs broadcast football, basketball, and baseball games from around the leagues to entertain patrons sipping small-batch draft beers brewed onsite. Fans munch on traditional sports-viewing snacks, such as jalapeño poppers, potato skins, and deep-fried depth charts. Chefs also prepare heartier entrees including garlic-chicken pasta, Pesto Supreme pizzas covered with artichoke hearts, and The Linebacker, a pizza loaded with pepperoni, salami, ground beef, sausage, and two types of bacon.
14450 Culver Dr.
Irvine
California
949-857-0160
---