Museums & Galleries in Irving
---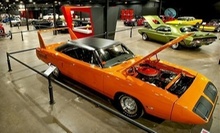 Use Today 10:00am - 6:00pm
---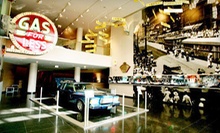 Use Tuesday 12:00pm - 7:30pm
---
Recommended Museums & Galleries by Groupon Customers
---
Located in the vibrant Arts District of downtown Dallas, Texas, the Dallas Museum of Art (DMA) ranks among the leading art institutions in the country and is distinguished by its innovative exhibitions and groundbreaking educational programs.
1717 North Harwood Street
Dallas
Texas
214-922-1247
The National Cowgirl Museum honors the tough-as-nails cow-lasses of the American West with a comprehensive collection of more than 6,000 photographs and 5,000 artifacts, as well as both traveling and permanent exhibits. A Hall of Fame gallery shares the stories of 200 honorees, including Annie Oakley, Patsy Cline, and Sandra Day O'Connor, while artifacts such as costumes, boots, saddles, letters, and jackalope lassos span 150 years of cowgirl history. Exhibits are organized to display different aspects of the lives of women in the West. Into the Arena honors women riders with rodeo memorabilia and a life-sized bronco model, allowing mounters to simulate the thrill of the rodeo. Claiming the Spotlight takes a look at the entertainers, actors, and country-western musicians whose tales of rootin' and shootin' injected the American consciousness with nostalgia for the open prairie and dangerously full tobacco spittoons.
1720 Gendy St.
Fort Worth
Texas
Shingled peaks and a lofty white balcony greet visitors as they stroll up to the Texas Civil War Museum, where more than 15,000 square feet of exhibits and collections work together to educate present generations on The War Between the States. The museum's themed sections weave a visual trek through time with artifacts preserved from both sides of the conflict, including infantry, cavalry, and artillery remnants. Medical relics and musical instruments supply additional glimpses into the war zone, and a collection of more than 300 Victorian dresses, which rotate on exhibit, showcases the style of women and celebrity cannons from that era . In addition to escorting guests through history, the museum also plays host to frequent events, such as monument ceremonies and live musical acts.
760 Jim Wright Fwy. N
Fort Worth
Texas
Though you'd never guess it based on its white, soot-free façade, an unassuming bungalow in East Forth Worth has seen fire from every angle. The structure began its life in 1928 as a fire station to protect the area's growing population from faulty toaster ovens, and today it serves as a gallery and workspace for flame-taming potters.
Firehouse Pottery's community-driven studio enables local artists to create new work in classes for all age groups classes and then display their proudest pieces in exhibitions or among a rotating selection of paintings, drawings, and pottery on display.
Resident artist Keith Thomson creates hand-made pottery and other clay artwork under tudor half timbered gables, welcoming audiences and protégés as they enter under a gabled portico held up by thick stucco columns. The intimate space also hosts events, which range from gallery exhibitions and BYOB gatherings to book signings at which only quill pens are allowed.
4147 Meadowbrook Drive
Fort Worth
Texas
817-534-1166
Bessie Heard dedicated years of her life to philanthropic efforts throughout the McKinney area, helping plant hackberry trees along downtown streets and establishing an American Red Cross chapter during World War I. However, she accomplished her greatest feat in 1967 when the Heard Natural Science Museum & Wildlife Sanctuary opened to the public. With 289 acres of rolling space, the sanctuary functions as a testament to the diversity of local flora and fauna, educating visitors and urging them to protect those species for future generations.
More than 6.5 miles of unpaved hiking trails wind throughout the sanctuary, allowing visitors to immerse themselves in habitats that range from tall-grass prairie to limestone slopes. The grounds shelter more than 150 varieties of wildflowers and plants, as well as more than 240 species of birds, mammals, reptiles, amphibians, and carnivorous shrubs. In addition to the trails, the sanctuary also features an extensive garden of native trees, grasses, and perennials, as well as a treetop ropes course (reservation required; additional fees apply). Indoors, interactive exhibits and collections impart valuable information on north-Texan geology, marine life, and venomous snakes.
1 Nature Place
McKinney
Texas
972-562-5566
In the Fort Worth Museum of Science and History, the Omni Theater's domed, 120-foot-wide IMAX screen towers over moviegoers, projecting myriad tales of human, beast, and machine alike across eight stories. The screen has born documentaries on topics such as the Serengeti desert, the Grand Canyon, and the aquatic ecosystems that distinguish the ocean from well-maintained dunk tanks. Originally limited by its scale to films that lasted an hour or less, the theater can now show feature-length films thanks to digital remastering technology, and its new IMAX IDO projection lens has increased films' brightness and sharpness. These developments mark yet another addition to its pioneering history, which includes being among the first IMAX screens in the region when it opened in 1983.
1600 Gendy St.
Fort Worth
Texas
---