Bootcamp in Irvington
---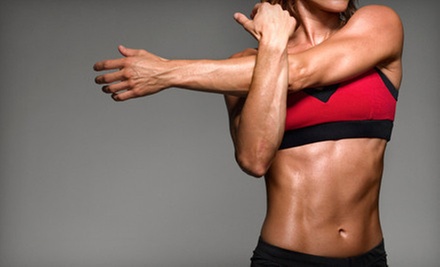 ---
Recommended Bootcamp by Groupon Customers
---
Exercising with friends allows you to morally support each other, and, when the time comes, to have the collective muscle to beat up an asteroid headed for Earth. Get strength in numbers with this Groupon.
Choose Between Two Options
$39 for one week of unlimited boot camp (a $150 value)
$99 for three weeks of unlimited boot camp (a $275 value)
Click here for an online schedule of classes. This deal is valid at the Battery Park and Washington Square Park locations only.
[[m:####Stacy's Bootcamp
Stacy draws from more than 17 years experience in outdoor fitness training when leading her classes atop the pavement and under the trees of New York City parks. Using a background in tae kwon do, capoeira, kickboxing, and boot-camp drills, Stacy creates high-intensity routines that combine cardio and strength exercises that can be adjusted for various fitness levels. She forgoes fancy machines and instead uses the environment, sculpting strong arms with 15-pound weights brought in by clients or wiping sweat from the brow with a nearby leaf.
Stacy doesn't just stay active through boot-camp instruction: She also leads an active lifestyle speaking at workshops and corporate events. Furthermore, she contributes articles to the Huffington Post, leads retreats, and teaches fitness while traveling to international locales, such as India.
86th St. and Central Park W
Manhattan
New York
Unlike the competitive environment of a testosterone-stuffed gym or mixed-martial hopscotch tournament, women's boot camp encourages all ages, skill levels, and abilities to motivate each other in a comfortable group setting. Queens Adventure's certified trainers constantly challenge participants to achieve higher levels of fitness. Classes take you through a variable variety of body-blasting, calorie-pulverizing exercises, including core conditioning, short-distance running, hiking, and obstacle courses. You'll get a nutrition seminar and fitness assessments at the start and end of camp so that you can track your progress. You'll also receive a fitness assessment as well as a nutrition seminar.
Little Bay Park
Queens
New York
Training at PPBC is the closest you can get to achieving a soldier's sculpted physique without running the risk of free college tuition. The fitness program mimics U.S. military training and gives its "recruits" the confidence to overcome obstacles and push themselves further past their comfort zones than they thought possible—all while getting super-ripped. PPBC's program centers on one of the nation's only indoor obstacle courses. While you will get yelled at, the camp forbids insults or abuse, and any pies that strike you will be harmless shaving foam. The program emphasizes positive reinforcement and teamwork—each recruit joins a platoon of 10–16 comrades in soon-to-be-toned arms. Customized goal setting ensures that everybody succeeds.
38 West 21st St., 2nd Floor
New York
New York
The NASM-certified personal trainers at Gifted Bodies strive to improve lives, not just bodies. Driven by the belief that all clients have the potential to become gifted, trainers redefine clients' limitations and push them toward progressive goals with a mixture of firm motivation and compassion. During boot-camp classes and group sessions, which include kickboxing, Zumba, ab work, and yoga, they guide patrons of all backgrounds through invigorating routines.
They also visit homes for one-on-one appointments—as long as they have a 5'x5' space or a permit to punch through drywall, trainers can commence a custom exercise routine. To instill sustainable habits for healthier living, they place emphasis on nutrition as well as gym drills. Troy Samuels, Gifted Bodies' creator and nutritional counselor, likens one's diet to the fuel put into a car: the proper fuel allows the vehicle to hit maximum speed.
431 Raritan Ave., 2nd Floor
Highland Park
New Jersey
Mitch Lee, founder of Fit Figure Boot Camp, designed the women-only program after helping his sister through her own weight loss. His 45-minute boot-camp classes target women's problem areas—such as abs and arms—in a supportive environment. He also offers nutritional guides and email coaching for added encouragement.
826 Scarsdale Ave.
Scarsdale
New York
800-310-8552
A certified personal trainer and licensed sports nutritionist, Patrick Jones surmounted his own struggles with childhood obesity to help others to shape svelte physiques at indoor and outdoor boot camps. The shifting medleys of strength and cardio drills combine with dietary guidance and unwavering support to aid clients in achieving their ideal weight. Patrick is also a recent graduate of Kai yoga's teacher-training program, and may incorporate poses that refine focus, flexibility, and levitation techniques during 45-minute classes.
15 E Putnam Ave.
Greenwich
Connecticut
917-548-4669
---