Restaurants in Irvington
---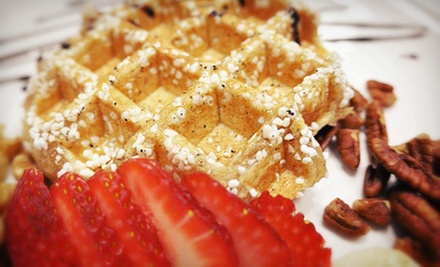 ---
Recommended Restaurants by Groupon Customers
---
The chefs at Pasion Latina aim to pay tribute to Latin American cultures by serving distinctive dishes. Taste buds are engaged with sweet plantains, black beans, and fried cassava, which are nestled beside piquant entrees from Cuba, Colombia, and other nations. Diners can sip BYOB selections on the patio, chat in the intimate, colorful dining room, or feverishly try to hitchhike to Puerto Rico without putting on swimmies.
5819 Kennedy Blvd.
North Bergen
New Jersey
201-624-1390
The flickering fireplace in the dining room of Pepper Jack Grill casts a warm glow over the bilevel booths and pale-yellow walls adorned with local artwork. In the kitchen, chefs grill rib eye steaks alongside Angus beef and turkey-burger patties for patrons to customize with toppings from the burger bar such as apricot-chipotle barbecue sauce and handcut bacon. Pintsize chandeliers light the full half-moon-shape bar, where bartenders pour signature sangria, shakertinis, and goblets of black-cherry-bourbon sours. Live entertainment tickles the ears of diners while they watch sports games on flat-screen televisions or meander toward the outdoor patio lounge to shush overhead stars.
316 Manor Rd.
Staten Island
New York
718-816-6366
The dining room, lounge, and bar areas at 121 Fulton Street take their cue from the past, with leather-lined banquettes and crystal chandeliers that create a sophisticated setting to enjoy eclectic gastropub fare. Plates of black Angus or lobster sliders decorate the sleek black tables for a post-work bite, and belgian waffles topped with caramelized bananas share space with breakfast cocktails during weekend brunches. Oversized lanterns light the bar area featuring flat-screen televisions and three-dimensional bartenders who mix specialty cocktails with fresh raspberries, cucumbers, and puréed lychee and pour pints of domestic and imported beers. Mirrors abound throughout the restaurant to make the space feel open while also concealing plasma televisions that spark to life during baseball games, soccer matches, or tests of the Emergency Broadcast System.
121 Fulton St.
Manhattan
New York
646-545-6647
For centuries, the diverse cultures of Asia have been borrowing culinary traditions from their neighbors, transcending borders to swap cooking techniques and seasonings. At China Spice, chefs that hail from locales such as China, Nepal, and Tibet illustrate these time-honored pastimes on plates, harmoniously uniting the spices and styles of Indian, Sichuan, Thai, and Nepalese cuisines. Flecks of coriander and turmeric—hallmarks of Indian and Thai kitchens—might pepper dishes doused in classic Chinese soy sauce. Provincial Hakka specialties, such as chili chicken, neighbor dishes from cosmopolitan Shanghai. Ample rice and noodle dishes, vegetarian fare, and seafood populate tables next to long banquettes, which unfurl amid low lighting and deep earth tones.
839 Newark Avenue
Jersey City
New Jersey
US
201-653-7742
A suit of gilded armor greets diners when they step inside Chateau of Spain, reminding them that in both décor and cuisine, the restaurant seeks to transport to another land. As a peninsula nation, Spain has developed a cuisine reliant upon fresh, copious seafood, and bright-pink shrimp works its way into many of the dishes on this menu, including shrimp sautéed with mushroom sauce, stuffed with crabmeat, and hobnobbing with other shellfish in the seafood paella. The lunchtime menu showcases a mix of Spanish and American fare, including burgers and BLTs, which diners can enjoy as they watch the small fleet of televisions affixed to the wall broadcasting soccer matches or the latest Real Housewives of New Jersey dubbed in Spanish for easier understanding.
11 Franklin St.
Newark
New Jersey
973-624-3346
Joseph Yaccarino emigrated from Naples, Italy, with his parents and 11 siblings at the turn of the century. He was just an infant at the time, allowing him to build nearly his entire life on North American soil. Joe's first professional endeavor was on stage, where he established himself as a comedian dubbed "Biggie." However, it wasn't long before he decided to lend his charisma—and nickname—to a different arena, one in which he'd never go hungry. Joe entered the food industry, starting by selling clams door to door.
The modest mobile business grew increasingly popular, and Joe eventually decided to apply his passion for mollusks toward opening a full restaurant in Hoboken. Three generations later, the original red brick location still thrives, as do three other locations that maintain the same family atmosphere and sea-bound smells of fresh raw oysters on the half shell. Warm italian sandwiches with fillings such as meatballs and sausage with peppers round out the menu.
42 Newark St.
Hoboken
New Jersey
201-710-5520
---