Restaurants in Isla Vista
---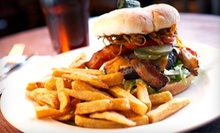 Restaurant-bakery-bar combo features a lamb burger that was praised on a popular Food Network show
---
Recommended Restaurants by Groupon Customers
---
Locals linger at the counters of Cope's Knotty Pine Cafe, chatting over steaming cups of coffee. Antiques and knickknacks speckle the wheat-hued wooden walls above booths and tables. Behind the counter, servers bustle, warmed by a griddle, and balance plates of omelets, burgers, and fried seafood. The dishes are all forged from recipes that might have been passed down through generations or discovered in extremely rough drafts of the Constitution.
1530 Norris Rd.
Bakersfield
California
661-399-0120
Tucked away in the Ojai Valley, well-concealed paths wend past copses of lush trees to the popular garden sites of The Ranch House. There, diners relax among gentle streams and verdant foliage within an oriental teahouse, or see if they know how to yodel upon two elevated redwoods decks overlooking the grounds. Alan Hooker, a chef renowned for incorporating herbs into simple, yet elegant dishes, founded the Eden-like setting more than 40 years ago.
Lauded on an episode of Food Network's The Best Thing I Ever Ate, his seasonal cuisine includes free-range chicken breast stuffed with brie and grilled swordfish steaks brushed with lemon thyme butter that make them too slippery for traditional mid-dinner duels. To complement those flavors, Alan assembled an award-winning wine list with approximately 650 selections. After their meal, guests can tour the rest of The Ranch House grounds, working off the meal as they stroll through the herb garden and bakery.
South Lomita Ave.
Ojai
California
Within a cozy diner, decorated with a pink-and-blue mural of steaming coffee, servers festoon tables with hearty portions of homestyle comfort food. On any given day, the kitchen buzzes with cooks whipping up homemade entrees ranging from burgers and soups to salads and omelets served with fixings' such as fresh beets, roasted turkey, and thick-cut brioche. Guests chat over chorizo and eggs or marvel at the signature waffles that arrive under mountains of strawberries and whipped cream—a staple of the breakfast menu that runs all day, much like a marathon runner energized by a stomach full of biscuits and gravy.
328 E. Ojai Ave
Ojai
California
C-Street, which is tucked into a charming ocean-front hotel, satiates diners with fresh California cuisine made from ingredients such as locally farmed vegetables and recently caught fish. Guests nosh on steamed mussels in a saffron bouillabaisse, filet mignon with a merlot blue-cheese sauce, and harbor-fish tacos with avocado salsa. Outdoor seating offers them a chance to swirl a glass of wine from the full bar while listening to the nearby seabirds' calls and personal cell phone conversations.
450 E Harbor Blvd.
Ventura
California
---