Ives Estates, FL Health and Fitness
---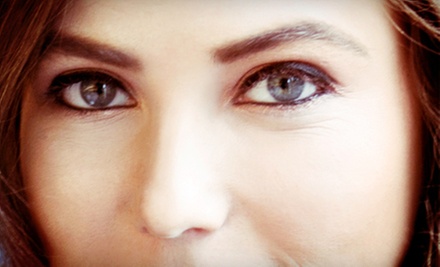 ---
Recommended Health & Fitness by Groupon Customers
---
Groupon cares about your dental health because studies have shown people with strong chompers purchase more Groupons. Unfortunately, many of us are without dental insurance, but succumb far too easily to the American obsession with eating solid foods. Today's Groupon to Astoria Dental at the Beach will bring your mouth up to snuff with x-rays, a dental cleaning, and an exam from Oscar Lopez, DMD, a wildly successful tooth magician who has opened four dental practices across the United States. This Groupon can be used at either of Astoria Dental's two Miami locations.
18140 NE 19th Ave.
North Miami Beach
Florida
US
Novelty shirts airbrushed with bikini-clad bodies provide the convincing, if temporary, illusion of fitness. Find a more permanent fitness solution with today's Groupon. For $45, you get five group circuit classes at Nomi Pilates, a $175 value. Your Groupon also gets you 50% off a $100 private session should you choose to partake (you can purchase it when you go to the studio). This North Miami boutique studio offers a range of classes aiming to reform the shape of your body, mind, and shadow.
2124 NE 123rd St.
North Miami
Florida
US
Start 2010 with a kick in your pants from yourself using the foot of someone else with today's side deal: for $65, you get a four-week boot camp session at South Florida Fitness Boot Camp. You'll also get 20% off your next session should you choose to return. Each session meets three days a week, with each class lasting about 45 minutes. That's more than two hours of dedicated team fitness per week for a month, about the same amount of time as the average person spends reading cereal boxes.
16500 Nw 87th Ave
Miami Lakes
Florida
US
If people are always laughing at you in a dubbed voice and loudly declaring that your kung fu is weak, it may be time to stop watching movies and start working out. Today's deal will get you in fighting form: for $50, you get 10 dance, fitness, or martial-arts classes of your choice at Temple Arts Fitness in Davie (a $150 trial value or a $100 value for new gym members). This Groupon can be used for any class, though you'll have to call ahead to schedule OmGym, Pilates, or spinning. Parking is free.
5619 S University Dr.
Davie
Florida
954-680-1815
This deal includes the 24/7-access key card, so you don't have to let The Man tell you when you can avail yourself of Snap's top-of-the-line cardio and strength equipment. Arrive at Snap super late and pretend you're working out in an Edward Hopper painting, or pound the treadmill at four in the morning and get pumped to host a morning shock-jock radio show. Even if you exercise during conventional hours, Snap's friendly, unintimidating atmosphere will provide a refreshing change of pace from any meat-market gym or tough elementary schoolyard you've experienced.
14740 Biscayne Blvd.
North Miami Beach
Florida
Established in 1988, FIST Mixed Martial Arts offers a potent puree of several styles, including Krav Maga, kung fu, kickboxing, and Jiu-Jitsu, in its curriculum. Throughout the lessons, the school's instructors emphasize self-confidence, discipline, balance, and how a well-delivered high kick can get any malfunctioning jukebox working again. FIST's top priority is the safety of its students, meaning all engagements are closely monitored and students must wear the proper safety equipment. Each class is an hour long, with courses open to martial artists of all ages and abilities. There are classes specifically designed for children (ages 5–7), youth (ages 8–12), and adults (ages 12+), as well as general fitness classes. Check the schedule for upcoming course options.
2275 NE 164th Street
North Miami Beach
Florida
---