Jacinto City, TX Spa and Massage
---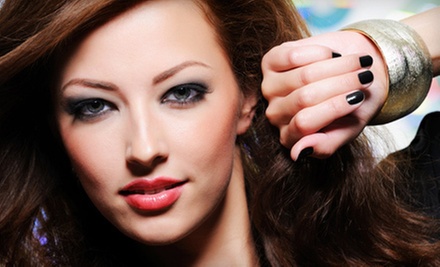 ---
Recommended Spa & Massage by Groupon Customers
---
Though they make for awkward office Christmas parties, the confluence of strawberries, chocolate, champagne, and massages can give lovey-dovies a romantic way to pass the least romantic day of the year—Valentine's Day. Today's Groupon gets you and a loved one a one-hour soothing couple's massage ($180 value) with complimentary champagne, strawberries, and chocolate at SpaNow in the Inner Loop for $99.
3651 Weslayan St., Suite 200
Houston
Texas
Nine out of ten eyelashes agree that eyelashes are an incredibly attractive and highly alluring attribute. A thick, nicely curved pair of eye-batters can rapidly woo four to six cavaliers per blink, especially at dances, bars, and other fancy times where it's impossible for admirers with tiny, tiny eyelashes to make significant eye contact from afar. Professional eyelash extensions are a quick and safe way to bat spectacular for a wedding, prom, headshot picture, Halloween party, home fumigation, or anywhere else people take close-up photos.
3019 Kirby Drive
Houston
Texas
The aesthetic experts at White Salon & Skincare Center team up to bring extra energy to tired limbs, smooth out weatherworn skin, and rehabilitate dull coiffures. During the Swedish massage, deft hands put light- to medium-pressure on the area surrounding spines in an effort to get knotted muscles to unwind and relax. Using long, connective strokes and kneading to improve blood flow, it stimulates the lymphatic system, relieves physical tension, and melts stress into a puddle of biodegradable papier-mâché. The White mini facial begins with a double cleanse from a Sonicare brush, followed by a skin-steaming to shoo out the unwelcome toxins boarded up inside pores. An aesthetician then exfoliates dermal terrains and extracts dirt and oil from facial fissures. While allowing a mask to set, limbs loosen with a hand and arm massage before a final layer of SkinCeuticals products completes the treatment.
320 W Gray St.
Houston
Texas
713-524-7100
Josephine's Day Spa and Salon offers a range of award-winning salon and spa services to choose from, including all hair-care services, waxing and hair tinting, facials, makeup applications, and mani-pedis. If you don't have an area of your body that necessitates cookies and special attention, play human roulette and randomly select a limb or terminus for pampering. Get a 30-minute botanical resurfacing facial enhancement ($75) that buffs your skin with tourmaline, or combine a shampoo and women's cut ($45+) with a lip or chin wax (each $18+). Give your legs some well-deserved attention for propping up your torso with a full leg wax ($78+), or pamper your most distal digits with an Aveda Caribbean Therapy foot treatment ($65).
11200 Broadway St., Suite 625
Pearland
Texas
Offering top-notch beautification services, Winx provides customers an opportunity to spiff up appearances with a set of professional eyelash extensions. Each visitor will be able to add a dashing dose of style to their eye shrubs with a set of extensions made from an unlimited number of lashes. A skilled stylist will add as many lashes as it takes to reach satisfaction. Extensions are customized to each patron's needs, ensuring they achieve the best look possible while making tricky mascara application unnecessary, saving you time in the morning. Eyelash extensions are waterproof, sweatproof, and beneficial for all ages and people with active lifestyles. Because natural eyelashes shed, Winx recommends a ReLash rejuvenation every three to five weeks for optimal ocular alluring ability. Touch-ups cost $75 and the interval between application and ReLash depends on growth rate and maintenance.
616 W Polk Ave.
Houston
Texas
---