Coffee & Treats in Jackson
---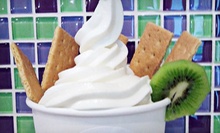 More than 50 toppings gussy up self-serve frozen yogurt in more than 30 probiotic-packed flavors
---
Recommended Coffee & Treats by Groupon Customers
---
After eating sushi on their first date, one young couple realized that their town lacked a postdinner hangout spot for all crowds. Though the couple didn't let this spoil their evening—they married later that year—it did instill them with the entrepreneurial spirit, leading them to found Sweet Tree Yogurt. The family-friendly eatery fans the flames of dessert cravings with more than 30 self-serve yogurt flavors packed with live and active probiotics and more than 50 candy and fruit toppings. Customers fill cups or upside-down witch hats with the yogurt of their choice, from low-fat varieties such as vanilla and cookies 'n' cream to sugar-free or fat-free treats including chocolate and cheesecake. They next crown their cups at the expansive toppings bar, which teems with almonds, candy bars, fresh fruit, and syrups. Finally, completed desserts rest on a scale at the weigh station to determine the amount of moola due and whether each cup will fight in the welterweight or featherweight division.
772 Lake Harbour Dr., Suite 5
Ridgeland
Mississippi
Trey and Mamie Herron of Skinny's Nutrition Studio—which was given a shout-out by Well-Being] magazine—work to make fitness something that touches each part of daily life. They host healthy happy hours, lead excursions into the outdoors, and fuel it all with protein-based meals and wellness plans. In the shop, glasses line the counters beneath verdigris walls, brimming with 41 smoothie flavors, aloe shots, and energy-boosting teas, and patrons discuss fitness goals after wellness assessments. Weight-loss challenges harness the healthy powers of competition, unlike a friend who claims to be able to swallow more Legos.
7048 Old Canton Rd., Suite 1003B
Ridgeland
Mississippi
601-707-5448
At Bop's Frozen Custard, sweets specialists whip up cold desserts in the same way that vendors did under the carnival lights of Coney Island in 1919. With fewer tiny air bubbles than traditional ice cream and a serving temperature of 26 degrees, frozen custard provides a dessert experience that's as smooth and rich as John D. Rockefeller swimming in an olive-oil pool. The dessert artists design specialties such as frozen-custard turtle sundaes with fudge, caramel, and pecans and super-thick concrete shakes packed with loads of fruits and candies.
1390 W Government St., Suite A
Brandon
Mississippi
In a modern-day parlor that comes alive with neon-lime walls and hardwood floors, rows of self-serve machines dispense creamy swirls of frozen yogurt, all of which have fewer than two grams of fat per ounce. Curious, classic, and unorthodox flavors, such as chocolate raspberry, passionfruit, and english toffee, jump off the rotating menu and into cups before hosting any number of mix-ins, from honeydew to Jelly Belly jelly beans. The frozen deserts are made with fat-free milk, and guests can get no-sugar-added and gluten-free options. Unlike a secretive candidate running for the presidency of the American Dietetic Association, Orange Leaf posts the nutrition information for all of its snacks.
1022 Hwy. 51
Madison
Mississippi
Shonda Harris, a former Angeleno now living in Mississippi, taught herself to bake in her own kitchen, tweaking her recipes for cakes, cupcakes, and baked goods until each passed her kids' stringent taste tests. More than a decade later, Shonda continues to earn new fans at My Cup Runneth Over, a bright café that serves pastries, espresso, and coffee beverages as well as breakfast and lunch on weekdays. Though not the most obvious match to the bakery's cakes and cupcakes, the restaurant's southern-inspired fried-shrimp po boys and burgers evoke similar nostalgia for soulful, down-home cooking.
When she isn't preparing to square off in Food Network's Cupcake Wars, Shonda creates edible centerpieces for weddings and catered events. Her fondant and buttercream cakes come in custom shapes and sizes with a variety of colorful embellishments, from blooming flowers to elegantly scrawled court subpoenas
111 E Capitol St., Suite 125
Jackson
Mississippi
601-360-2419
The Cookie Store helps its customers to satisfy their sweet teeth with an extensive assortment of fresh-baked cookies and seven types of smoothies. From classics such as chocolate chip to more inventive flavors including snickerdoodle, honey oatmeal raisin walnut, and heath-bar toffee, The Cookie Store's bakers concoct a spread of delicious bite-size treats daily. In addition to cookie trays and tins, bakers create custom cookie cakes in a variety of different shapes, including hearts and circles, that can be decorated with birthday messages, cartoon characters, or interpretations of Jackson Pollock masterworks.
1200 E County Line Rd.
Ridgeland
Mississippi
601-952-0062
---