Coffee & Treats in Jacksonville Beach
---
Recommended Coffee & Treats by Groupon Customers
---
Sweet CeCe's Frozen Yogurt & Treats is the frosty brainchild of husband-and-wife team Brian and CeCe Moore, who took inspiration from CeCe's childhood memories of making homemade blackberry ice cream with her grandmother on hot summer nights. CeCe's own sweet treats have adopted a decidedly healthy spin thanks to probiotic-, calcium-, and protein-packed frozen yogurts, many of which are made without high-fructose corn syrup or help from a genie. A rotating line-up of 75, mostly fat-free flavors includes everything from cupcake batter and old-fashioned butter brickle, to peach-tree tart and pomeberry sorbet, with sugar-free options also on tap. A topping bar brimming with fresh fruits and dry toppings such as cheesecake and granola awaits to accessorize the swirly sustenance, allowing treats to be built to suit any taste, budget, diet, or New Year's resolution to eat more hot fudge.
3267 Hodges Blvd., Suite 2
Jacksonville
Florida
Pete Behringer's passion for sweets ignited at the age of 14, when his mother founded Peterbrooke Chocolatier, the site of his first job. Pete's profession hasn't changed in three decades, and his passion and talent for handcrafting artisan confections has flourished. His insistence on weaving together simple, all-natural ingredients with an artisan touch earned him the proud title of Chocolatier of the Year for his gourmet chocolate treats, many of which are gluten-free, at Jacksonville's 2012 Taste of Chocolate Challenge. Within his candy shop, a century-old picturesque Victorian nestled in historical Springfield, he displays rainbows of jellybeans, sour gummy bears, vegan and gluten-free products, and colorful lollipops shaped like animals, airplanes, and Rorschach blots. When he's not spinning natural cane sugar into edible masterpieces, Pete hosts candy-making classes, parties, and events in his candy shop or on location.
1922 Pearl St.
Jacksonville
Florida
904-376-7161
This colorful parlor of non-fat treats allows you to enjoy your creamy dessert as you did in childhood: free from weighty worries and calmed by a steadfast belief in unicorns. Offering trivia games, sing-a-longs, and a question of the day, this fro-yo shop is a fun and sweet hangout for area teetotalers or a refreshing stop on your company pub crawl. Mr. Yogato offers two original flavors of yogurt (tangy and sweet) all the time, plus one or two flavors of the week and nearly 50 toppings, from fresh berries, mango, and melons to gummi bears, mochi, and Cracker Jacks. Yogurt ranges from $3 to $5, and toppings are $1 for one, $1.50 for two, and $1.75 for three, though some, including chocolate syrup, basil, and red-bean paste, are on the house. Cover your cooled cream in a cloak of coconut, Teddy Grahams, and blackberries, or mix up your mango with copious chocolate chips and a drizzle of complimentary olive oil.
1232 Beach Blvd.
Jacksonville Beach
Florida
When the founders of 3 Sisters Chocolate & Bakery sought the perfect inspiration for their chocolate shop, they looked no further than three sisters they knew—one really creative, one really sweet, and one a perfectionist. When they founded 3 Sisters Chocolate & Bakery more than a decade ago, they combined these ideals to craft creative, sweet treats from family recipes with supreme attention to detail. Today, the 3 Sisters repertoire includes gourmet cupcakes, brownies, and decadent truffles. It also features the unexpected, such as chocolate pizzas and shoes, adding to the shop's mantra that chocolate is an experience, not just something to eat or pump through an IV.
9965 San Jose Blvd.
Jacksonville
Florida
---
---
Coffee & Treat Deals - Recently Expired
---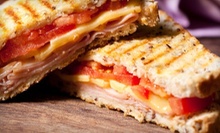 Breakfast omelets and waffles paired with coffee precede lunch and dinner sandwiches filled with Boar's Head meats
---
---