Things to Do in Jacksonville Beach
---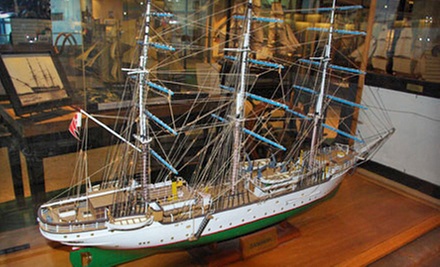 ---
Recommended Things to Do by Groupon Customers
---
With help from a staff of paddleboarders, surfers, environmental scientists, and a dog named Dillon, Kayak Amelia founders Jody and Ray Hetchka combine their love for outdoor sports with environmental conservation. Ray, a certified naturalist and self-described tree hugger, peppers guided kayak, bicycle, and paddleboard eco tours with facts on flora, fauna, and all the best smells circulating throughout the island's delicate ecosystem. In addition to guided tours, Kayak Amelia teaches paddleboard and kayak lessons, and leads fishing trips and overnight kayak excursions. Guests can sign up for tours, or rent equipment for the day, at Kayak Amelia's storefront, Y.B. Green's General Store, which carries eco-friendly gifts such as beeswax candles, carved bone necklaces, and clay-dyed clothing.
13030 Heckscher Dr.
Jacksonville
Florida
High-profile destinations often cite their high ratings on TripAdvisor, which named e2ride bike tours Jacksonville's No. 1 attraction. However, few boast that they were highly rated by Harriet Beecher Stowe. Her iconic novel, Uncle Tom's Cabin, is credited with helping to ignite the Civil War, but most of her opinions on travel have been lost to the ages—except on the company's historical bike tour of Olde Mandarin. As the tour group winds past the lush area's museums and public parks, the tour guide notes that Stowe dubbed the area "a tropical paradise."
On the company's other tours, guides offer equally juicy historical tidbits, such as that Riverside-Avondale was originally only occupied by just two homeowners or that Truman Capote vacationed in Springfield. As they learn about the past, groups cycle down present-day roads lined with homes in styles ranging from Tudor and Georgian to Star Warsian.
2623 Herschel St.
Jacksonville
Florida
Staring at a blank piece of paper can be intimidating, but browsing the blank, premade pottery at Doing Dishes draws hibernating creativity from its den, enticing the brain with shape, size, and bisque meat. Pieces range between $7 and $60, and all merry potters are assessed a modest studio fee of $6, which covers everything required to design and fire a project, including time. Grab a blank plate and paint a meal upon it, stencil a cup with springtime flowers, or decorate a picture frame worthy of being hung inside itself.
1026 Edgewood Ave. South
Jacksonville
Florida
The student walks into the packed studio, decked out for a night on the town. He's nervous, thinking that perhaps one salsa class wasn't enough to prepare him for the social setting. But once the Latin beats start to fill the space, the steps come back to him. He grabs a partner's hand, and they hit the floor. Such is the scene at one of The Dance Shack's in-house dance parties, where Shackers try out the skills they have learned in group or private lessons within the studio's familiar confines before they hit the club.
3837 Southside Blvd.
Jacksonville
Florida
904-329-2946
Kristin Hendrix teaches students to create functional and decorative ceramics during Morning Glory Fire Arts' classes, field trips, and other hand-crafting adventures. All materials are included in the two-hour clay classes ($24/child, $30/adult) where students can sculpt a bowl, vase, or replacement sock before returning a week later to glaze the fired piece. Clay players can also put together a pottery-to-go kit ($7+ depending on selected item) packed with a custom set of brushes, glazes, and other materials to create and fire ceramics at their own pace. Hendrix will tote glazes, tools, and clay or bisque to a location of the customer's choice for a reverse field trip ($5/person for groups of 12 or more), sparing supervisors the trouble of collecting notarized permission slips.
3323 Park St.
Jacksonville
Florida
Surfing savant Tiffany Layton caught her first wave more than two decades ago and has been launching her board into open waters ever since. Tiffany's pastime evolved into a way of life about six years ago when she began surfing competitively and racking up an impressive list of championship titles. It was around the same time that Tiffany became certified to teach surfing, and today she shares her knowledge of the ocean at Jacksonville Surf Training.
Tiffany and her team of talented surfers welcome pupils of all ages and skill levels, encouraging healthy lifestyles through surfing lessons and camps, standup-paddleboarding lessons, and yoga and fitness classes on sand and water. They even host surf and yoga retreats in exotic lands—the next trip journeys to Costa Rica, the famous location where the ocean made its first wave while attending a rowdy futbol game.
1st St. N & 13th Ave. N
Jacksonville Beach
Florida
904-435-7873
---