Museums & Galleries in Jacksonville
---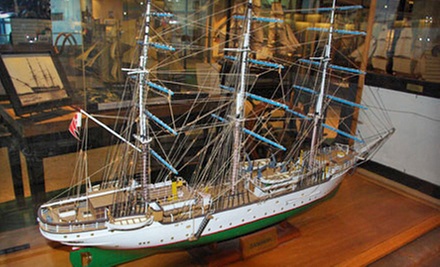 ---
Recommended Museums & Galleries by Groupon Customers
---
Thought it was opened just in 2012, the Harn Museum of Art's 26,000-square foot David A. Cofrin Asian Art Wing has quite a bit of history on its hands. There are nearly 700 works on display, all chosen from the museum's collection of more than 2,000 pieces. Dating from the Neolithic period to today, the pieces hail from countries such as India, Persia, Vietnam, and Japan.
Asian art makes up a quarter of the Harn's more than 10,000 works, which, along with travelling exhibitions, fill 32,800 square feet of gallery space. You'll walk past African wooden masks, metalwork, and ceramics, as well as almost 1,000 modern prints, drawings, and paintings—including canvases by Claude Monet.
Breaking the tradition of many art museums' "Do not touch" signs, the Bishop Study Center has exhibit-related objects that can be gently touched, though you are not allowed to break apart any sculptures in search of hidden treasure maps. Beyond exhibits, the Harn hosts frequent events including lectures, film screenings, live performances, and interactive programs for students and families.
SW 34th St. & Hull Rd.
Gainsville
Florida
A piece of Spain separated from Europe and landed in Florida. Nestled in Saint Augustine's historic district and listed on the National Register of Historic Places, the majestic Villa Zorayda contains architectural features that mirror those found in the Alhambra palace in Granada, Spain. Audio tours lead visitors through this restored Spanish villa's halls and airy inner courtyard, pointing out hundreds of antiquities such as Arabic arches, glazed ceramics, bronze statues, and ancient charcoal burners. When not welcoming tours, the historic building and grounds also host weddings and private parties.
83 King St.
St. Augustine
Florida
904-829-9887
With an in-depth collection of Victorian-era art and artifacts, Lightner Museum could find no better setting to house its works than the former Alcazar Hotel, built in 1887. Relics cover three floors of the intricately architected building, which is listed on the National Register of Historic Places and designed in Spanish-Renaissance style by the visionaries behind the New York Public Library. Inside the magnificent lobby, whitewashed pillars connect high ceilings bordered by intricate plastered molds with amaranthine-hued mosaic floors.
Wander into the Science and Industry room for views of a taxidermied crocodile suspended from the ceiling, mingling among cases filled with statuettes and antique globes. Moving into neighboring galleries, a carved and gilded neoclassical rocking chair and colorful, mosaic-like Louis Comfort Tiffany lamps provide insight into the daily lives of Victorian citizens. Other 19th-century paintings and statues showcase the era's artistic inspiration as well as its curious fashions, such as wearing Santa Claus hats year-round.
75 King St.
St. Augustine
Florida
904-824-2874
The St. Augustine Lighthouse has been keeping its luminous eye on the Atlantic's endless horizon since 1874. In the 130 years since, the tower of Alabama brick and Philadelphia iron has served as the home of light keepers, a beacon to sailors, and a target of arson, eventually benefiting from a 15-year restoration project that commenced in 1980. Today, a staff of historians and protectors is eager to share the rich history of the nation's oldest port, not only through education and preservation but also by letting guests explore.
Visitors can scale the 165-foot, black-and-white lighthouse's 219 steps to the bright-red observation deck to catch breathtaking views of St. Augustine and spot gangs of dolphins making trouble by the shore. Lens-room tours allow up-close access to the regularly off-limits Fresnel lens, built in 1873, which weighs 2,000 pounds and shepherds ships with a light that radiates for 25 miles on a clear night. The clink of champagne glasses adds an element of glamour to Sunset Moonrise events, whereas Dark of the Moon tours let guests in after-hours to hear the tales of paranormal activity that earned the lighthouse a feature on Ghost Hunters.
81 Lighthouse Ave.
St. Augustine
Florida
904-829-0745
Standing still in a cloud of free-flying butterflies, exploring the depths of a limestone cave, and gazing at the 14-foot bones of a 16,000-year-old Columbian mammoth skeleton—visitors can do all of this in just one afternoon at the Florida Museum of Natural History. Since starting in 1891 as a professor's teaching collection of fossils, minerals, and human anatomy models, the museum has transformed into the home of more than nearly 40 million specimens, creating a library of life that features one of the world's largest collections of butterflies and moths.
Reflecting the museum's impressive collection of winged beauties, some of its exhibits focus on the butterflies and moths that, unlike humans, can survive long flights without eating a single package of peanuts. At the Butterfly Rainforest, more than 1,000 butterflies from 60 to 80 species take to the air among tropical trees, orchids, bromeliads, and waterfalls cascading into a pond that bustles with fish and turtles. Feeding stations with freshly cut fruit dot the 6,400-square-foot screened enclosure, letting guests get up close as the butterflies feast. Live butterfly releases daily at 2 p.m. and on Saturday and Sunday at 3 p.m. and 4 p.m. let onlookers watch them fly into an outdoor butterfly rainforest, and among the indoor butterfly exhibits, curious audiences can peer into a rearing lab where staff unpack and sort newly arrived pupae.
Rounding out the museum's focus on Floridian biosystems, the Northwest Florida: Waterways & Wildlife exhibit invites visitors to wander through a full-scale recreation of a hammock forest, and the South Florida exhibit takes guests down the peninsula with a mangrove boardwalk and a palm-thatched Calusa leader's house. The museum's internationally acclaimed fossil collection includes highlights such as "shark jaw row," extinction dioramas, and full skeletal mounts and sculptures. Meanwhile, outside, petals unfurl in the wildflower and butterfly garden.
SW 34th St. and Hull Rd.
Gainesville
Florida
352-846-2000
---