Shopping in Jacksonville
---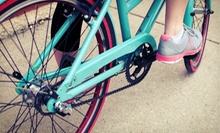 Technicians mend cycles, clean cables, tidy up chains, and reduce risks of stranded riders with a spare tube
---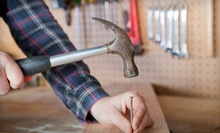 Hardware magnate established in 1924 stocks building and repair materials across six Gainesville-area locations
---
Recommended Shopping by Groupon Customers
---
Lina M.'s natural, handmade soaps, soaks, salts, scrubs, and creams are whipped up weekly in small batches to ensure that skin-parched patrons receive the freshest products possible. Products tickle the nose's tongue's taste buds with light aromatics such as Oasis, a clean, summery fragrance, or signature scent Lina, a feminine bouquet of wisteria and lilac. The healthful bath brigade includes a 4-ounce honey and crème bath and facial bar made with goat's milk, oatmeal, natural raw honey, shea butter, and olive and aloe vera oil ($7) to moisturize a whole soul-sack from top to toe, whereas 1-ounce Shea to Go travel tins provide easy access to concentrated dollops of creamy African shea butter for scratchy, dry patches. Like a spork, the mineral bubble bath salt ($7) combines the form and function of two essential wares—the skin-softening salt soak and the frothy, prophetic nature of a cauldron's worth of bubble bath. With all items at $7.98 or less, Lina M.'s brand of wholesome luxury is as affordable as it is indulgent.
2 Independent Drive
Jacksonville
Florida
Scrapbooks are commemorative collages that chronicle some of life's best memories, and Pictures In Time creates its own full PIT-kits with everything you need to display special events like birthdays ($9.99–$14.99), family vacations ($9.99–$12.99), sporting events ($9.99), and Grandma's wicked fastball. Each kit contains acid- and lignin-free supplies to ensure long-lasting photo health. Handy instructions are accompanied by a full-color photo of a finished layout to help you build your page. If your concept of scrapbooking is similar to a third grader intuitively doing quantum mechanics, just ask one of the friendly and knowledgeable staff members to help you navigate through the abundance of crafting inventory. Peruse the aisles of single products to create a custom-made scrapbook with in-store treasures.
550-13 Wells Road
Orange Park
Florida
The specialists at Mr. Frame It take pride in preserving and enhancing memories in all of their physical embodiments—from artworks and photographs to prized sports souvenirs. They draw on more than 1,000 samples from brands such as Larson-Juhl to create custom frames that either serve as focal points or blend in with room decor. In addition to encasing children's artwork and family portraits, the staff stretches canvases, mounts mirrors, and builds shadow boxes to house awards and first-edition time-share brochures.
5025 San Jose Blvd.
Jacksonville
Florida
When notorious comedian Sinbad is on stage bringing the laughs, there's a good chance he might be sporting a pair of size-14 flip-flops that he bought at Flip Flop Shops at Avenues Mall in Jacksonville. The Flip Flop Shops franchise also aims to liberate toes of noncelebrities from uncomfortable confines, encouraging a carefree mindset through simple footwear styles. Their enthusiasm for outdoor activity led them to fill their retail locations with shoes from Reef, Flojos, Roxy, and Sanuk, among other brands. Vegan and water-friendly sandals keep the environment in mind, and cushy materials—including foot beds crafted from former yoga mats—mimic the feeling of walking on air without the danger of getting clotheslined by a kite string.
10300 Southside Blvd., Suite 1540A
Jacksonville
Florida
Artwork, gifts, and feminine white vines line the walls of Ashes' Boutique & Tea Garden, where a cozy tearoom is nestled among gauzy curtains and white-lace tablecloths. Owner and artist Dana Roby serves up pots of leafy brews and assorted nibbles during afternoon tea services, suitable for patrons of all ages and hat sizes. Roby also curates a thoughtful collection of gifts that include candles, jewelry, and attire.
332 2nd St. S
Jacksonville Beach
Florida
904-270-0220
A family owned business, Crafts & More fosters artistic inventiveness with an eclectic stock of more than 40,000 crafting tools and art materials from esteemed brands. A kaleidoscope of Liquitex acrylics and Winsor and Newton Artists' Oil paints adorn canvases, and cutting boards, stamps, and adhesives wait in the wings for eager scrapbookers. A selection of children's art kits helps whippersnappers ace school projects or create detailed maps to cookie jars. Knowledgeable staff members stand ready to assist customers with concerns and questions, and they also extend their expertise during frequent classes and outreach workshops.
506 Beach Blvd.
Jacksonville Beach
Florida
904-241-0093
---