Jamaica Plain Automotive
---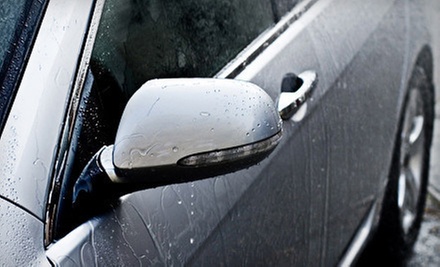 Jamaica Central - South Sumner
---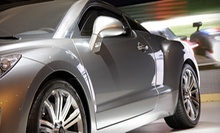 Expert technicians evaluate mechanical performance, increase lifespan of motor & tires & restore factory floor shine
Use Thursday 7:00am - 7:00pm
---
Recommended Automotive by Groupon Customers
---
Bypass confusing tunnel tracks and the initial embarrassment of public displays of dirtiness; Zoom comes to you. The traveling cleaning company will haul its team and eco-friendly products up to 100 miles outside of the Charlotte area. The premium detailing is a complete overhaul of grungy exteriors and interiors. On the outside, rides get a thorough waxing and polish with sealant, tire cleaning, and chrome and trim dressing and polishing. A shampoo, vacuuming, and carpet-stain-cleansing scrub, along with a cleaning and conditioning of leather and vinyl, takes care of internal dirtiness.
0 Post Office Square
Boston
Massachusetts
US
Auto Number One's mechanics duck beneath cars during repair and maintenance services, looking to fix faulty engines and brakes, perform tune-ups, change oil filters, and align wheels with the stars. At the detailing shop, the techs wash, wax, and dry cars by hand, mend dents, and restore headlights. When vehicles need a makeover, drivers can browse the shop's selection of window tints, remote starters, alarm systems, and audio systems, or stroll through the rows of preowned vehicles and to see if any automotive aestheticians are hiding there.
1439 Commercial St.
Weymouth
Massachusetts
781-331-2717
A part of the auto-upkeep industry for 25 years, Tony's Recon draws on an experienced team of technicians to perform spotless makeovers for all manner of land, sea, and sky transport. Chemical-free soapy solutions spiff up cars, hand waxes protect the finishes on boats and airplanes, and buffing compounds even out the mange on Santa's reindeer. Realizing that dirt and grime often penetrate below vehicular surfaces, the exacting staff delve deep into carpet fibers during interior details that enlist shampoos to reinvigorate mats and seats.
10 Caller St.
Peabody
Massachusetts
978-587-2857
As documented in its online gallery, 360 Motorsports shines up dirty rides and leaves them gleaming brighter than a glazed super moon. A collection of seven detailing packages bolster washes and chamois wipe-downs with add-ons such as paste wax, hot-water carpet extractions, and clay-bar treatments. Technicians also outfit autos with accessories like fog lights, HID headlights, and color-match wheels, install remote starters and alarms, and top trunks with sporty spoilers.
62 Jefferson Ave.
Salem
Massachusetts
978-594-1860
Mobile service and tire installation, two seemingly separate services, come together inside My Tire Guys' bright yellow trucks. Damaged tires immediately take autos off the road, making it difficult for owners to replace torn rubber without an expensive tow or a dangerous piggy-back ride to a mechanic. My Tire Guys' technicians load their mobile service centers with new, brand-name tires specific to the make and model of the customer's vehicle, and then travel to their home or office to install fresh rollers and balance them with laser-guided, computerized equipment. Technicians even dispose of the old tires, saving customers the hassle of locating a proper facility.
4 Arlington Rd.
Needham
Massachusetts
800-847-3817
At seven locations throughout Boston, the technicians at Mr. Perfection Inc thoroughly clean vehicles inside and out with a variety of detailing packages. In addition to hand-washing services, clay-bar treatments, and steam-cleaning carpets, seasoned car-care experts can remove dings or dents, replace windshields, or tint windows to conceal foreign royalty longing for life among the common folk.
1 Seaport Ln., Suite 3
Boston
Massachusetts
US
617-385-4000
---