Jamaica Plain, MA Indoor Activities
---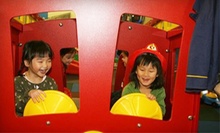 While parents supervise, kids aged 6 or younger frolic on climbing structures and slides or create crafts at the art table
---
Recommended Indoor Activities by Groupon Customers
---
Boston Bowl buffs and polishes 20 lanes to accommodate fat tenpins and 14 lanes for their thin, stern candlepin cousins, ensuring smooth trips for the spherical projectiles eager to greet them. While groups of two and clans of four frolic beneath a multicolored bowling mural, automated scoring screens dutifully account for every pin conquered, awarding extra points for any particularly stinging impression of another bowler's form.
820 Morrissey Blvd.
Dorchester
Massachusetts
617-825-3800
If your body needs a guiding hand, let Rock City's certified Pilates instructors introduce you to one of the universe's most popular forms of exercise next to jogging and cow tipping. Through 12 matwork classes ($150 value), you will simultaneously stretch and strengthen your core (abs, back, and obliques) while using small pieces of equipment such as bands and balls to strengthen your arms, shoulders, shouldarms, and legs.
107 Brighton Ave. #3
Allston
Massachusetts
Buckle into the transformative vests and prepare to be transported into another dimension. Laser tag is an affordable way to live out video-game dreams, work out tensions with your roommate, or live out your fantasy of starting a ragtag militia of space marines with Erik from accounting. Instead of cartoon re-runs, treat the kids you babysit or your actual kids to a more active adventure for the imagination. Get a small group together and make it a social excursion—laser tag is great for double dates, office outings, or post-dental cleaning parties.
330 N Main St.
Randolph
Massachusetts
Founded in 2007, A Far Cry is a self-conducted chamber orchestra made up of 17 young professional pluckers and bow-wielders, known as the Criers, who have played alongside cellist Yo-Yo Ma and rock band This Will Destroy You within the last month. The New York Times proclaims that the orchestra "brims with personality" that yields "performances of such passionate involvement," and the Boston Globe writes that "members of the conductor-less string orchestra love nothing more than to throw themselves into a musical phrase with vital conviction." The collective pushes the boundaries of orchestra repertoire, eschewing the tradition of smashing their instruments on a gong after each performance while favoring collaboration and rotating leadership. This particular program features Shostakovich's dark Eighth Quartet, John Adams's Shaker Loops, and the premiere of double concerto K2, with fiddler Kip Jones and bassist Karl Doty. Racking up more than 200 of those performances so far, the ensemble has also released three albums and is the chamber orchestra in residence at the Isabella Stewart Gardner Museum, which often entails serving as live statues to fill in for artwork that's being restored.
30 Gainsborough St.
Boston
Massachusetts
617-585-1260
Lucky Strike Lanes' polished, retro-sleek atmosphere and state-of-the-art technology lets sphere-hurlers pitch heavy urethane baseballs down a slick aisle toward precisely placed whitewashed wooden sticks in the high style of a '60s ad executive or a top-hatted cartoon penguin. Each of the alley's colorful, state-of-the-art bowling lanes comes with electronic scoring, customizable presentations, and psychedelic lighting. Diehard sport devotees, meanwhile, can catch up on the day's sporting matches at the bar, where high-definition plasma screens broadcast the heart-pounding action of championship Chinese checkers with flawless clarity. Or retire to one of the 12 pool tables for an evening of hustling and counter-hustling.
145 Ipswich St.
Boston
Massachusetts
Caryn Connarton, owner of Beyond Fitness Pilates Studio, has earned certifications in nearly every fitness fad of the last decade. Though spinning strengthened her quads and aerobics bolstered her endurance, only Pilates delivered full-body results. In her opinion, it's the best form of exercise for people who want to increase their flexibility, improve their posture, and build longer, leaner muscles. At her studio, Connarton and fellow instructors lead group classes that often incorporate several props—BOSU balls build core strength, foam rollers stretch muscles, and rubber chickens tone participants' sense of humor. Instructors also offer private and semiprivate equipment sessions and specialized workouts for specific populations.
29 Smith Pl., Suite 2
Cambridge
Massachusetts
---