Pet Services in Jamaica Plain
---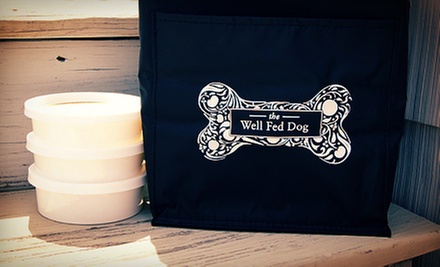 ---
Recommended Pet Services by Groupon Customers
---
Jack's specializes in all-natural and love-infused gourmet dog treats for hungry hounds and discerning dachshunds. Gift a greyhound a packet of Cesar's Pizza Pies ($6.50)—miniature, pizza-flavored treats made on organic whole-wheat pastry flour—and watch the famished beast feast on the fresh oregano- and olive-oil-sprinkled treat, or satisfy a squirrel-chasing schnauzer with a packet of squirrel-shaped, peanut-butter-infused Jack's Nuts About Squirrels ($6.50). If Jack's extensive display of doggy delicacies inspires your culinary creativity, grab a jar of Jack's Favorite Snack ($11.95), a take-home mix that comes with step-by-step instructions and a bone-shaped cookie cutter so you can serve up your terrier's favorite treat fresh from the oven.
1860 Broad St.
Cranston
Rhode Island
Fenway Bark Stay. Play. Heal. pampers pets in a responsibly led facility where a trained staff at an attentive 1:15 ratio keeps canines happy, healthy, and safe, earning it a spot on Fido Friendly's Best of 2011 dog-destination list. For overnight stays, dogs check in to a variety of roomy lodgings that swaddle fur with fresh options, entertain eyes with cable TV and sprawling views of the play yard and bone-shaped pool, and ease owners' minds with Skype webcam access. Paws scamper indoors over antimicrobial grass, frolicking with those of peers who have been vetted by the staff for exemplary social behavior, exhibited by friendly interaction and promptly sent thank-you cards.
Fenway Bark's onsite boutique outfits pups with gourmet treats, fashionable accessories, and toys such as naturally shed antlers, and trained veterinary technicians heal fidos suffering from hip dysplasia, obesity, and other ailments. Regular K9 Klatch social events congregate doggie parents and their barking broods for caffeine-fueled conversations about the best way to teach a dog to sit, drive, or properly use a french press.
88 Black Falcon Ave., Suite 188
Boston
Massachusetts
617-464-4364
While still learning how to walk on their own, Legacy Stables owners Michael Murphy and Elizabeth Vaughan Murphy began learning how to ride horses. The two both grew up around horses, and they apply their lifelong knowledge of horseback riding with students during training and lessons in saddle-seat, hunter-seat, Western, and driving styles. During lessons, students are introduced to the stable's fleet of morgan horses, which are known to be one of the oldest and most versatile breeds in North America. The compassionate instructors lead lessons for both beginner and advanced riders, as well as small children who learn basic steering and methods of riding a horse without training wheels.
106 Millville Rd.
Mendon
Massachusetts
508-478-1580
Frank and Jen Allen, along with their canine companion, Buddy, strive to provide a nurturing home away from home for pets while families are away at work or on vacation. Pups romp freely around a fenced outdoor yard with other fuzzy friends before heading indoors, where spotless accommodations inspire restful dreams of taking over the postal service. Petopia Doggie Day Care also provides expert grooming services, delivering dogs and cats back to owners with a pleasant new-car smell.
34 Mead St.
Leominster
Massachusetts
978-728-4037
After nearly getting his teeth kicked in by an errant hoof, Stephen Briggs decided that it was probably a good time to walk away from his rodeo career. Bidding his favorite rodeo clowns goodbye, Stephen joined the family business started by his father, Frederick Alvin Briggs—called "Allie" by his customers—more than 30 years ago.
Continuing in his father's footsteps, Stephen now oversees Allie's Store, where his team supplies horse tack, Western and work apparel, and supplies for creatures that range from farm animals to pets. Under Stephen's leadership, Allie's Store now also stocks all-natural animal foods, due to increased customer requests for healthier food for their pets. The shelves display bagged edibles from lines such as Earthborn Holistic and Blue Buffalo. This is the same food the Briggs family feeds its own pets—two dogs, two cats, and four horses named Jessie, Oso, Buddy, and Hoss who exchange local gossip with customers at the adjacent barn.
3700 Quaker Ln.
North Kingstown
Rhode Island
401-294-9121
The Barking Lot's doggy-sitters understand that canine parents like to check in on their pups throughout the day. Six days a week, they post Facebook photos of day-care dogs romping around the 8,000-square-foot, climate-controlled playground. Three days a week, they post YouTube videos of especially exciting moments, such as a game of chase in the large dog play area or a round of Red Rover in the small pooch zone. Dogs who spend the night snuggle into a comfortable kennel outfitted in fleecy bedding. Calming music plays as pooches snooze, and optional play times, cuddling, and even bedtime stories can keep pups from feeling homesick.
In addition to providing a fun place to play and spend the night, pet- care techs ensure pets are safe: rubber floors cushion joints, and workers are certified in pet first aid and CPR. Select staffers also use their canine knowledge to teach training classes or groom pups and cats from nose to tail.
697 Allens Ave.
Providence
Rhode Island
401-781-2275
---