Beauty & Spas in Janesville
---
Recommended Beauty & Spas by Groupon Customers
---
Heal injuries, increase your overall fitness level, and prevent unforeseen bumps in the road with today's deal. For $30, you get $60 worth of healing fitness services at Focus Physical Therapy + Fitness (FocusPTF). The center is located about 45 minutes outside of downtown Charlotte in Lake Wylie. Within the walls of this state-of-the-art facility, pain and injury are extracted from muscles and joints using targeted exercises as a form of futuristic therapy. The groupon is good for any of their services in any combination, and you can mix and match different sessions.
439 S Channel Dr., Suite 102
Round Lake Beach
Illinois
US
Though the Swedish massage is performed on a clothing-free soul sac, clients' modesty remains intact with a sizeable towel gently draped over all un-massaged areas. As your muscles melt under the massage therapist's nimble knot-kneading, dim lighting and curtained windows turn privacy into a local vacation experience. Each 60-minute massage utilizes a full range of gliding techniques, kneading manipulations, and percussive pitter-patters, as well as the alternating of light and medium force to relieve uptight major muscle groups and help the mind relax. Custom-blended oils make the bone box a smooth surface to prevent uncomfortable friction while subterranean streams of blood and oxygen circulate more freely as a benefit of the massage.
611 N Mayfair Rd.
Wauwatosa
Wisconsin
TAN'R YOU was voted the Best Tanning in Milwaukee for 2008 and 2009 by CityVoters, who cited its accommodating facilities and fully air-conditioned tanning beds. A gold-colored floor ushers pale hides down a hallway of individual bronzing rooms stocked with top-of-the-line pigmentation machinery. The High Pressure MATRIX bed is an import from Italy that tans in 12 minutes while treating clients to music from its CD player / stereo and using high-pressure negotiating tactics to send paleness packing. For those who have already positioned their real sleeping bed directly under their bedroom's sunniest window, the Cabana Mist tanning booth provides a convenient vertical service while evenly painting the body with smooth shades of spring and summer.
2368 W. Washington St.
West Bend
Wisconsin
At the beginning of each 90-minute treatment, a skin assessment is performed to determine each individual's facial needs. After the customized mélange of skincare products sets to work, the energy-relaxation regimen begins. Using the techniques of Reiki—a practice said to relax the body and mind and release the stresses of daily life—level II practitioner Sarah Gordon acts as a guide for the Chakra's healing energies. With the energy flowing, customers are gently massaged, soothing the neck, shoulders, décolleté, scalp, arms, hands, and feet. The foot massage combines energy-stimulation and reflexology techniques to invigorate the whole body.
8500 West North Ave.
Wauwatosa
Wisconsin
Nevaeh's vast range of services makes it an ideal place for a day of pampering and relaxation. No matter which of your body parts are threatening secession, Nevaeh MediSpa's experienced professionals will soothe, massage, and wax the rebellion out of them, leaving your body in a blissful state of union. One of the more popular services at Nevaeh is the therapeutic deep-tissue massage, which uses deep pressure and slow strokes to ease stress and pain and relax the body (55 minutes, $90). Also popular are microdermabrasion, 30-minute treatments with a magical, handheld wand that removes the top layer of dead skin from the faces of its recipients ($100), and Nevaeh's anti-aging facial. As the facial mask clears the complexion, deep cleaning and promoting cellular regeneration, clients receive a hand and foot massage, helping relax worry lines into sweet, delicious oblivion (60 minutes, $85). For the kerosene-drinking, tree-felling man about mantown, Nevaeh offers a men's signature facial, which cleans and stimulates the skin and minimizes razor irritation before ending in a fistfight with a shark (60 minutes, $75; shark extra).
103 E. Silver Spring Dr.
Whitefish Bay
Wisconsin
Madison Hair Designers caters to discerning clients looking to spruce up their outer layers, whether for a special occasion or day-to-day hair tossing. Offering a variety of beautifying services, a talented staff of follicle-formers cuts and styles the hair of women ($29–$38), men ($26–$36), and kids ($14–$20), minding each client's specific needs and style. Clients dolling up for a wedding or special event can opt for specialty styling and updos ($45+) or perms ($65–$90), while those looking to update their look without sporting a live snake scarf can do so with highlights and a cut ($75–$95) or just a coloring ($60–$75). A selection of skin-smoothing options helps customers curtail interloping follicles with a facial waxing ($12–$25) or underarm waxing ($20). The hairless can pretty up their palm prods with a manicure ($24) or a polish change ($12) and shoe fillers get the royal treatment with a pedicure ($40).
656 N High Point Rd.
Madison
Wisconsin
---
---
Beauty & Spa Deals - Recently Expired
---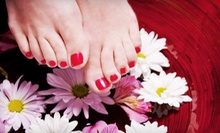 The staff trims and buffs finger and toe tips and pushes back their cuticles during basic mani-pedis
---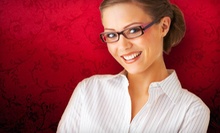 A 20-minute eye exam enables Optometrists to prescribe new specs from a stock of over 700 frames and any lens option to meet patients' needs
---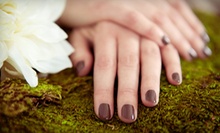 No-chip polish keeps nails free from nicks for up to two weeks
---
---