Janesville, WI Outdoor Activities
---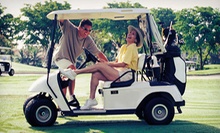 Wedged between Browns Lake and the Fox River, a 6,449-yard course boasts elevated greens and a miniature Golden Gate Bridge
Use Today 6:00am - 8:30pm
---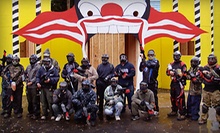 Warriors hunch behind obstacles in an indoor arena and areas designed to resemble pirate ships, a government secret base, and an oil field
Use Saturday 10:00am - 6:00pm
---
Recommended Outdoor Activities by Groupon Customers
---
First a teacher, and then a stay-at-home mom, Melissa Spredemann turned to indoor cycling to help her get into shape. With 12 years of experience under her belt, she decided to become certified to teach others the exercise form she loved so much. Just one year into teaching, she knew she wanted to pursue her passion full-time, so she opened Velocity Cycling Studio to share stationary cycling's benefits with others. She handpicked a team of instructors, each chosen for their commitment, enthusiasm, and innate ability to bike while not covering any distance. Melissa made the conscious decision to open a niche gym, focusing on indoor cycling and only indoor cycling. In the studio, an army of Spinner NXT bikes with SPD clips seats students as they bike through poses, drills, and movements designed to mimic outdoor riding. Thumping tunes pump up pupils as they ride, keeping them motivated to pedal to the upbeat tempos. Unlike big-box gyms and arranged friendships, Velocity Cycling Studio never requires a contract—guests simply pay per ride.
15032 N Port Washington Rd.
Mequon
Wisconsin
414-688-3807
The T-6 Texan isn't like most of the airplanes you see on the runway. For starters, it only has two seats. Then there's the US Military aircraft crest stamped on the side of its mustard-yellow frame—a reminder of the warplane's years of service, from the 1930s to the '50s, when it carried three 30-caliber machine guns and a 400-pound bomb-load. A 1944 T-6 Texan is part of the fleet of fliers at Gauntlet Warbirds, a flight-instruction center that specializes in warplanes and aerobatic aircraft.
Chief pilot Greg Morris has been flying for more than 15 years and teaching for 10. He has a degree in aerospace engineering from USC and was awarded Master CFI-Aerobatic by the National Association of Flight Instructors. He continues to teach the T-6 to aspiring Air Force test pilots and flight-test engineers at test-pilot school as part of the Qualitative Evaulation program. Morris and his team of seasoned instructors copilot joyrides and offer training programs for mastering each aircraft in their fleet, which, in addition to the aforementioned T-6 Texan, includes the 1942 Boeing N2S Stearman, the L-39 Eastern block military jet, as well as aerobatic stunt planes such as the Yak-52, Extra 300L, Bellanca Decathlon, and Super Decathlon, all of which credit their thrill-seeking ways to strict upbringings.
1071 S Wolf Rd., Suite 10
Wheeling
Illinois
630-999-2044
Madison B-cycle's members hop aboard 1 of more than 300 bikes standing by at convenient stations throughout downtown Madison. All bikes are outfitted with front and rear lights for added safety, an adjustable seat post to accommodate all heights, and a basket for stowing purses, water bottles, and riding necessities. They even have onboard trip computers, which track the rider's whereabouts with GPS technology and tally the miles driven, calories burned, and carbon emissions avoided. Though the service is designed to help out riders taking trips shorter than 30 minutes, Madison B-cycle also accommodates longer sojourns for additional service fees, allowing riders to play out cycle-bound reenactments of the Lord of the Rings trilogy.
312 N Third St.
Madison
Wisconsin
The longest running professional soccer franchise in the United States, the Milwaukee Wave debuted in 1984 as one of the six charter members of the American Indoor Soccer Association. Now, nearly three decades later, and as part of the Major Indoor Soccer League, the club builds upon a history that already includes six league championships–most notably, back-to-back titles in 2011 and 2012.
Off the field, the Wave's positive impact ripples into the community through an educational program, Making Waves, which sends players to more than 70 schools annually to discuss why healthy habits are good and why mistaking a referee for a zebra could be bad. The club maintains those community-inspired good vibes during its home games at U.S. Cellular Arena, where frequent promotions and mascot Brad Beach keep fans of all ages entertained.
400 W Kilbourn Ave.
Milwaukee
Wisconsin
414-224-9283
Hosted by Shaker's Ghost Tours, Dahmer Tours grants a spine-chilling glimpse into the life of Jeffrey Dahmer from within his hunting grounds. The guides, who are neither insensitive to the victims' families nor approbating of Dahmer's monstrous acts, narrate thoroughly researched information about the crimes and their historical impact over the course of a one-mile walk. The company crosschecks all their material with former members of Milwaukee's legal community and several unturned stones to ensure that every fact and trail is credible. As guests' feet cover the very tracks that Dahmer stalked upon, guides dissect his mad world to grant access into the mind of a serial killer.
418 S Second St.
Milwaukee
Wisconsin
The hum of Honda GX200 engines pervades both of Chicago Indoor Racing locations, where a duo of tracks takes Bowman go-karts through a series of turns and straightaways at speeds of up to 35 mph. When not trying to clock in top lap times from driver's seats perched 1 inch from the ground, guests can set other objects in motion at billiard tables and shuffleboard tables, which can be rented by the hour or millisecond. Clark's Café at the Addison location and Stewart's Bar & Grille in Buffalo Grove refuel guests with casual American fare and shots of motor oil.
301 Hastings Dr.
Buffalo Grove
Illinois
847-941-9400
---