Fitness Classes in Jefferson
---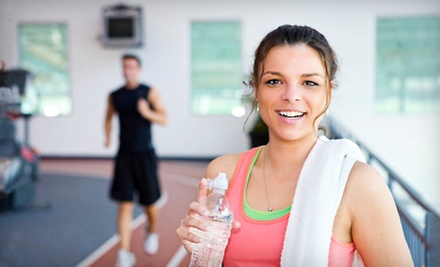 Downtown - Penn Quarter - Chinatown
---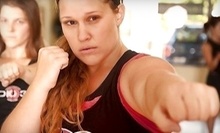 Professional instructor slings bodies through one-hour sessions of non-impact punches & kicks designed to shrink waists & tone muscles
Use Sunday 12:00am - 11:00am
---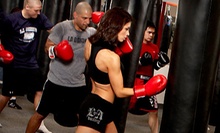 Punching bags endure jabs and kicks during heart-rate-elevating workout supervised by mixed martial arts instructors
Use Wednesday 6:15am - 9:15am
---
Recommended Fitness Classes by Groupon Customers
---
Today's side deal to Fitness on the Run gets you two personal training sessions for $55, up to a $160 value ($100 value for new clients). Many of Fitness on the Run's trainers come from busy careers in politics and government, so they know how difficult it is to make fitness a priority in the midst of a heavy workload and fast-paced career. Your trainer will provide the motivation and support, so all you need to do is pencil in your session. With a variety of specialties and approaches, your trainers will maximize your efficiency, for a workout that boasts better results with a decreased risk of injury from incorrect form or overworking. In an effort to help the procrastination-inclined, this Groupon expires on March 30, 2010.
109 S Alfred St.
Alexandria
Virginia
US
Feel at home within FitnessWise's eco-friendly studio, where you can destroy calories and evict fat from your body through a number of class options. Intently focus on breathing, movement, and your grocery list in the soothing Yoga Flow classes, or get a robust cardiovascular workout while dancing to Latin beats in the Zumba class. Other options include a yoga-Pilates blend, World Beat Yoga, Stretch & Center Yoga, and Total Body Conditioning. Whether you're looking to get your heart rate up with fat-burning cardio, tone your muscles, or improve your posture and flexibility for next month's rubber band impersonation contest, the friendly instructors at FitnessWise make working out fun and easy to follow. Class sizes are typically limited to 10 students each, ensuring that you'll get the individual attention needed to perform each exercise safely and effectively. In addition, this deal is also valid toward classes at FightWise, where you can learn Thai kickboxing, a.k.a. "the art of eight limbs." With this class, you'll be ready to use a punch, kick, elbow, or knee the next time someone tries to steal your wallet or hand you a pamphlet.
4801 Montgomery Ln
Bethesda
Maryland
US
Gravity training uses a machine with a tilted gliding board, similar to a Pilates Reformer, to help you achieve a fat-burning, strength-building, low-intensity cardiovascular workout in 30 minutes, exactly as much time as it takes to for a pizza to sink in salt water. It increases flexibility, making it is a great complement to a Pilates program, but can also be used alone, away from Pilates' relentless fishing for compliments. For optimal results, three sessions per week are recommended. You'll come away from your six sessions seeing gravity for the myth that it is.
5130 Wilson Blvd.
Arlington
Virginia
Created in the mid-90s by Colombia native and celebrity fitness trainer Alberto Perez, Zumba blends salsa, samba, and merengue music together like a frothy cocktail of multi-sensory bliss. Classes at Flair are taught by a certified instructor and are designed for skill sets of all levels. Each move is broken down and explained, making it easy to jump on the floor at any time. A variety of fast and slow interval training sessions combine rhythm with resistance for maximum calorie blasting, leaving just a few alive to return to their caloric villages and instruct survivors to flee.
5602 Baltimore National Pike, Suite 102
Catonsville
Maryland
At DC Fencers Club (DCFC), head coach Janusz Smolenski leads a team of athletes that molds young fencers into champions. Thanks to his formidable swordsmanship, he has trained Olympic fencers at the ASZ AWF Katowice in Poland and national champions and junior Olympians at DCFC. Working with Coach Smolenski, a trio of coaches brings unique backgrounds and styles to the classes. Dariusz Gilman was a member of the Polish national team and a World Cup finalist, Robert Suchorski was a Polish National Junior Champion and has trained under top Polish and Russian fencing masters, and Ilya Lobanenkov worked with world class Russian, Hungarian, and Polish schools and has led students to two silver meals in the US Open Women's épée team.
The DCFC facility boasts 10 full-size electric strips on a sprung-wood floor where fencers can lunge, parry, and riposte for hours on end without incurring injury. When not parrying and jousting, the team repairs or custom builds swords for fighters who want better balance, or a foil that can shoot other foils out of the end.
9330 Fraser Ave.
Silver Spring
Maryland
240-424-0749
Dr. Steven Horwitz, who was recently named one of the area's top chiropractors by the Washingtonian, and kettlebell instructor Jason Schreiber lead Capital Sports Injury Center's Maryland Kettlebells classes with experience and contagious motivation. A graduate of Cornell University and the National College of Chiropractic, Dr. Horwitz is a former bodybuilder, and Schreiber is a martial-arts expert and amateur powerlifter. Both are skilled trainers who help kettlebell participants efficiently lose fat, build strength, and increase flexibility. Small class sizes ensure members receive individual attention while maximizing the benefits of kettlebell-swinging motions and fluid body movements. Thanks to the extended center of gravity on a kettlebell, fitness fans receive a full-body workout that strengthens the core, improves posture, and increases cannon-loading abilities twofold.
12200 Tech Road, Suite 104
Silver Spring
Maryland
---