Pet Services in Jeffersontown
---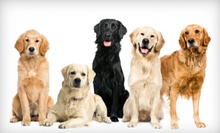 Fully insured, 24-hour staff supervises dogs as they play off-leash in outdoor and indoor areas or snooze slumber-party style
---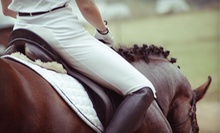 Enthusiastic instructors lead students over 150 acres of rolling Kentucky pasture or teach them proper equitation techniques
---
Recommended Pet Services by Groupon Customers
---
With this package, registered pooches can enroll in any $85 weekly class; classes take place once a week for six weeks. Pre-requisites apply for intermediate and advanced classes, and aggressive dogs and barking cats are not permitted. Young canines get schooled on proper dog-park etiquette, including basic commands, loose-leash strolling, and social interaction, at the Positively Puppies class. For dogs more than five months old, the Manners for Life class effaces improper actions (jumping on people), and the Wallflower class pumps up social skills for shy breeds. Intimately sized classes guarantee ample attention. View a complete list of featured courses here.
1000 Lyndon Lane
Louisville
Kentucky
The experienced, kind staff at The Pet School and Hotel comfort animal guests with private rooms, deft grooming, and training built around positive reinforcement. Each dog that vacations at the Pet Hotel lounges in 36 square feet of climate-controlled space and heads outside five to six times daily to play and practice poses for upcoming calendars. Cats frolic together in a spacious rec room filled with toys, hiding holes, and black holes to absorb their insatiable curiosity while birds nest at the private residence of the owner, who has more than 20 years of experience caring for exotic avians. Dedicated to canines and felines, the Pet Salon's groomers condition coats and skin with oatmeal, protein, and flea baths and specialize in the FURminator technique that clears out matted undercoats to reduce shedding.
11706 LaGrange Rd.
Louisville
Kentucky
502-244-0519
Phyllis P. Allen and Victoria Martin have mad shampooing and blow-drying skills. But they aren't working their magic on human heads. Instead, the owners of Pet Paw's have set out to prove that dog washing doesn't have to be a pain, welcoming pet owners into a spacious grooming studio stocked with everything they need to get Fido clean quickly, calmly, and without cash bribes.
Each deluxe doggie bathing station features a raised tub that dogs can easily scramble into via a special staircase, and gentle restraints keep each pooch in a stable position during the duration of the scrub-down. Customers can don aprons to protect outfits from sudsy splashes, created from three varieties of natural earthbath shampoo blended with ingredients such as aloe and tea tree oil to leave coats fragrant and shiny. After the last rinse, towels and special air-blowers dry off fur, as special perfumes replace that wet-dog smell with something more snout friendly. Treats reward each well-behaved customer and the staff will clean up all the mess left behind, freeing each chic pup to focus on more important tasks such as showing off at the dog park or attending modeling go-sees.
The pet specialists at Pet Paw's can also help busy or apprehensive pet owners by giving dogs professional grooming services upon request.
2519 Regency Rd., Suite 104
Lexington
Kentucky
859-278-7297
At For Paws Unleashed, pets escape. The daycare center, pet hotel, and fur spa is nestled in 10 acres of hills beneath open skies. Daycare attendants romp with their four-legged wards in fenced stretches of grass during outdoor play sessions. An onsite swimming pool beckons dogs to cool off in its clear waters, and yellow tunnels let them experience every animal's dream of living inside the sun. For nights away from home, each dog sinks into a personal Simmons Beauty Rest mattress, soothed by his or her own flat-screen TV.
For Paws Unleashed pampers dogs with services fit for humans. Canine stylists brush teeth and even color claws with nail polish. They run a taxi service to shuttle dogs to important barking sessions, and host birthday parties for them and their best friends, be they human or canine.
121 Bogie Mill Rd.
Richmond
Kentucky
859-623-3647
Pam Graham's devotion to horses spans more than 30 years, of which she spent more than a decade as a full-time groomer for some of the nation's premier trainers. Leveraging her experience in breeding and foaling, Pam keeps horses in good health and fine spirits by caring for them in the familiar confines of their home stables. In addition to caring for the horses of other owners, she's lovingly maintained her herd for more than 20 human years, which translates to about 4 horse years or one one-thousandth of a horsefly year.
For grooming—a skill that Pam teaches on the side at her own clinics—she wields curry, mitt, and rake brushes, each of which contains bristles of a varied thickness to thoroughly soften and shine coats. And when she horse sits, Pam leaves her beauty kit at home and makes one or two visits each day to replenish food and water, deliver supplements, and perform a visual once-over before reporting to owners via phone or email.
Redeem from hom
Louisville
Kentucky
502-724-7391
---