Coffee & Treats in Jeffersonville
---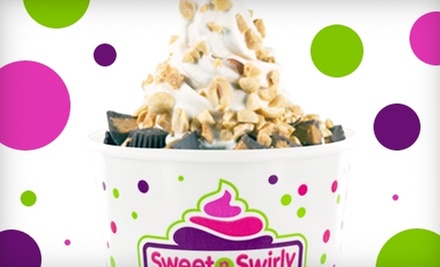 ---
Recommended Coffee & Treats by Groupon Customers
---
Caramanda's skilled bakers can whip up freshly baked cupcakes in maple pecan and caramel apple for carryout, or deliver sumptuous butterscotch and peanut butter chunk cookies direct to the client's doorstep. The bakery also employs skilled 3D cake-makers, who can morph fondant into a dragon for a birthday, or create a pair of wearable cake gloves for an upcoming boxing match.
3805 Dylan Pl.
Lexington
Kentucky
859-278-7172
With a dexterous whirl of her hand, a staffer fills a cup with a soft swirl of frozen yogurt that curls into a perfectly formed peak. After festooning the icy treat with a smattering of cookie crumbs and chocolate chips, she hands the cup over to its owner, who eagerly begins excavating the frosty treat.
This scenario plays out daily at I Can't Believe It's Yogurt, where champions of healthy dessert sling frozen yogurt in a multitude of flavors, as well as low-fat, no-added-sugar, and nonfat varieties. The signature soft-serve can be wolfed down unadorned or bedecked with an assortment of toppings, including fresh fruits and hand-polished sprinkles.
2220 Nicholasville Rd., Suite 101
Lexington
Kentucky
If they can peel their eyes away from the bright-orange walls and lime-green café chairs, first-time visitors to fave will be struck by the unusual flavors of yogurt that pump from the shop's self-serve machines. Red velvet, blueberry acai, pumpkin, and peppermint are just some of the menu's not-so-common selections. Fresh fruits, nuts, and candies such as Oreos and peanut-butter cups pile atop the swirled peaks, transforming each into a healthful snack or decadent dessert.
Innovative flavors are not all that sets fave apart from other yogurt shops: the café also stuffs hot crepes with sweet and savory fillings such as chocolate, bananas, and barbecued chicken. Guests seated in the lounge can enjoy smoothies and steamy coffee drinks, while those on the patio outside can garnish their bubble teas with one of the massive overhead umbrellas.
2724 Erie Ave.
Cincinnati
Ohio
A science lab calls to mind test tubes, bubbling flasks of chemicals, maniacally laughing men in white coats—but rarely ice cream. But that's exactly where Curt Jones, chairman and founder of Dippin' Dots, came upon the inspiration for the tiny flash-frozen beads of ice cream. A microbiologist, Jones spearheaded the flash-freezing process of cryogenic encapsulation, a method capable of trapping in flavor and freshness.
Beginning as a retail shop in Lexington, Kentucky, the ice cream quickly began to quell the tantrums of Fortune 500 CEOs all over the country. Having won numerous awards since he created a new way to enjoy an old treat, Jones stays true to Dippin' Dots' roots, making the ice cream at the company headquarters in Paducah, Kentucky. New additions to the Dippin' Dots family include Dots 'n Cream, a treat similar to traditional ice cream.:m]]
11700 Princeton Pike
Cincinnati
Ohio
513-671-9400
Brides to be know that beauty is in the details; that's why for the last quarter of a century, affianced women have come knocking at the door of Mondelli's Bakeshop where an experienced cake decorator meets bridal clients' specifications with carefully applied swirls of icing and frosted flowers. Besides custom-cake appointments, the bakers put their attention to detail to use by stocking up the bakery counter with specialty breads, iced cookies, and the shop's popular chocolate-sundae cake. Bakers also craft an array of donuts and pastries that are rolled, cut, fried, and iced by hand, allowing clients to bite into still-warm treats without consuming them during steamy morning showers.
3120 Pimlico Pkwy.
Lexington
Kentucky
859-245-5377
---