Education & Classes in Jeffersonville
---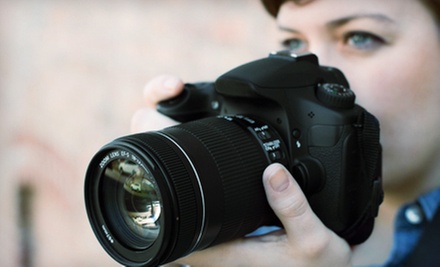 ---
Education & Classes Deals
---
Recommended Education & Classes by Groupon Customers
---
At The Learning Kitchen, highly trained instructors will help chop-happy visitors pick up handy tips for deft cuisine preparation. Grub-crafting students will slice, dice, and nibble-ize tongue-luring fare amid a sleek kitchen classroom. Top-notch boiling, frying, searing, and particle-accelerating equipment is on hand at 12 cooking stations as participants learn to wield quality knives and shurikens with nimble-handed dexterity. Chefs not only provide step-by-step instruction, but also teach useful chopping and sautéing techniques. A wide range of hands-on cooking classes is available, including a gnocchi workshop, neighborhood barbecue, vegetarian proteins, sushi rolling, and Thai. When dinner is done, students will sample their scrumptiously prepared meals in a sit-down dining area. Before they leave, students will receive recipe copies, saving them the trouble of scrubbing their hands free of ditto-machine wax.
9276 Centre Pointe Drive
West Chester
Ohio
Originally from Cartersville, Virginia, Elliott Jordan traveled south to pursue his passion, sojourning in Kentucky, where he received his bachelor's in art and eventually his master's in arts education. Experienced in portraiture, Jordan has transformed expressive countenances into works of art for more than 40 years, and his work has been displayed from the East to the Midwest—gracing the walls of the Cincinnati City Hall, Kentucky State University, and the historic Harriet Beecher Stowe House in Connecticut. Following a number of inspiring visits to Ghana, Jordan became a collector and dealer of African art, and today he displays and sells African artifacts at his gallery, as well as his own works and gold-framed pizza-delivery menus. He leads a number of painting classes inside the gallery's studio, where students follow along to create unique and colorful creations.
6113 Ridge Ave.
Cincinnati
Ohio
513-631-1810
The certified flight instructors at Aviators Flight Academy have been helping fledgling pilots earn their wings for more than three decades. Students take off from Dayton-Wright Brothers Airport toward the earth's giant blue tarp using the academy's fleet of Cessna and Piper fixed-wing aircraft, performing basic maneuvers under a teacher's expert supervision. Beyond introductory lessons, students can also enroll in the flight-training school to earn their license and finally be able to impersonate pilots at airport bars.
4335 Glendale Milford Rd.
Cincinnati
Ohio
800-917-6648
At The Scuba Shack, the staff's family-oriented lessons encourage divers to take social rather than solo ventures into the blue beyond. Each instructor carries an impressive résumé of underwater travels—the head trainer has been diving for more than 20 years and others have logged more than 1,000 dives. Captaining PADI-certification courses and specialty seminars—which cover topics such as night diving, photography, and fish identification—they take groups on open-water excursions to area lakes and Clear Spring Scuba Park. They prioritize educating their charges with safe and enjoyable teachings, rather than monotonous quizzes on whether the bends is a serious health issue or a 1980s punk band. With trips to dive sites in Fiji and Mexico, they introduce divers to the visual wonder of reefs and aquatic wildlife throughout the world.
7333 Burlington Pike
Florence
Kentucky
As a boy, Brandon Morton indulged his fascination with airplanes and flying by going to every aviation show he could. Today, with more 3,500 hours of flight time—including more than 1,800 hours of flight instruction—he shares his passion for flying at NexGen Aviation where he works alongside co-owner and accomplished jet pilot Dale Gillispie, who has more than 10 years of flying experience.
From Bluegrass Field Airport, Brandon and Dale maintain a fleet of two Piper Warrior planes for single-engine training and a Diamond DA-42 Twin Star for multi-engine training—each highly engineered aircrafts that boast solid safety statistics. It is also here that the owners and their fellow instructors teach students through a blend of theoretical classroom work and hands-on scenario training. Through these courses, they prepare aspiring pilots to apply for their private, commercial, or professional pilot license. Further services range from sightseeing flights and aircraft sales and management to tutorials on how to properly fold a paper airplane.
4144 Aviator Rd., Suite 100
Lexington
Kentucky
859-281-1177
The phone rings. Michael Clark picks it up. "He made it," the father of one of Phenom Baseball Academy's students exclaims over the line. "He made the team." Michael, a former pro-baseball player and current local scout for the San Diego Padres, has received this call from many parents. He started the academy after his time as a high-school coach put him face-to-face with numerous youth players who would try out for his team and clearly struggle, suffering from a lack of sound fundamentals. Michael and his group of seasoned coaches lead their group and individual training sessions inside a 4,700-square-foot training facility, which is furnished with quality field turf and three batting cages. During sessions, players aged 8–18 years old move about the expansive field, hitting, catching, and throwing under the guidance of up to four instructors. Parents who want to watch can do so from the upstairs viewing area, which positions them safely away from flying balls and the catcher's hand-signal requests for a juice box.
1858 Production Ct.
Louisville
Kentucky
502-599-6825
---