Museums & Galleries in Jeffersonville
---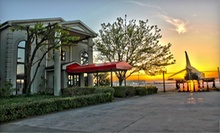 12,000 sq. ft. facility traces the science and history of flight with restored aircraft, memorabilia, and interactive education stations
---
Recommended Museums & Galleries by Groupon Customers
---
In 1909, a group of local art enthusiasts banded together to foster a community appreciation for art and further the practice of creating art. More than three decades later, they moved from their home at the old Water Tower, and now fill their new space with workshops, classes, and exhibits. Louisville Visual Art Association remains dedicated to promoting local artists, artistic styles, and contemporary culture.
A team of instructors instills painting and sculpting skills in children of all ages with the Children's Fine Art Classes program, which lets kids hone their understanding of color and technique during nearly 40 classes and camps. They also teach adult art classes, and help economically and socially disadvantaged students exhibit their artwork through Open Doors. Six to eight annual exhibitions often showcase work from these programs, but may also display fabric and knit pieces from local artists, or house events such as custom plates, cups, and utensils fashioned by 16 national ceramics artists to recreate Salvador Dali's themed dinner parties. Each year, staff also fill two galleries with up to 800 works from its children's programs, and celebrate local restaurants and music at the annual Bacon Ball.
3005 River Rd.
Louisville
Kentucky
The Art Museum at the University of Kentucky showcases more than 4,500 masterpieces including American and European paintings, photographs, and sculpture. Oil and watercolors grace canvases by artists from around the world, including the American impressionist painting Bucks County Winter by Edward Willis Redfield and the Italian Baroque painting Madonna and Child with St. John by Agostino Carracci. The collection's three-dimensional art forms also span the centuries, with examples of Native American ceremonial robes and a variety of outdoor sculptures that call upon contemporary amalgamations of steel, bronze, and stone. Traveling exhibitions, lecture series, and annual events aim to inspire as well as to create opportunities for patrons to gain new perspectives on how to best arrange a bowl of fruit.
405 Rose St.
Lexington
Kentucky
859-257-6218
The firefighters of Engine Company #45 Firehouse extinguished their last blaze in 1962 after 56 years of fearless public service. Although the team dissipated, the elegant, 1906 firehouse—with Renaissance Revival details and three doors wide enough to accommodate horse-drawn fire engines—remained, languishing as a city storehouse until 1980, when the Fire Museum of Greater Cincinnati moved in. The building was recognized on the National Register of Historic Places and filled with special exhibits acknowledged by Fox19.com and 365 Things to do in Cincinnati. It was also filled with antique firefighting gear that is in excellent condition in spite of years of smoke inhalation.
The collection reveals early 19th-century firefighting tactics with an alarm drum that once warned of fire from the roof of a carpenter shop and was later used to provide rhythm during disco infernos. In the Safe House exhibit, families diagram their homes and create personalized emergency plans while learning tips about fire prevention.
315 W Court St.
Cincinnati
Ohio
513-621-5553
A member of the Smithsonian Affiliate Membership Program and the American Association of Museums, the Frazier History Museum houses interactive temporary exhibits and permanent galleries filled with artifacts and stories representing more than 1,000 years of human history. The 100,000-square-foot facility harbors two permanent collections⎯the Frazier Museum Collection, featuring American and international artifacts, and the British Royal Armouries. The American History exhibit showcases artifacts from early colonial settlement up through 1900, including the ivory-handled Colt pistols of General George Armstrong Custer and the original "Big Stick" of President Theodore Roosevelt, which turned out to be an especially sturdy wizard's wand.
829 W. Main Street
Louisville
Kentucky
US
The Drake Planetarium & Science Center captivates young minds with educational shows as well as after-school programs that teach creative problem solving and teamwork. Planetarium shows cover a wide range of topics and teach audiences to recognize seasonally changing constellations, planets, and lunar foliage. Starry Nights at the Cincinnati Astronomical Society invite stargazers to peep into the universe through the facility's powerful telescopes or highly magnified monocles, and laser light shows also grace the planetarium dome with 2-D, 3-D, and abstract animations choreographed to classic rock and holiday-theme recordings.
2020 Sherman Ave
Cincinnati,
Ohio
US
K.A.S. Gallery—or Kentucky Art Speaks—adorns its walls inside the 360,000-square-foot Mellwood Arts & Entertainment Center with colorful, innovative art pieces from local, out-of-state, and international artists. The gallery's walls host thoughtful paintings, photographs, and modern-dance reenactments of famous still-life paintings, and the facility hosts classes that foster an artistic and thoughtful community. Registered yoga instructors lead meditative Ashtanga, beginners, slow flow, and Vinyasa classes amid the artwork, tailoring instruction to each student's needs, abilities, and fitness goals while incorporating breathing exercises and relaxing music. The Arts for Kids classes introduce youngsters to various creative mediums such as fiber and textiles, self portraits, and dance.
1860 Mellwood Ave., Bldg. A, Suite 121
Louisville
Kentucky
502-653-9305
---