Restaurants in Jeffersonville
---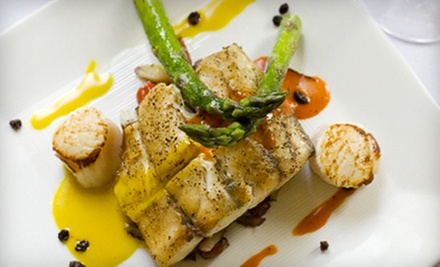 Central Business District
---
Recommended Restaurants by Groupon Customers
---
Joe's OK Bayou claims to be "da best Cajun," but there's also a humility to the enterprise—starting with the playful name and extending to decor that alludes to a low-country shack with a sheet-metal awning and rough wooden walls. Home-style cooking comes naturally to owner Joe Wheatley, whose father farmed grain and raised hogs before opening similarly rustic restaurant The Feed Mill with other members of the family in a former feed-storage building.
Since 1995, Joe and his team have striven to introduce Louisiana flavors to a northern audience, seasoning crawfish étouffée and chicken-and-sausage gumbo with spices that are bold but not painfully hot. Visiting in 2008, the Courier-Journal's Marty Rosen found that this mission succeeded, with "bold, accessible flavors, friendly, quick service and extremely affordable prices." He also found oysters "big and glossy with fine, firm textures—as fresh-tasting as any I've eaten along the Louisiana or Alabama coasts" on the menu's wide selection of simply prepared coastal creatures—fried gator tails, catfish filets, and frog legs among them. Abita beers, the star of the drinks menu, hail appropriately from Louisiana, and join wines and other domestic and imported brews at the full bar.
9874 Linn Station Rd.
Louisville
Kentucky
Chefs in tall blue toques command Mikato Steak and Sushi's ten tabletop grills, where they combine culinary derring-do with entertaining showmanship while frying rice with steak, seafood, and vegetables. The main kitchen bustles with activity, as well; chicken katsu joins other Japanese cuisine such as broiled eel and shrimp teriyaki, and sushi chefs slice sashimi and coil specialty rolls. In addition to sating hunger of all stripes, Mikato Steak and Sushi welcomes families with a children's menu and kids' birthday special, which includes ice cream, a Japanese rendition of happy birthday, and a senryu about the transitory nature of life.
3938 DuPont Cir.
Louisville
Kentucky
Skilled sushi chefs handcraft blossoms of pickled ginger and sashimi to pair with dollops of wasabi and delicate butterfly garnishes. Behind the glass cases at the sushi bar, they forge signature rolls such as the chef's favorite Lobster Paradise roll with mango, kiwi, and tempura lobster tail. Along with sushi, the chefs prepare pho, Vietnamese noodle dishes, and teriyaki chicken. For offsite dining, the restaurant offers carry-out, delivery, and catering services for business meetings, parties, and lunchtime stakeouts.
215 S Fifth St.
Louisville
Kentucky
A ring of rice encircles the Caviar roll's morsels of yellowtail tuna, smoked salmon, avocado, and cream cheese. The roll's exterior is just as complex, with its delicate crust of masago, tempura flakes, and eel sauce. Sushi chefs assemble hearty sushi rolls such as this at the spacious wooden sushi bar, which curves and twists its way from the front to the back of the dining room. Sushi is the focal point of both the dining room and the menu itself—chefs slice 80 different rolls, ranging from traditional crab and avocado to exotic flourishes such as squid and kiwi. To enhance their sushi selections, diners can consult the sake menu, or fold it into a paper plane and drink whatever beverage it lands on.
416 W Muhammad Ali Blvd.
Louisville
Kentucky
502-625-3090
Atop the restaurant, four spotlights illuminate the Highland Morning sign like a painting in a museum. Inside, black-and-white photographs speckle the walls like the dollops of whipped cream that festoon the shop's waffles. Diners wander in, lured by the front windows, where etched glass spells out "breakfast done right," even when lightly fogged by the steam from biscuits and gravy and pepper jack–stuffed omelets. Stacked pancakes and waffles lounge in toppings such as Nutella, cinnamon, and maple syrup. After two-handing a half-pound burger, diners retreat to an outdoor table for organic coffee, ready to take on hectic days at the office or chaperone bulls touring fire-truck factories.
1416 Bardstown Rd.
Louisville
Kentucky
502-365-3900
Named one of the Top 100 Places to Drink in the South by Imbibe, Bourbons Bistro fills glasses with more than 130 varieties of rare bourbons including Heaven Hill, Ancient Age, and Old Rip Van Winkle. In the restaurant, located within a 1877 building, diners feast upon bourbon-inspired meals seated at one of many cozy tables lining a brick wall decorated with pictures of the past and midnight blue curtains. The bone-in pork chop exudes the sweetness of bourbon with a topping trio of caramelized apples, country ham, and bourbon glaze, while the Maple-leaf Farms duck breast is paired with roasted fingerlings, caramelized brussels sprouts, bacon lardons, and aged balsamic.
2255 Frankfort Ave.
Louisville
Kentucky
502-894-8838
---