Restaurants in Jeffersonville
---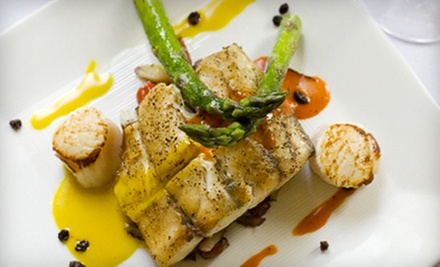 Central Business District
---
Recommended Restaurants by Groupon Customers
---
The first location of Puccini's Smiling Teeth opened in Indianapolis in March, 1991 to widespread acclaim. Though they've since added 13 other locations and expanded the menu to include Italian chicken entrees, salads, and sandwiches, they have never compromised their strict standards for pizza. They build each crust from gluten-free rice flour or all-natural, bleach-free wheat flour. This dough forms the foundation of nearly 20 specialty pies topped with imported cheeses, sun-dried California tomatoes, fresh herbs, shrimp, and other gourmet ingredients.
The chefs also toss pastas—made gluten-free with corn, upon request—with vodka-cream, alfredo, and diavolo sauces, and cook up meats such as shrimp and piccata-style chicken. Accompanying the food is a compact wine list and a selection of craft and gluten-free brews tapped from the naturally occurring beer geysers of Indiana and the Midwest.
4600 Shelbyville Rd.
Louisville
Kentucky
A veteran of Ritz-Carlton kitchens from around the world, Executive Chef Laurent Géroli upholds his philosophy of simple, clean cuisine while imbuing his upscale American fare with a Southern spin. The decor at his restaurant honors the elegance of the historic building in which it lives—the Brown Hotel—with varnished wood pillars, oak paneling, and stained-glass windows. In fact, Chef Géroli even cooks up the hotel's de facto trademark, the Hot Brown sandwich—an open-faced masterpiece stacked high with turkey, bacon, and a delicate mornay sauce. Lauded by publications such as The Wall Street Journal, Southern Living Magazine, and the Travel Channel's Man vs. Food, the time-honored treat has been attracting guests for more than 80 years, even during the 1970s' short-lived Prohibition of bread.
The Hot Brown isn't The English Grill's only epicurean triumph, however. Chef Géroli and his staff curate the seasonal menus with contemporary cuisine, complementing the diverse flavors with the spicy corks of more than 200 wines. Under Géroli's tenure, the Grill has garnered a prestigious AAA four-diamond rating and impressed Esquire food and wine critic John Mariani so much that he has called it "one of the finest restaurants in the United States."
335 W Broadway
Louisville
Kentucky
502-583-1234
Old-World street lamps light a path towards Cricket's Café, a red-brick eatery brimming with Tuscan-inspired decor and the aromas of gourmet café fare. The design for the restaurant started at the owner's table, where she and her husband sketched a layout with indoor and outdoor seating, including three meeting rooms with high-def projectors. Throughout each of these areas, waiters carry plates loaded with breakfast items, sandwiches, and specialty drinks. The café pros can also transport their comestibles to casual office parties or formal debutante balls held in bouncy castles with catering service.
7613 Old State Rd. 60
Sellersburg
Indiana
812-246-9339
Head chefs Shawn and Henry Shin—who has been a chef since he was 19—curate Wasabiya Japanese Cuisine's menu of traditional and contemporary Japanese food including more than 65 sushi rolls. Whether classically prepared, partially fried, or oven baked, each roll follows an inventive recipe. The New Orleans packs spicy crawfish and cucumber, and the Kentucky Derby unites spicy crab, shrimp, scallop, and cream sauce while 165,000 people watch you eat it. Wasabiya's staff rounds out the menu with cooked entrees such steak sukiyaki and shrimp and vegetables battered in a light layer of tempura crunch.
962 Baxter Ave.
Louisville
Kentucky
502-618-2460
Joe's OK Bayou claims to be "da best Cajun," but there's also a humility to the enterprise—starting with the playful name and extending to decor that alludes to a low-country shack with a sheet-metal awning and rough wooden walls. Home-style cooking comes naturally to owner Joe Wheatley, whose father farmed grain and raised hogs before opening similarly rustic restaurant The Feed Mill with other members of the family in a former feed-storage building.
Since 1995, Joe and his team have striven to introduce Louisiana flavors to a northern audience, seasoning crawfish étouffée and chicken-and-sausage gumbo with spices that are bold but not painfully hot. Visiting in 2008, the Courier-Journal's Marty Rosen found that this mission succeeded, with "bold, accessible flavors, friendly, quick service and extremely affordable prices." He also found oysters "big and glossy with fine, firm textures—as fresh-tasting as any I've eaten along the Louisiana or Alabama coasts" on the menu's wide selection of simply prepared coastal creatures—fried gator tails, catfish filets, and frog legs among them. Abita beers, the star of the drinks menu, hail appropriately from Louisiana, and join wines and other domestic and imported brews at the full bar.
9874 Linn Station Rd.
Louisville
Kentucky
Chefs in tall blue toques command Mikato Steak and Sushi's ten tabletop grills, where they combine culinary derring-do with entertaining showmanship while frying rice with steak, seafood, and vegetables. The main kitchen bustles with activity, as well; chicken katsu joins other Japanese cuisine such as broiled eel and shrimp teriyaki, and sushi chefs slice sashimi and coil specialty rolls. In addition to sating hunger of all stripes, Mikato Steak and Sushi welcomes families with a children's menu and kids' birthday special, which includes ice cream, a Japanese rendition of happy birthday, and a senryu about the transitory nature of life.
3938 DuPont Cir.
Louisville
Kentucky
---