Jeffersonville, IN Spa and Massage
---
Recommended Spa & Massage by Groupon Customers
---
Once known simply as CC Spa, CC Medi Spa added a whole new suite of services to its menu when it added a word to its name. To supplement the facials, manicures, and pedicures the spa always offered, its aestheticians are now joined by chiropractors and massage therapists who provide health-boosting bodywork.
The team partitions their 4,000-square-foot space into private rooms, each dedicated to a specific kind of service and ancient Sumerian deity. While one person relaxes in the massage room or sits in the pedicure room's leather throne, others can wait their turn on the lobby's plush taupe couches, bathed in tinted light from the tall windows obscured by pale violet curtains.
3317 Grant Line Rd., Suite 200, 204
New Albany
Indiana
812-944-2400
When considering what to bring to a desert island, one might consider a snowmobile, a milk steamer, and one of Elite Massage Therapy's two therapists. The pair helm separate locations of the company, so customers will find different methods of relief depending on where they find themselves. From his station downtown, Jacob Kilbride specializes in sports-performance massage, supplemented by the rehabilitative Kinesio Taping Method and a Chinese scar-tissue mediation technique called gua sha. His journey began at Spencerian School of Massage, where he mastered anatomy and the fundamental techniques of Swedish, deep-tissue, and other modalities. Brennen Sneed mans the Highlands location, where he uses his massage therapy diploma from Spencerian College and experience mending football injuries for the Louisville Cardinals to enhance athletic performance with Swedish massage, hydrotherapy, and stretching techniques. Both experts complement therapeutic healing with sensory indulgence by keeping aromatherapy oils and hot stones on hand to dip into vats of molten chocolate.
1348 River Rd.
Louisville
Kentucky
502-558-5220
As licensed massage therapists and veterans of the U.S. military, Kris Lane and Colleen Hall decided to open a massage business that would have a positive impact on their community. Lane's massage-therapy journey began after leaving the Air Force, earning her massage-therapy diploma, and performing an internship with ob-gyn doctors in which she served women experiencing high-risk pregnancies. She also became certified as an equine sports massage therapist, which inspired her to relocate from Omaha to Louisville. Not long after moving to Kentucky, Lane was in a major car accident that led to reconstructive surgeries, a barrage of physical therapy, and three years of being unable to work. Though the accident left her with permanent nerve damage that threatened to end her career, Lane refused to let pain and numbness steal her opportunity to help others. She has worked with dancers from the Louisville ballet, Broadway performers, and athletes and uses her training and personal experiences to address discomfort caused by acute injury or sleepwalking in pointe shoes.
Lane currently passes on her knowledge as an instructor at Daymar College, where Colleen Hall—A+ Massage Pros co-owner, fellow massage therapist, and veteran of the Kentucky Air National Guard—completed her training. Lane and Hall go above and beyond alleviating physical pain with therapeutic massages. They created a Pay It Forward Program that not only helps local veterans, but also allows patrons to provide for someone in need. The caring duo reduces a participant's regular massage rate by $10 and reserves it for active-duty military personnel, disabled veterans, or any veteran who requires medical massage therapy but cannot afford treatment.
2910 Frankfort Ave.
Louisville
Kentucky
502-365-2910
Ever since she can remember, Kathy Sisk was drawn to the healing arts. But it was the loss of both of her parents as a young adult that fast-tracked her desire to find ways to counterbalance stress. In 1992, she set out to turn her hands into therapeutic harbingers of physical and emotional relief so that she could help others learn to live healthier, more relaxed lives, and now, 20 years later, her resumé speaks to the success of her journey.
Harnessing her training in hot-stone and craniosacral therapy, as well as her status as a reiki master, Kathy has brought relief to clients suffering from Bell's palsy, ADHD, and emotional stress by augmenting massage with breath work in order to bring the nervous system to a calmer state. Driven to constantly expand her toolbox with different modes of healing, she recently added exotic bamboo-fusion massage to her repertoire, a modality that helps energize the mind while soothing the body, and makes massage more accessible to stressed pandas.
152 Chenoweth Ln.
Louisville
Kentucky
502-290-3900
---
---
Spa & Massage Deals - Recently Expired
---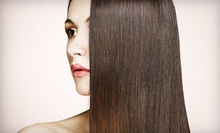 Redken products condition and color locks; keratin treatment tames frizz
---
---