Restaurants in Jenks
---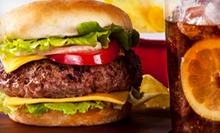 Grill along historic Route 66 serves up quarter- and third-pound burgers, homemade chili, three-cheese omelets & handmade ice-cream shakes.
---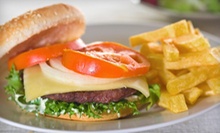 Using oil without trans-fats, chefs fry up pickle and green bean starters, cook burgers, and craft hearty pancake and egg platters
---
Recommended Restaurants by Groupon Customers
---
Though Lasamee Xiong and her husband Thoa have owned restaurants in Minnesota, Michigan, and Oklahoma, their native land will always be Thailand, according to Tulsa World. With their son Saya at the kitchen's helm, they continue to serve up their homeland's cuisine in the quaint 30-person dining room at Thai Garden. Although Thai fare is the primary focus, the 30-item menu also includes Vietnamese and Chinese selections—many accentuated by spices and herbs directly from Thailand.
To the soft rhythms of Southeast Asian music, green and maroon laminate tables populate with steaming soups, traditional pad thai, and chicken and beef in sweet curry and sichuan sauces. Though fork and knife are the primary utensils at Thai Garden, chopsticks are also available upon request.
813 W Kenosha St.
Broken Arrow
Oklahoma
918-872-7733
Before Duffy's even opens for the day, the chefs are already busy, slicing potatoes that will be transformed into crispy french fries and kneading dough that will bloom into fluffy dinner rolls. Staple breakfast items such as french toast and omelets are served all day, offering a hearty meal after a night of feeding bats in a dark park. The waiters also serves up heaping portions of chicken-fried steak, roast beef, and pork chops.
706 S Elm Pl.
Broken Arrow
Oklahoma
918-251-3285
Rather than masking the natural tastes of their fresh, never frozen, meats, the cooks at Elmer's BBQ strive to enhance them with rubs of carefully blended, complementary spices. Flavors meld in the smoker, where ribs, sausages, and soon-to-be-pulled pork slowly tenderize over hot hickory. As diners lick the sauce from their fingers after a hearty meal with home-style sides, they can admire the music memorabilia jazzing up the walls or use their toes to play their own tunes on the restaurant's piano.
4130 S Peoria
Tulsa
Oklahoma
Oliveto Italian Bistro's Tuscan-inspired menu contains dishes with artisan ingredients and 20 bottles of wine under $25. In the kitchen, chefs move around stock pots with sauce made from scratch and cast-iron skillets with citrus cedar-plank salmon. Pizzas are constructed from artisanal dough that is made in-house daily, and the whole-milk cheese layered onto them is melted during a quick tenure in a brick oven. Out in the dining room, patrons can pair pastas and pan-seared tilapia with wines from California and Italy or cocktails infused with fruity flavors. In addition to eating good food, patrons at Oliveto are also fulfilling a good act: a portion of each sale is donated to the Tulsa Sooner Chapter of the Cystic Fibrosis Foundation.
8922 S Memorial Dr.
Tulsa
Oklahoma
918-994-7000
When owner Jim Loggin opened Chicory and Chives as a country comfort-food diner, he began with just a few Cajun items. Over time, the aromas of buttery country goodness and Cajun spices soaked into the clothes of passersby, igniting cravings for the two-headed fare each time they donned their favorite passing-by sweaters. Comfort items such as fresh-ground, handmade burgers ($4.99–$8.59) and fried or blackened catfish ($8.49–$8.79) are popular palate pleasers, but the Cajun dishes are the diner's objet d'art. Today's Groupon will fill both of your stomachs and keep your wallet full with Cajun specialties like the shrimp or crawfish etouffee ($8.49), a rich medley of fresh seafood swathed in a buttery Cajun gravy served over rice with cheesy bread, a side salad, and seasonal vegetable. Chicory and Chives also offers hearty gumbo, soups, salads, po' boys, and wraps.
3121 Charles Page Blvd.
Tulsa
Oklahoma
The Boulder Grill's menu appeases appetites of all sizes with shareable small dishes, a roster of sandwiches, and ample entrees assembled from scratch. Start meals on a heroic note by freeing macadamia-stuffed dates from bacon clutches ($8) or witness chicken and andouille sausage forge an alliance atop a crispy dais with the Cajun barbecued flatbread pizza ($8). Sandwiches and burgers ($8–$10) arrive at tables flanked by an entourage of fries or a soup or salad sidekick. Alternatively, tongues can paint themselves red with the rojo sliced sirloin steak poised on sweet-corn tamale cakes ($14) or delve into a textural treasure chest free of inedible doubloons and bank statements with the potato-crusted salmon, which comes pan-seared and arrayed in mustard cream ($18).
17 W 7th St.
Tulsa
Oklahoma
---