Jericho, NY Indoor Activities
---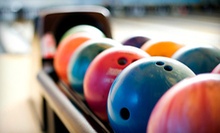 Bowling alley celebrates 50+ years in business with two pin-crushing games
Use Wednesday 9:00am - 10:00am
---
Recommended Indoor Activities by Groupon Customers
---
Donavon is a surfer-turned-musician whose self-titled debut was released on Jack Johnson's Brushfire Records and made the ARIA top 40 charts in 2004. In Mulcahy's 1,400-person sound-o-sphere, his surf rock ballads, such as "It Don't Matter" and "Move By Yourself," will have the full force of live emotion and quality sound to superbly strum heartstrings and tickle earbones. Donavon's Bermudan musical companion, Mishka, also has roots in the sea soil, having spent much of his childhood sailing and windsurfing before turning to reggae's guitars and off-beat rhythms. In 2009, Mishka was named Best New Artist in the singer/songwriter category by iTunes.
3232 Rail Road Ave.
Wantagh
New York
For the tiniest tots, there are foam towers to topple in the Tot Spot and instruments with which to make rhythms in the mUSic area. Toddlers and preschoolers sift and shovel on the Sandy Island, and older children can use a penny to watch a 100-year-old Mutoscope silent movie or use the Bricks & Sticks wire spinner to design their own 3D shapes. Click here to see the museum's activity gallery and plan out a day trip. Or, simply show up with plenty of energy and your favorite child to discover the museum together, and help him or her build vital skills in social interaction, education, and colored-block identification. Schoolchildren can bolster their studies without realizing they're learning by organizing games in the ClimbIt@LICM structure, or by comparing barometric readings in the Our Backyard outdoor area. Get today's Groupon to treat a special proto-adult to a day of horizon expansion, enjoyment, and giant bubbles.
11 Davis Avenue
Garden City
New York
An oasis for arts-loving crowds tired of taking malfunctioning teleporters to Long Island, the cavernous, recently renovated Paramount draws in major acts to spare fans stressful commutes. The buxom venue buzzes with a true rock 'n' roll vibe, beaming with a nocturnal color scheme decorated with whimsical local art and exposed brick walls.
370 New York Ave.
Huntington
New York
631-673-7300
In the 74 years between the Paramount Theatre's opening night, when people used to line up to see "talkies" for 50 cents, and 2002, when it was voted Best Mainstage Theatre in a Seattle Weekly Reader's Poll, the palatial venue faded and decayed alongside its Roaring Twenties brethren throughout America. Luckily, former Microsoft Vice President Ida Cole saved it from the rubble heap in the mid-'90s when she established the Seattle Landmark Association and vowed to render the Paramount "kissable" once again.
Over the course of seven months, the renovation crew expanded the size of the stage wings to accommodate more ambitious live productions. They also cleared decades of grime from the french baroque plaster reliefs, uncovering long-forgotten designs and causing only one long-dormant horror to snap open its eyes dramatically. They also replaced the gold leaf in the floral designs of the wall medallions, repainted all the surfaces in their original 16 colors, and scrubbed each of the 1.6 million crystal beads in the chandelier by hand with a toothbrush. The original Knabe Ampico player piano was returned to its spot on the four-tiered lobby's lush carpeting, and a 21st-century sound system now shares sonic space with the thundering, luminous sonority of the Paramount's fully restored Mighty Wurlitzer organ. Though the Paramount's calendar runs the gamut from rock concerts to standup comedy to Broadway musicals on the scale of Wicked, its decadent Beaux Arts trappings transport audiences to the days when reality was still black and white.
370 New York Avenue
Huntington
New York
US
631-673-7300
Each instructor at Evolution Pilates is certified through Stott Pilates, which requires a minimum of 200 hours of training. Backed by this certification, the instructors lead private and group classes for all types of exercisers, from beginners to experienced athletes. The classes incorporate equipment such as reformers, which help exercisers build lean muscles.
184 Main Street
Port Washington
New York
US
516-767-1761
Flanked by seven other aircraft, a Grumman F-11 hangs suspended in a shallow dive over the main entrance to Cradle of Aviation Museum's four-story glass atrium. Three viewing levels on wraparound balconies afford views of the aircraft that only fellow pilots in close formation ever saw when it was in service. The 150,000-square foot facility's eight exhibits grant similarly intimate glimpses of more than 75 aircraft and spacecrafts that trace the historic path of Long Island's aviation contributions since 1870. Those artifacts include a replica of the Wright Brothers' 1899 kite, five aircraft made in Long Island for World War II, and the Grumman Lunar Module LM-5 "Eagle", which transported Neil Armstrong and Edwin Aldrin to that soundstage that looked like the moon.
Patrons also get a chance to soar skywar in the X-Ride Theater, a 30-seat motion simulator whose "Fly with the Blue Angels" film mimics the piloting of a U.S. Navy squadron jet. Over in the JetBlue Sky Theater Planetarium and the Leroy R. & Rose W. Grumman Dome Theater, screens show films on subjects such as Lewis and Clark and Ernest Shackleton's famed Antarctic journey. To reenergize after touring the museum or riding the Historic Nunley's Carousel, which was built in 1912, guests can enjoy a meal in the Red Planet Cafe, whose space station décor evokes a Martian cafeteria in the year 2040.
1 Davis Ave.
Garden City
New York
---