Coffee & Treats in Jersey City
---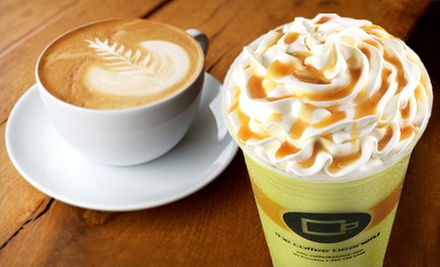 Jersey City – Hudson Mall
---
Recommended Coffee & Treats by Groupon Customers
---
Since 1973, 5th Avenue Chocolatiere's confectioners have risen before the rooster's crow to handcraft all natural, 100% Belgian-style chocolate into sweet treats. Created by founder John Whaley in a successful at-home experiment, signature truffles incorporate secret proportions of fresh cocoa powder, whole cream, and butter. Indulgences range from caramels to cookies, and chocolatiers mold cocoa into more than 100 shapes such as the Empire State Building and New York City Metro Card; a fungible currency for riding chocolate trains or bribing a crooked bus driver.
11 Madison Avenue
Manhattan
New York
US
This quaint bakery offers nine flavors, which are baked daily from scratch using ingredients of the highest quality, such as King Arthur Flour, Barry Callebaut and Valrhona chocolate, and real Madagascar Bourbon vanilla. Stop in to make the difficult decisions that lead to a delectable demi-dozen, choosing from flavors like red velvet, vanilla, and cookie (with crushed Oreo frosting), and daily specials like lemon or white chocolate raspberry. Like the exchange rate between gold and chicken bullion, the available flavors vary each day; to secure your selection with the utmost certainty, place an order by phone and swagger to the storefront, confident in your awaiting delights.
390 Metropolitan Ave.
Brooklyn
New York
Like many children, the founder of Tasti D-Lite, a native New Yorker, begged her father for a taste of ice cream. But this was no typical whining for a treat: she needed her father, an experienced food technologist, to help develop a frozen treat with less calories and fat than ice cream and frozen yogurt. Thus, in 1987, the first cup of Tasti D-Lite swirled into existence. After a huge boon in New York, the company now boasts locations in more than a dozen states. From the shining root-beer oceans to the marzipan mountains, Americans now enjoy flavors such as carrot cake, chocolate nougat, or mango tart n' Tasti, topping each treat with bits of candy and fresh fruit.
339 7th Ave.
Brooklyn
New York
718-623-7469
At first glance, Kashkaval looks like an impressive gourmet food shop, with more than 100 varieties of international cheeses and imported olives arranged alongside cured meats and gourmet soups and salads. But venture beyond the small storefront and into the spacious back area, and you'll find Kashkaval's tucked away wine bar.
Here, owners Daniel and Corey have established a comfortable and cozy retreat for customers to pair wines from across the globe with various meats, cheeses, and Mediterranean small plates. Heartier appetites can find relief in full entrees, such as chicken or turkey meatballs, a selection of oven-baked paninis and gourmet sandwiches, or dig into fondue that Time Out New York put on its list for "The City's Best Fondues", calling the gorgonzola blend "perfectly gooey and surprisingly mild."
856 9th Avenue
New York
New York
212-581-8282
Insomnia Cookies began as a project to feed fresh-baked cookies to hungry college students who spend the wee hours studying, partying, or studying parties for an anthropology course. Baked bounty is stored in a chocolate-brown box topped with a satin ribbon. Inside, your mother, father, or long-lost identical twin will discover 40 deliciously soft cookies in an assortment of signature flavors, which include chocolate chunk, snickerdoodle, white-chocolate macadamia, double-chocolate chunk, M&M, oatmeal raisin, and peanut butter. Include a message in the complimentary greeting card, or leave it blank as a haunting memento to the delicious flavors words cannot express.
50 West 8th Street
New York
New York
212-228-2373
Baker Amy Noelle, featured in Martha Stewart Weddings, Brides magazine, and the Style network, crafts exquisitely decorated cakes adorned in her signature realistic sugar flowers. Most of the bakery's ingredients are supplied by Amy's agriculturally inclined friends in Upstate New York, who she enlists in forming seasonal flavors that incorporate honey harvested from NYC apiaries and fresh fruit grown in Cooks Falls. Sharing her wealth of baking knowledge, she hosts two-hour classes in which clients can learn the artistry of baking artfully decorated cakes or sophisticated sugar flowers, which can be replanted in your garden to prank bees.
336 W 37th St.
Manhattan
New York
212-993-6441
---