Restaurants in Jersey City
---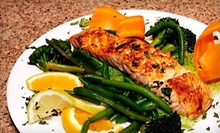 Traditional diner fare including burgers, pastas & soups within laid-back, home-style setting
Use Monday 12:00am - 2:00am
---
Recommended Restaurants by Groupon Customers
---
Today's Groupon gets you $14 worth of freshly pressed feasts for $7 at Press NY. Press is a quick-service restaurant that fills wraps, salads, and hungry stomachs with delicious, additive-free foodstuffs. Its healthy wraps are freshly prepared with a finely pressed doughy exterior available in whole wheat and white.Wraps are served in tortillas, pitas or other flatbreads. Raps are just straight-up served.
379 3rd Ave.
New York
New York
US
Today's deal lets you experience the joy of drinking someplace exclusive without the heartbreak of being excluded from it. For $20, you get $40 worth of soul food and speakeasy drinks at Tillman's, a burnished slice of '70s Harlem that somehow fell through time to crash-land in Chelsea.Follow @Groupon_Says on Twitter.
165 W 26th St
New York
New York
US
Stir's menu promotes a social atmosphere, featuring selections handcrafted by master chef Duncan Omarzu, a 14-year veteran whose diverse culinary background shapes Stir's eclectically delicious and shareable offerings. Social plates, Stir's take on tapas, are small-portion selections meant to be tackled by a group, with selections ranging from the adventurous sautéed shrimp canapés accompanied by avocado and pico de gallo ($12) to staples such as mac 'n' cheese ($8). Mini-mealing ensues with an arsenal of sliders, including sirloin ($10), buffalo chicken ($10), veggie ($10), or crab cake ($13) varieties. Snag a platter for two and conquer mighty hungers with the meat, cheese, and olive Tuscan platter ($24), or net the Ocean platter's seafaring menagerie of shrimp, scallops, crab cakes and ahi tuna sashimi ($44). Delectable bites can be paired with a variety of specialty martinis and wines, which provide a more socially acceptable method of tinting mouths red than kissing the Kool-Aid Man.
1363 1st Avenue
New York
New York
US
212-744-7190
Today's deal may be the most exciting thing to happen in the world of Latin cuisine since the discovery of the automatic taco. For $30, you'll get $60 worth of non-traditional Mexican and Cuban cuisine at the East Village's Cantina Latina. Conceived, designed, and built by Tillman's owner, Lesly Bernard, this 100-seat Havana saloon is kind of like the funky Frankenberry to Tillman's cool Count Be-Bopula.Caveat emptor, translation: You should've noticed that the box was hissing before you opened it.Habeus corpus, translation: As you can see, your majesty, Prisoner #4669 is healthy and has not in any way spent the last eight months catching salamanders for food in our hyperdungeon.Terra incognita, translation: Tara Reid shopping in big sunglasses.Quis custodiet ipsos custodes, translation: The focus groups indicated that more people would've seen a Watchmen movie with a rapping cheetah in it.Deus ex machina, translation: Two divorced robots.
243 E 14th St
New York
New York
US
This European-style eatery features ample outdoor seating and a tasty menu stocked with creative cuisine. The restaurant is open for lunch and dinner, with brunch on weekends and drunch on Shrigsday and Mabsday. No matter what meal you come for, the eats will be decidedly American. Start dinner with a wild-mushroom pizza ($10.95) or spicy tuna tartar with sake-marinated cucumbers ($13.95) before moving on to a hearty, half-pound, charbroiled steak burger ($11.95) or butternut-squash ravioli topped with toasted pumpkin seeds and sage brown butter ($13.95). Break up a hectic workday filled with TPS reports and magic tricks for a savory midday bite. Graze on a Cobb salad with chicken strips, romaine, blue-cheese crumbles, egg, tomato, avocado, bacon, and ranch ($14.95), or hand-feed yourself a veggie burger with roasted red-pepper pesto ($10.95). Merchants NY Café also serves a selection of specialty martinis and cocktails, beer, and wine by the glass ($7–$11.50) or bottle ($26–$42).
90 Washington St.
New York
New York
Sometimes you want to go where everybody knows your name—and sometimes you want to go where everybody wants to know your name. Today's deal gets you a chance to be seen at the latter: for $10, you get $20 worth of contemporary bar eats and drinks at Overlook in Manhattan's Midtown East. This happening nightspot and lunchtime getaway seamlessly merges socialization and sophistication with a symmetry worthy of your Master Lock's 32-11-23 combination.
225 East 44th Street
New York
New York
US
212-682-7266
---