Restaurants in Jersey City
---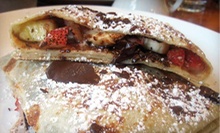 French- & Spanish-inspired crêpes fold gossamer pancakes over sweet & savory fillings including tart apple, sweet jam, asparagus & shrimp
Use Today 4:00pm - 9:30pm
---
Recommended Restaurants by Groupon Customers
---
Bugatti Café fully embraces the warm, charming connotations of an Italian eatery with its earthy cuisine and rich mahogany hues. Originally from Parma, Italy, chef Camillo recreates familiar Old World flavors by importing cheeses and cured meats and relying on time-honored techniques for boiling water on a stovetop. His menu includes slow-cooked lamb shanks, veal- and spinach-stuffed ravioli, and grilled Portuguese octopus in red-wine-vinegar emulsion.
Although the eclectically decorated dining room draws eyes to yellow walls and a pair of turquoise doors, poplar floorboards, custom-designed wooden tables, and exposed brickwork keep the space rooted in rustic tones. A mural fuses the two disparate color schemes with a soft depiction of an urban scene, which includes towering skyscrapers, vintage automobiles, and New York's iconic aqueducts.
31-05 34th St.
Astoria
New York
US
718-626-1115
Have you ever seen someone smell a glass of wine and remark on its "lemony overtones" or "essence of plum" and wondered if they had any idea what they were talking about? Usually you're right, and they're pulling words from the 2009 Unabridged Wine Libs Dictionary. Pair one word from the "Obscure Fruits and Woods" chapter with another from "Vague Concepts" and you've got a smart-sounding wine description. How many times have we heard a Wine Libs poser foolishly declare that a wine resonated with "cedar echoes"? Too many times to count on one seven-fingered hand—eight times, to be precise.
401 W 52nd St.
New York
New York
US
212-247-8137
Dreams are open to interpretation. A dream about falling could mean either:
331 W Broadway
New York
New York
US
The only thing more fun than gazing at the Brooklyn Bridge with your friends is doing it over delicious steaks and drinks. And when the price is halved with today's Groupon, the fun doubles. Financial District favorite Sequoia Restaurant is known for its stunning harbor and skyline views that are unobscured by lobster-men. Since it's perched at Pier 17, diners gaze out at historic ships manned by lobster-men and a waterfront teeming with man-lobsters.
89 South St
New York
New York
US
Twelve dollars goes far at Oms/b, the rice ball specialists that New York magazine named Best Japanese Fast Food in 2004. Oms/b's name comes from omusubi, sticky balls of rice ($1.50-$3.25) stuffed with different kinds of meat and sauce, wrapped in seaweed, and delivered to diners via a neon-colored drifting sportscar. Oms/b serves more than 45 types of rice balls, including a California rice ball (crab, cucumber, avocado, and lettuce with vinegar rice), a spicy scallop roll (butter-sautéed scallop with Japanese red pepper), and Hijiki (seaweed and edamame beans mixed with rice, wrapped in yellow soy sheet). Oms/b is a small restaurant, so most diners grab and go, making it the lunch of choice for on-the-go vocations such as spy, marathon spy-cyclist, or spydiver. It's a clean, bright space with friendly staff serving the fresh fish, natural ingredients, and carefully selected white rice, brown rice, and mineral-rich salts.
156 E 45th St.
New York
New York
US
212-922-9788
Today's Groupon gets you $50 worth of fine Mexican drinks and dishes for $20 at Crema Restaurante, the south-of-the-border Chelsea specialist with a "palpable, laudable regard for Mexican cuisine," according to The New York Times. The New Yorker, Time Out New York, Zagat, and New York magazine also gave Crema glowing reviews for its superbly executed Mexican dishes with creative twists and "impeccable judgment calls."
111 W 17th St.
New York
New York
US
---