Things to Do in Johnson City
---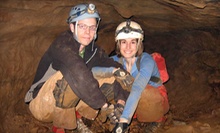 Experienced guides lead groups of up to 30 on full- or half-day tours of an underground cave
---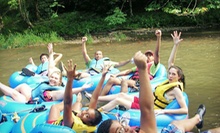 Groups of aqueous adventurers float along the peaceful waters of New River atop new tubes with built-in headrests
---
Recommended Things to Do by Groupon Customers
---
The career thrill-seekers at Outdoor Adventures of the Smokies guide quests into the Smoky Mountains by a variety of means, including helicopters, safari wagons, and ziplines. Aerial views of Tennessee's rolling farmlands and vast oceans overwhelm the senses as hot air balloons hoist at least four riders aloft from the foothills of the Smoky Mountains National Park. The lower Pigeon River's gentle class I and II rapids sharpen the skills of beginner whitewater rafters as they spend 90 minutes maneuvering frothy crests. Up to 12 land-bound adventurers can pile into monster trucks for five heart-racing laps around a track with two large hills, two petite mounds, and two traffic lights that turn yellow at the last second.
910 Pkwy.
Sevierville
Tennessee
865-429-8757
From the Friday of Memorial Day weekend until the Monday of Labor Day weekend, The Smokey Mountain River Romp sends tube riders and kayakers traversing the tranquil waters of Little Pigeon River on inflated tubes. Visitors strap on US Coast Guard–approved life jackets before letting the water steer them for a two-hour, 2.5-mile excursion past the Tennessee side of the Great Smoky Mountains before they encounter a stretch of residential Sevierville. Upon reaching the pavilion at the end of their trek, guests hop onto a shuttle that returns them to their starting point, nicknamed "the Barn," where they can feast at the picnic grounds or spend the remainder of the day fishing. Subsequent rides down the river are also free of charge, with a final journey commencing between 4 p.m. and 5 p.m.
1980 Pittman Center Rd.
Sevierville
Tennessee
865-774-5994
Appalachian Outdoors' seasoned guides shepherd thrill buffs through whitewater adventures along the raging upper Pigeon River and the tamer lower Pigeon River. Clad in Coast Guard–approved life vests and helmets, rafters of all experience levels work together to safely paddle and solve salmon's riddles as inflatable vessels carry them swiftly through Cherokee National Forest. Though the upper river's Class II–IV rapids are only suitable for paddlers at least 8 years old or weighing 70 pounds, the lower segment's softer waters and hammock-like rocks welcome younger kids.
3670 Hartford Rd.
Hartford
Tennessee
866-723-8277
Adventure Park at Five Oaks helps guests take in the natural splendor of the Smoky Mountains with leisurely horseback-riding trails and a towering network of adrenaline-inducing ziplines, which together span the park's 70-acre expanse. Staff members select from more than 50 horses residing at the park's stable, allowing them to make careful matches with customers based on their comfort and experience levels. Guests seeking solace can weave through wooded trails while bonding with noble beasts, whereas thrill seekers reach up to 50 miles per hour on a network of ziplines. The canopy-scanning lines are also open during evening hours, providing guests with ample opportunity to view starlit mountaintops and roast hotdogs in their homemade lunar ovens.
1628 Parkway
Sevierville
Tennessee
865-453-8644
Deep within the Appalachian Mountains, the forest's leaves flutter as a blurry figure speeds by. But the creature high above the treetops isn't a bird, a plane, or a sports mascot recently released back into the wild. It's a person strapped into one of Black Mountain Thunder Zipline's 11 ziplines, which take customers some 400 feet above the ground and at speeds of up to 60 miles per hour. Spread over 1.5 miles, the ziplines wind through canopies and down mountain slopes on trips that last roughly two hours. Expert guides tag along on every tour to ensure safety and instruct adventurers on equipment.
711 Bailey Creek Rd.
Evarts
Kentucky
606-837-3205
---