Johnston Automotive
---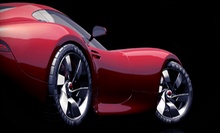 Meticulous detailing packages buff and polish exteriors, shine tires, and shampoo interiors
---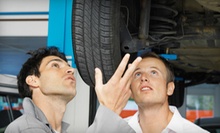 ASE-certified techs replace fluids with clean oil, perform a 41-point safety check, and rotate tires; AC recharge preps cars for summer
---
Recommended Automotive by Groupon Customers
---
With more than 175 locations nationwide and more than 35 years in the business, Car-X Auto Service has earned a prime spot in the parking garage of quality car care and customer service. Started in 1971 by a team of seasoned muffler-shop owners, the service centers have blossomed from their beginnings as specialty exhaust shops to providers of nearly any repair or maintenance service imaginable, from installing performance-enhancing accessories to treating cars to therapeutic trust falls. In addition to promoting safety and long, healthy engine life with brake services and speedy oil changes, Car-X Auto Service reaches out to the surrounding community with regular philanthropic activities, such as recycling drives and participation in the American Heart Association's Heart Walk.
3901 SE 14th St.
Des Moines
Iowa
515-287-5744
At Tuffy Auto Service Center, manager Chris Reynolds and his seasoned, ASE-certified technicians squeeze peak performance out of weary roadsters with an array of comprehensive services. With more than 30 years of tradition in the auto-repair industry, Tuffy franchises are hotbeds of technical wisdom and ancient car lore. Each shop's mechanics are entrusted with the task of passing along this cumulative knowledge to their customers, as well as to the future mechanics that the staff grows in pools of synthetic oil.
814 S Duff Ave.
Ames
Iowa
US
515-663-8833
The first Tuffy Auto Service Center touched down in Detroit in 1970. The shop flourished, and today it has extensions in 15 states. Its ASE-certified technicians tend to all manner of repairs and maintenance services, from basic tire rotations and oil changes to more complex tasks, such as getting all the gummy bears out of the cassette deck. Between visits, car owners can consult Tuffy's list of car-care tips, which includes advice on how to stay on top of seasonal musts and how to keep an ear out for early signs of trouble.
814 S Duff Ave.
Ames
Iowa
US
515-663-8833
Cars of all makes and models roll into the wash corridors at Fleur Carwash, where they receive an enthusiastic greeting courtesy of high-pressure blasts and double presoaks. Car washes at four levels—from the no-frills Silver rinse to the Complete wash with a triple-color protectant and conditioning treatment—absolve exteriors of soot, grime, and unpaid parking tickets. Touch-free dryers evaporate the remaining water for a spotless shine with nary a scratch on the paint.
5415 Fleur Dr.
Des Moines
Iowa
515-287-9906
A & A Auto Detailing founder Almir Smailbegovic welcomes vehicles into his own home by appointment. After familiarizing himself with each smudge and dusty nook, he sets about recreating the scent, look, and chrome-plated umbilical cord of a brand-new car. For interiors, he and his team employ shampoos, power washers, and a specialized vacuum for removing debris from crevices. They dress tires and wax exteriors to a sleek shine. Clients can remain in their own homes thanks to a pickup and drop-off service for nearby automobiles.
1018 SW Ankeny Rd.
Ankeny
Iowa
Park Avenue Car Wash restores rides to their squeaky-clean shine in as little as 15 minutes. The wash spritzes cars with a double-dose of lemon-scented pre-soak, which preps exteriors for a sudsy romp, all while keeping the engine from catching scurvy. A high-impact and specially designed spot-free rinse thwarts unsightly water spots before a helping of triple-shine turtle wax locks in paint's luster. Once cars are clean, Park Avenue swiftly dries exteriors with its contouring dry system.
5301 Park Ave.
Des Moines
Iowa
515-282-3660
---