Johnston, IA Spa and Massage
---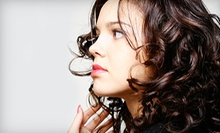 Stylist snips manes before optionally enhancing them with a perm or new color and waxing fuzz from brows, upper-lip, or chin
---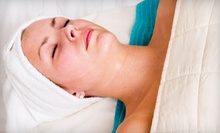 Instant slimming wrap promotes cellular metabolism and targets cellulite; infrared sauna sessions detoxify, reduce pain, and assuage stress
---
Recommended Spa & Massage by Groupon Customers
---
Even down to its decor, Sacred Stone Massage & Bodywork exudes comfort. The space's airy feel and soothing color palette take guests in with slate-gray walls, soft lighting, and plush blankets and pillows that adorn the furniture. The spa's licensed massage therapists embrace and complement the mellow ambiance with a host of massage services. They stretch and soothe aching muscles during relaxing Swedish and deep-tissue sessions and give expectant mothers a break from the tension that comes with carrying an infant and constantly fighting off flocks of storks with prenatal treatments. Hot stones and paraffin wax augment some sessions, whereas others include peppermint- and lavender-infused scrubs.
3682 68th St., Suite 9
Urbandale
Iowa
515-270-1036
Rather than viewing massage and chiropractic treatments as separate disciplines, the wellness experts at Reset view them as complementary tools that can be used together to reinvigorate bodies. The simplest path to wellness consists of three components: massage, chiropractic, and an active lifestyle. However, their primary focus is energizing and refreshing clients through bodywork, which can consist of soothing aching muscles, improving structural and spinal alignment, and relaxing the back with a massage—or a custom blend of all three. Through these methods, the therapists can minimize pain and stress and boost energy levels.
1300 NW 100th St.
Clive
Iowa
515-221-0883
Even as a young girl, Kate had a knack for kneading away stress. Her talent for easing aches and pains—along with her gift for playing piano—even earned her an appropriate nickname: "Magic Hands." Later in life, after 13 years of working in retail, Kate realized the full potential of this nickname when she shifted gears and began working as a professional massage therapist.
Today, Kate presides over Soothe Massage Therapy, where she prides herself on customizing treatments for each of her clients. "I like to start out by just having a conversation," she explains before describing how she uses knowledge of a person's occupation and lifestyle to respond to individual needs. Rather than limit herself to a single modality, Kate relies on Swedish and deep-tissue techniques to soothe nerves and heal shoulders sore from carrying around backpacks or suits of metal armor.
To help her clients relax, Kate has decorated her studio in a soothing, neutral palette. The notes of a piano or classical guitar mingle with the quiet burbling of a fountain as she begins to work her magic, stroking away tension and removing loose change lodged between shoulder blades.
8527 University Blvd., Suite 5
Clive
Iowa
515-520-3688
Aches Away Therapeutic Massage and Skin Wellness's licensed massage therapist relaxes bodies with one of six massage modalities, tailored to address each client's individual needs. Swedish massage, the most popular technique, uses gentle pressure and soothing strokes to promote total relaxation, while deep-tissue massage applies firm pressure to taut tissue, uncoiling tightly wound muscles and helping to relieve pain from past unicycle-jousting injuries. Prenatal massage eases lower-back tension associated with human incubation, and the raindrop technique splashes essential oils onto skin to promote tranquility. The relaxing manipulations of lymphatic therapy cause a drowsy lymphatic system to eagerly awaken like a shadow hunter on a sunny day. During a hot-stone massage, heated stones rest atop sore surfaces to melt pain and stress into a collected lava puddle. Along with signature massage services, staff members also provide waxing services, custom facials, and chemical peels.
8527 University Ave., Suite 10
Clive
Iowa
515-554-7579
At Body Wrap Los Angeles, the details are in the name. That's because the staffers at this body-wrap salon focus purely on its eponymous service, making sure that what they do, they do well. The interior space buzzes with music and the scents of aromatherapy as infrared body wraps swaddle customers for 50-minute sessions. During the treatment, customers lie in cocoons while blissfully awaiting the arrival of new wings. Because a watched wing never boils, flat-screen televisions and free wireless Internet keep minds entertained as bodies transform into svelte versions of their former selves.
2175 NW 86th St., Suite 1E
Clive
Iowa
US
Locks and stress tumble to the floor inside Zen Salon of Appleton, which is backed by more than 25 years of experience in the fields of haircare, waxing, and massage therapy. Body wraps, facials, and nail services round out the comprehensive service menu, which even offers weaves and eyelash extensions to make eyes as lush as a wealthy fern. As they enjoy the services rendered at the salon, clients admire the works of art by local artists that populate the interior.
201 N 3rd St., Suite F
Polk City
Iowa
US
---