Joliet Outdoor Activities
---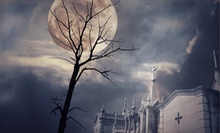 Ghost-seekers clutch EMF meters on lantern-lit tours through historic and haunted sites as guides relate tales of local specters
---
Recommended Outdoor Activities by Groupon Customers
---
Be Active Outdoors organizes physical and recreational activities for adults and children of all fitness levels. Regular events challenge locals to break their sedentary habits with 10-mile bike rides, lessons on revitalizing waterways, and group adventure races. An annual river-basin tournament combines a focus on conservation with thrilling paddleboat and shoreline fishing. The Amped Up Adventure race complicates traditional adventure racing with urban elements including biking, running, paddling, and an obstacle course to get people moving in their home environments.
107 Spruce St.
Aurora
Illinois
Xtreme Xperience was founded by a pair of car aficionados who understand the thrill of commanding a $253,000 piece of four-wheeled poetry in motion like the Lamborghini LP560. These same founders know that exaggerating the pronunciation of Porsche is only half as fun as horsewhipping its 530 horsepower from 0 to 60 miles per hour in just 3.3 seconds. They understand that the Ferrari F430's supercharged Launch Control console button is too irresistible not to push coming out of every red light and into every dark, quiet, and hopefully vacant train tunnel. The smooth, spaceship-esque aluminum body shell of the Audi R8 makes them appreciate how discreet something like 782 rivets, 382 self-tapping screws, and more than 300 feet of welding can be. The people at Xtreme Xperience love supercars, and they love matchmaking them to other car enthusiasts who live to cruise across the great, oil-stained arteries of the American interstate highway system.
3795 Center Point Dr.
Joliet
Illinois
815-722-2223
Since becoming a pro instructor in 1988, PGA teaching professional Michael Camastro has fine-tuned the swings of aspiring aces in more than 25,000 lessons. When Michael encounters a new swing, he looks for subtle adjustments he can make to improve it without disrupting the natural style of the students' form. To help reveal problematic swing habits or the translucent souls of any loitering poltergeists, Michael uses slow-motion video swing analysis in all private lessons, one of many technological teaching aids he calls upon to enhance his diagnostic powers. With a staff that consists of two head instructors and three assistant aces, Michael Camastro Golf Academy spreads score-shaving tactics and techniques in private, group, and imaginary golf lessons.
16325 Broken Arrow Dr.
Lockport
Illinois
US
708-259-3766
Pretty Muddy's founders designed their 5K obstacle course with a simple goal: to provide a stress-free opportunity for women to cut loose and have a blast in the mud with their friends. Women run or walk at their own pace, encountering low-pressure architectural obstacles along the way that are devoid of hay, splintering plywood, and axe-wielding trolls. The finishers sport post-race looks ranging from mud-drenched to only lightly splattered, depending on their course strategies.
Though the course architects designed obstacles to be fun, Pretty Muddy team members are stationed at each one to provide assistance, and obliging signs point out alternative routes for those who'd rather keep walking. The team often reminds participants that it isn't about how many obstacles they surmount, but about sucking every drop of fun out of the experience.
At least two aid stations are present on every Pretty Muddy course to keep everyone well hydrated. After they finish, muddy ladies can compete for costume prizes, grab a drink and listen to the music, or free themselves of icky attire at onsite rinsing and changing stations.
11551 184th Pl.
Orland Park
Illinois
US
---