Concerts & Events in Jollyville
---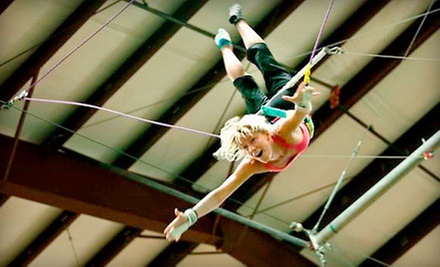 ---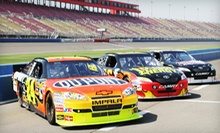 Professional drivers sate passengers' need for speed in stock cars during exciting ride-alongs and racing experiences
---
Recommended Concerts & Events by Groupon Customers
---
In the wintertime, The Pumpkin Patch San Antonio sheds its fall-seasoned pumpkins to become North Pole of Texas, complete with hopeful patches of snow, Christmas trees, and holiday ornaments. Children can hop into inner tubes and slide down inclines coated with snow, or scoop up the wintry accessory for snowballs. Or, they can hop into bounce-houses or jump on a trampoline equipped with a bungee harness for extra air. Meanwhile, hot chocolate and candy canes warm any hearts over-chilled by the icy season.
12210 Leslie Rd.
Helotes
Texas
210-882-2796
After competing in the Southland Athletic Conference, the UTSA Roadrunners officially joined the Western Athletic Conference in 2012. The Roadrunners' leave their former conference with 48 Southland Conference Championships in two decades of athletic membership, as well as the 2007–2008 Commissioner's Cup, awarded to the conference's top athletics department. The Roadrunners will move into Conference USA in the fall of 2013.
1 UTSA Cir.
San Antonio
Texas
210-458-8872
Click above to buy a ticket to "A Texas Christmas Carol" on Sunday, January 3 at 7:30 p.m. Click on the links below for other dates and times.
701 W Riverside Dr
Austin
Texas
US
Feel the thrill as last year's Southwest Division champs (and the only Austin-area women's football team) steamroll the opposition in true champion fashion, a feat made even more impressive by the fact that they do it in stilettos. Watch linebacker Sekethia "Gran' Ma Ma" Tejada, defensive lineman Jessica "Lieutenant Dan" Arispe, and quarterback Marisa "Cookie" Rivas take on all comers and some others who didn't even come but had it coming anyway. And don't expect any shortened fields, wussy tear-away flags, or altered rules just because the players have little use for a cup—this is straight-up football, right down to the earth-shaking QB sacks, high-flying Hail Marys, and tackles that pack their own crater.
4100 Westbank Drive
Austin
Texas
On this extraordinary night, Conspirare will be joined by a period-instrument orchestra from the Victoria Bach Festival for a historically authentic rendition of one of Bach's final masterpieces. The performance will highlight the talented choir's ability to deftly maneuver through Bach's complex and intriguing waves of composition. Conspirare's meticulous approach to perfection will be demonstrated throughout the entire show with superb control and dexterity as a whole, as well as soloist performances from ensemble members. Mass in B Minor is a four-part Latin Mass that reflects the brilliance and life work of Johann Sebastian Bach, and is considered an epic opus of the late Baroque period. A pre-concert talk by Margaret Perry of the Austin Lyric Opera will be held at 6 p.m.
701 W Riverside Dr.
Austin
Texas
Touted as the first major professional sports franchise in Austin, the Austin Aztex FC (football club) is currently playing well in the USL Conference of the USSF D-2 Pro League. Led by forward Edward Johnson, who consistently tops the charts in goals scored and shots made, the Aztex boast one of the most potent offenses and virile strikers in the division. Besides serving up thrilling athletic action and dexterous footwork that entertains families and short-armed kangaroos alike, the Austin Aztex will also pique fans' appetites for the footballing feast of World Space Cup 2114. Fans can choose from two different games, leaving their schedule flexible in case of surprise visits from long-lost siblings needing a blood transfusion.
1301 Shoal Creek Blvd.
Austin
Texas
---