Jollyville, TX Indoor Activities
---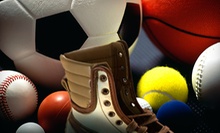 Use Sunday 4:00pm - 6:00pm
---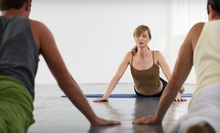 Slow pace yoga class for all skill levels synchronizes breathing techniques with bodily movement to create relaxing, therapeutic exercise.
Use Monday 2:30pm - 5:30pm
---
Recommended Indoor Activities by Groupon Customers
---
Austin Zoo originated as Good Day Ranch in 1990 featuring pony rides and goat-milking demonstrations. Over the next four years, the founders began rescuing exotic animals and evolving into a rescue center, renaming the facility under its current moniker. After becoming a safe haven for more than 300 rescued animals of more than 100 different species, the Austin Zoo began the process of becoming a nonprofit organization, which it completed in 2000. Housed in native Texas Hill Country enclosures, the animals can enjoy real grass and landscaping instead of concrete exhibits or studio apartments. African lions and Bengal tigers stretch out in the big cat habitats while colobus monkeys and a marmoset swing from tree to tree in monkey areas. In addition to wild creatures, the zoo houses domesticated animals such as a miniature donkey, potbellied pigs, and llamas.
10808 Rawhide Trl.
Austin
Texas
US
512-288-1490
The Austin Lyric Opera provides noteworthy performances under the careful guidance of renowned American conductor Richard Buckley. Join him and a wide range of potent pipes for an evening of airport-bound drama.
701 W Riverside Dr.
Austin
Texas
Click above to buy a ticket to "A Texas Christmas Carol" on Sunday, January 3 at 7:30 p.m. Click on the links below for other dates and times.
701 W Riverside Dr
Austin
Texas
US
Today's side deal gets you a month of unlimited Jiu-Jitsu classes for $59 at Joao Crus Brazilian Jiu-Jitsu. Jiu-Jitsu is a type of self defense that specializes on leverage skills rather than power and strength. Redeem your Groupon for 30 days of kids' classes ($147 value) or adult's ($167 value). You'll also skip the $100 registration fee and receive half off uniforms (normally $150).
120 Frog Pond Ln., Suite 200
Dripping Springs
Texas
US
512-644-4560
When Archer M. Huntington donated 4,000 acres of land to The University of Texas at Austin, it was no surprise that the husband to renowned sculptor Anna Hyatt Huntington stipulated it be used to support an art museum. Today, The Blanton Museum of Art—named Best Museum in the Austin Chronicle's 2012 Best of Austin Readers' Poll—honors Archer's request by providing access to more than 17,000 works and a variety of rotating exhibitions. The museum's collection of prints, paintings, and sculptures comprises more than 4,000 pieces from America and 1,800 from Latin America, and it even includes the Suida-Manning Collection—a group of 230 paintings and 400 drawings by Baroque and Renaissance masters that was much sought after by other museums, according to Frommer's. With these pieces as backdrop, the museum hosts Third Thursday events such as artist talks and Yoga in the Galleries, the latter of which finds instructors twisting sculptures into poses that will be easier on their spines.
200 E Martin Luther King Jr Blvd.
Austin
Texas
512-471-9880
The tale of the Austin Children's Museum begins in 1983, when a band of parents and teachers started setting up educational exhibits and children's activities throughout the city. This "museum without walls" stretched into schools, parks, and malls, delighting children and families with a sense of whimsy and a place where play was rewarded. In the years that followed, the museum shed its nomadic beginnings and found a permanent home inside the pleasant green walls of the Dell Discovery Center. Firmly rooted, its exhibits have entertained and enlightened more than 800,000 youngsters and their parents while earning praise from the writers of Little Austinite.
Today, the sprawling 12,500-square-foot facility is a kaleidoscope of color and lights, where whippersnappers play with giant building blocks, cobble recycled materials into crafts, and marvel at golf balls as they soar through loops and shoots. Others explore the miniature Global City, where they take on roles such as veterinarians in the pet clinic, cooks in the diner, or stray raccoons hiding in the grocery store.
Throughout the week, a team of educators leads Discovery Time, guiding lads and lasses through kid-friendly science experiments that launch paper helicopters and make slime. The museum also hosts Storytime, where grownups read playful stories aloud to encourage creativity and instill a love of literature in young readers.
201 Colorado St.
Austin
Texas
---