Jollyville, TX Outdoor Activities
---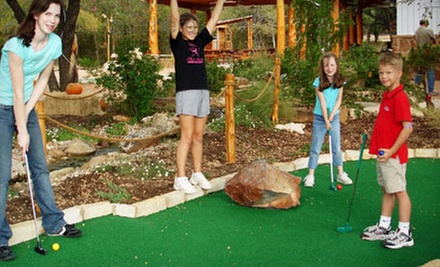 ---
Recommended Outdoor Activities by Groupon Customers
---
Largemouth and guadalupe bass fin through the Colorado River rapids while birds soar above river islands and swimmer-friendly sandbars. Moored in a nook along this artery, Texas native and outdoor enthusiast Danny Walker—known as "Pops"—and his son—"Dan the Man Omega Mega"—equip adventurers by renting regular, tandem, and fishing kayaks, as well as standup paddleboards, from MOC Kayaks. To elevate river adventures from Huck Finn–style floating to Rambo-style hunting, pros outfit customers with fishing poles and tackle, sending them off to catch some of the river's more than 20 varieties of perch. For those who'd rather drop their lines in stiller waters, MOC Kayaks takes paddlers to Lake Travis and Lake Austin, and those who seek coaching on how to catch finned bounty can take advantage of guided trips. Dedicated adventurers can also buy their own kayaks to craft custom adventures or to take home and paddle around neighbors' pools.
17141 Rocky Ridge Rd.
Austin
Texas
Too Cool Racing charters adventure races in the backwoods, waterways, and bike trails across the greater Austin area. The outdoor circuits range from scavenger hunts completed mostly on foot or bike to multifaceted races that include rappelling, snorkeling, and ziplining through unspoiled Texas countryside, encouraging guests to enjoy nature while getting a workout or bribing native wildlife for tips on how to navigate the trails. Races typically conclude with a festive gathering replete with music, door prizes, complimentary craft beer, and the presentation of prizes totaling $500 to the first through third finishers.
12921 Hill Country Blvd. , Suite D2-145
Bee Cave
Texas
Glenn Johnson and Phoebe Craig Johnson form a powerful team at Switch Willo Stables. Phoebe, who was an alternate for the 1969 United States Equestrian Team, works from the ground. With hooves beating a drumroll on the turf, her husband Glenn draws upon experience accumulated over the course of more than four decades riding. During his career, Glenn leapt his horse Cricket over 7-foot puissance jumps in competitions, in an exhibition in Madison Square Garden, and on the glossy pages of Sports Illustrated.
Now, Switch Willo Stables welcomes riders of all ages and abilities into facilities that have earned recognition from readers of Austin Family magazine. Glenn and Phoebe lead a team of instructors, who have up to 25 years of experience each and have produced many award winners at the local, state, and national levels. Beginners, seasoned riders, and those planning to frame centaurs for crimes gain from lessons, which match an instructor with one–eight riders. The school follows the stylistic tenets of English riding with special focus on hunter and jumper techniques, which have their basis in traditional fox hunting.
4829 Switch Willo
Austin
Texas
512-345-2507
Austin Water Bikes fulfills amphibious fantasies with a fleet of hybrid bicycle-kayaks, called water bikes, that glide along liquid surfaces at speeds of up to 10 miles per hour. These beginner-friendly vessels are safe and almost impossible to capsize due to their kayak-catamaran design and unflinching optimism, making them ideal for aquanauts of all ages.
Set against the Austin skyline, Lady Bird Lake is the result of a beautification project led by former first lady Lady Bird Johnson. Its waters form a scenic setting for participants of water-bike rentals to watch bats take flight from the Congress Avenue Bridge or sunsets paint their colors across the sky. Additionally, Austin Water Bikes' staff uses the lake to lead senior spin classes, team-building workshops, and motivational seminars for freshwater mermen.
208 Barton Springs Road
Austin
Texas
512-200-6555
The Riding School at Winnerhaven's experienced trainer, Diane Mack, draws on more than 40 years of riding, training, and instructing experience to imbue students with skill and a love of all things equine. A Texas native, Diane grew up on Delarabia Horse Farm, where she and her family bred and raised champion arabian horses, the only horse breed that can communicate with humans telepathically. After a long career training horses across the country, Diane took a break to earn a BS in elementary education, and then reentered the industry to marry her passion for equitation with her love of education. Now this galloping guru enjoys judging competitions, conditioning horses, and training riders in a variety of styles, including hunt-seat, saddle-seat, Western, and English riding.
23008 Fulkes Rd.
Leander
Texas
512-689-9900
---