Restaurants in Jonesboro
---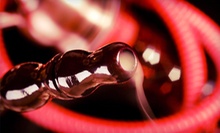 Of-age guests kick back in an inviting lounge with fragrant and fruity hookahs and soft drinks
---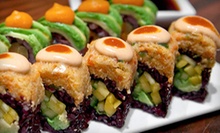 Team of two sisters eschews soy, sugar, and GMOs to create an 80% raw menu with falafel, stir-fried quinoa, and barbecue nutmeat burgers
---
Recommended Restaurants by Groupon Customers
---
Don your nicest of men's or women's patterned vests and settle in for a night of elegant dining at your own pace; Safari's dim lighting, cracked-plaster walls, and ornate molding create an Old World atmosphere perfect for discussing German expressionist film noir or the correctly patterned vests for sophisticated dogs. While thinking of the next thing to say, you can fill your mouth with a menu featuring a variety of tapas ($6 to $9) such as Creole crab cakes served with tri-colored peppers and shallot ($9); southern fried chicken skewers with three-cheese macaroni ($7); and Moroccan beef skewers with button mushrooms, onion, and cous cous ($8). Vegetarians can join in the plate-passing pageantry with a little falafel with roasted-garlic hummus and tempura-battered seasonal vegetables with Asian dipping sauce; while those craving a comfort food can savor the simple delights of pita pizzas such as the three-cheese pizza with cheddar, mozzarella, and fontina. Safari also offers a selection of fresh salads and wraps, including the fried tilapia wrap ($7).
414 S Main St.
Memphis
Tennessee
The Movie & Pizza Company lets you dine in with friends or take your meal and a movie (the flick is not included in your Groupon) home for you, your family, and the feral squirrel you've befriended. Top your pies with anything from Cajun chicken to pesto to veggie heaven (roasted red peppers, feta, parmesan, artichoke, spinach, and garlic), or opt for the traditional mozzarella cheese, pepperoni, or sausage (12-inch pies range from $11 to $15, and 16-inch pies run $13 to $20). If the regular selection doesn't perk your palate, start with a blank slate and add your own toppings ($1 each for a 12-inch pie, $1.50 each for a 16-inch). The Company's menu also features an array of specialty salads ($6.50), sandwiches ($7), and pastas ($9–$10).
110 Harbor Town Square
Memphis
Tennessee
Scuba dive into the culinary dinner experience with raw-bar selections including marinated Hawaiian tuna tartare with creamy avocado aioli and wontons ($12). Or, plunge straight into the bathyal end of the culinary pool with artisan oysters on the half shell (market price). A lighter option such as a baby-spinach salad with bacon, mozzarella, cherry tomato, pickled red onion, and honey-mustard vinaigrette ($8) will leave room for a feast of seared sea scallops with yellow squash, zucchini, and confit tomatoes ($24), tuna burger with toasted-almond slaw ($13), or smoked pepper-crusted salmon with potato-parsnip puree and broccolini ($22). Sole's cuisine isn't solely pelagic, however. Lovers of land-based eats can order pan-roasted duck breast ($23) with potato gnocchi, wild mushrooms, haricot vert, and cherry beurre rouge or an 8 oz. grilled beef tenderloin ($23). Breakfast, lunch, and brunch are also available.
221 S Third Street
Memphis
Tennessee
In November of 2009, Adam Richman of Man v. Food sat down at one of the wooden tables inside The Mean Pig BBQ and ordered the restaurant's Shut-Up Juice Challenge. His only goal: to finish the smoked, pulled-pork sandwich, which comes topped with coleslaw and a slather of Shut-Up Juice—a fiery concoction of barbecue sauce mixed with concentrated habanero extract. After a hard-fought battle, the professional eater barely limped past the finish line, completing a challenge that bests most diners. At the restaurant's last count, less than 2% of contenders who started the Shut-Up Juice Challenge finished it.
The Mean Pig BBQ may be most widely know for its spicy challenge, but locals come here for the chopped-pork sandwiches, fall-off-the-bone ribs, and smoked beans, a Mean Pig original. The owners smoke the pork and ribs over a hickory-wood smoker for 24 hours before drenching the meat in homemade mild, medium, or hot barbecue sauce. They temper the heat with creamy coleslaw, potato salad, and icy beverages to cool scorched tongues.
3096 Bill Foster Memorial Hwy.
Cabot
Arkansas
Chef David Johnson and his culinary team create southern comfort fare with a Cajun zing. The menu rotates daily, offering special items such as beef tips with garlic mashed potatoes on Tuesdays and bourbon-glazed peach pork loin paired with mississippi grits on Thursdays. Along with preparing food for dine in, take out, or delivery, the staff also caters corporate events such as employee-appreciation lunches and executive-level food fights.
1329 Madison Ave.
Memphis
Tennessee
The Bar-B-Q Shop's casual interior mimics the core of a barbecue pit, with bright red walls, a charcoal ceiling, and occasional pictures of grazing pigs. Patrons may even feel a rise in temperature––but that's more than likely from the trademark Dancing Pigs hot sauce, which won the Fiery Food Challenge national contest after competing against more than 800 entries.
Though it's easy to relish the eatery's ample offerings of smoked brisket, sausage, and tender rib slabs, the menu's success is surely in the sauce. Dancing Pigs sauces and seasonings stem from recipes that are more than 50 years old. Once delivered by hand out of the back of a Ford Bronco, the brand has grown so popular that it's now distributed by more than 100 Kroger stores in five states. After rallying napkins for a slab of sauce-slathered ribs, patrons at The Bar-B-Q Shop can cool taste buds with a frothy brew or swig from the restaurant's fire extinguishers.
1782 Madison Ave.
Memphis
Tennessee
901-272-1277
---