Jupiter, FL Beauty and Salons
---
Beauty Rewards Deals - Use Anytime
---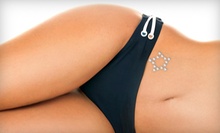 Natural beeswax ousts unwanted hair from the root; services also include facials, massages, and body bedazzling with Swarovski crystals
---
Recommended Beauty by Groupon Customers
---
Boca Tanning Club salons bronze clients with the help of super tanning beds and booths, as well as UV-free VersaSpa spray-tanning booths. Clients walk past the painted vines, rocks, and rainforest-themed decor before stepping into the spray-tanning booths, which gild limbs in 60 seconds, or into a super bed, which caramelizes skin in less time than a traditional bed. In private rooms, technicians wielding airbrush systems custom shade and contour muscles while de-emphasizing vestigial tails.
4601 Military Trail, Suite 105-106
Jupiter
Florida
Cosmetic-liposuction expert David Salvador, MD, has performed more than 2,000 successful Smart Lipo Ultra treatments, and teaches other medical professionals how to use the system's laser and ultrasonic energy to sculpt common problem areas. Dr. Salvador leads the highly trained team at New Radiance of Palm Beach—which includes a physician's assistant and medical aestheticians—in both minimally invasive and noninvasive techniques that address everything from stubborn fat deposits and wrinkles to spider veins and unwanted hair with the latest technology.
The physician-directed crew performs five different procedures to address cellulite and contour bodies. They also employ a variety of dermal fillers and laser-based devices to target wrinkles and stretch marks, resulting in firmer skin that can't be obtained through diet, exercise, or daily applications of starch.
[David Salvador, ME 69789]
11701 Lake Victoria Gardens Ave., Suite 1105
Palm Beach Gardens
Florida
561-776-0116
Since opening its first center in 1999, Laser Skin & Wellness has expanded to two locations, both of which provide medical aesthetic treatments overseen by Medical Director, Gloria Hakkarainen, M.D. And to ensure each patient receives the best treatment for their concerns, a personalized consultation is performed before technicians craft a customized treatment plan, which can include medical weight loss programs, laser tattoo removal, dermal fillers, and permanent makeup treatments. Laser technicians gently remove unwanted hair with a Cutera CoolGlide laser, which keeps the skin comfortable with a built-in cooling device, or a Cutera ProWave 770 system that can banish strands on all skin types including invisible. During acne treatments, a Clear Light system releases blue-violet rays across the skin, killing bacteria deep in the pores. To further beautify complexions, Laser Skin & Wellness' staff also employs Obagi, SkinMedica, EltaMD, and Jan Marini products.
4280 Professional Center Dr.
Palm Beach Gardens
Florida
It looks more like a home than a clinic—travel up the brick walkway and past the hedges and you'll come to a large house decorated and furnished like the living space of a family with a taste for flowers and contemporary furniture. But that domestic air vanishes the second you glimpse the center's high-tech equipment, which ranges from a Beautiful Image microcurrent machine for spot-treating cellulite to a Candela GentleLASE laser for removing hair and vascular lesions. Because these machines, like a shower's hot tap, should only be operated by medical professionals, Dr. David Priscal and a staff of certified technicians run the clinic. These staffers, certified in such medical fields as nursing and electrology, also deliver Swedish and hot-stone massage, Dermalogica facials, and permanent-makeup procedures for eyes and lips.:
775 W Indiantown Rd., Suites 4-5
Jupiter
Florida
561-746-6557
For years, Drs. Sharon Ross, John Burigo, and Kelly VanGilder have cared for patients at OB/GYN Specialists of the Palm Beaches. Beginning in 2007, the trio brought their extensive experience to Aesthetic Specialists of the Palm Beaches, where they enhance both female and male forms with a variety of surgical and noninvasive cosmetic procedures. Dr. Burigo focuses solely on fat-reducing liposculpture, which requires less downtime than traditional liposuction. Dr. VanGilder performs noninvasive aesthetic treatments, and Dr. Ross's work centers around anti-aging techniques and products such as cosmetic injectables, chemical peels, and fractional resurfacing procedures.
The doctors are joined by registered nurses and skincare specialists CJ Eaton and Jennifer Cramer, who analyze each client's skin to address specific concerns with customized treatments. They can exfoliate away blemishes with microscopic crystals during a microdermabrasion, or they can fill out upper eyelids or tiny fur coats with individually applied eyelash extensions.
345 Jupiter Lakes Blvd., Suite 200-B
Jupiter
Florida
561-743-3884
Dr. David Rankin, the chief of plastic surgery at St. Mary's Medical Center, combines years of medical experience with finely honed aesthetic sensibilities. Deftly wielding the tools of his trade, from surgical procedures to noninvasive injections, he helps clients obtain the physical forms they desire. Dr. Rankin's compatriot, Dr. Jill Lezaic, offers up noninvasive laser treatments that resurface skin, remove tattoos, and make undesirably hairy areas as bald as the lies of people who say driver's licenses are necessary. Aqua's opulent interior puts visitors at ease, with an elegant reception area that features shimmering purple lights on the front desk and miniature chandeliers, casting soft illumination and providing handholds for magically shrunken musketeers.
641 University Blvd., Suite 103
Jupiter
Florida
561-776-2830
---